Below you'll find the current best beard trimmers that every bald man should own.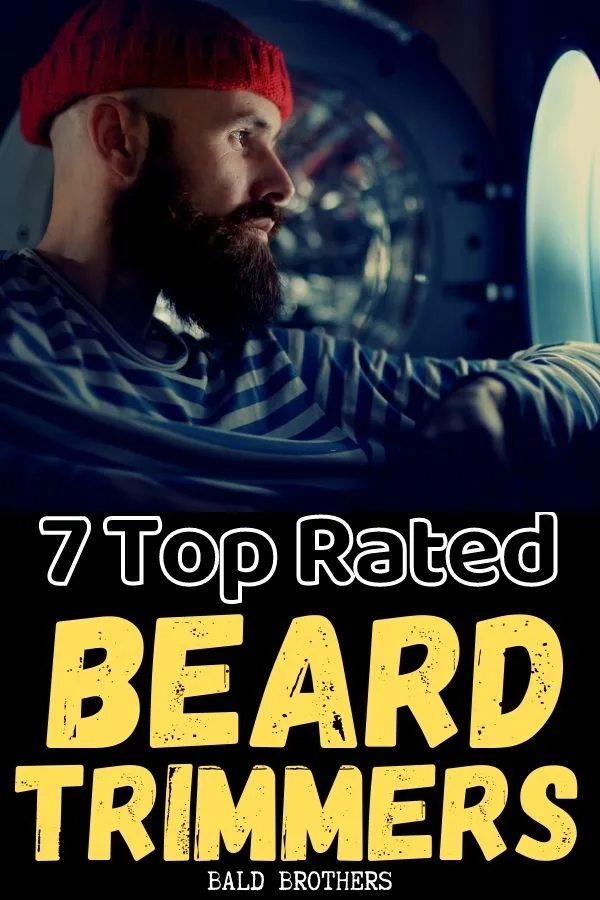 Every bald man should own a trimmer.
Period.
A shaved head and a beard in all sorts of shapes and sizes is trendy, and becoming all the more visible where ever I go.
I can't help notice that since I shaved my head, just how many men actually have shaved heads together with beards.
If you have read our earlier posts, you will know that it's common knowledge that men with shaved heads are more attractive.
But we would like to take it one step further.
A man with a shaved head and a beard is absolutely irresistible!
Beard styles can take all shapes and sizes.
Depending how fortunate you are, you might be able to grow out an amazingly thick beard which you can style in any way, shape or form.
Or if you are like myself, then a decent stubble is all you have to work with.
But no matter what, if you have any sort of facial hair then you need to be maintaining it the right way.
And one of those ways is to make sure you keep it trimmed!
This is where a solid list of the best beard trimmers can come in handy.
So I decided to do a bit of research and put together the absolute best beard trimmers currently on the market, all based on how well they perform.
In A Hurry?
Below is our top pick!
Our Pick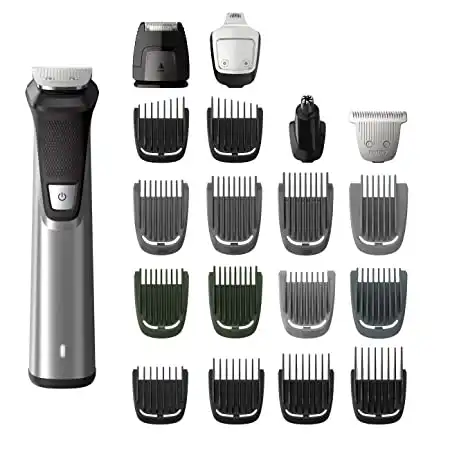 Keep scrolling down to learn more about the top beard trimmers currently on the market!
6 Things To Consider Before Buying The Best Beard Trimmer
See also:
Most beard trimmers come with a variety of different features, all promising to be the best trim you have ever had.
There are a few basic things you should always keep in mind when buying a beard trimmer, and below I have laid them out for you.
1. What Will You Use It For?
Will you be using your trimmer only for your beard or for all body parts as well?
Multi-use trimmers have a much wider ranger of length settings which enable you to shave not only your beard, but also your head and the rest of your body.
2. Cord Or Cordless?
Cordless trimmers have more flexibility as you can use them practically anywhere. I often come across bathrooms that have no plug outlets, so having the freedom of shaving wherever I want is a big tick from my side.
Most cordless beard trimmers have up to an hour or so worth of battery life. Each one differs a bit. And some come with standard batteries that you need to change.
Corded trimmers generally have more power and have the added advantage of never running out of steam!
There's nothing worse than being halfway through trimming your beard and having your battery die.
3. Blades
Stainless steel blades last longer and are more comfortable than other types of blades.
Many bearded trimmers have a double edged blade which provides extra cutting precision.
4. How Many Attachments Come With The Beard Trimmer?
I remember back in the day when you would purchase a hair trimmer and it just came with all the stock standard sizing attachments.
These days companies have added a whole range of attachments that make styling your beard so much easier.
These attachments can help style things such as a goatee, faded beards, stubble etc.
5. Convenience
If you travel a lot in general then you want to consider a lightweight, easy to charge beard trimmer that you can carry in your hand luggage with no hassle.
A trimmer with a long battery life is also very important when travelling frequently.
6. Is it Waterproof?
Having a waterproof trimmer is the most practical part when making your purchase decision.
Being able to trim your beard, head or other body parts in the shower is very convenient and hard to beat.
Chances are your are trimming yourself in the bathroom, and there will always be water around!
So a beard trimmer than can withstand a bit of water damage is always preferred.
7 Best Beard Trimmers For Bald (and all) Men
See also:
The beard trimmers which I have reviewed below are based on my personal use and experience. I also took into account the many user reviews!
If you have any further information regarding any of these trimmers which would be of value to all our readers, then feel free to share those with us!
Below are our top picks for the best beard trimmers around, in no particular order!
---
Philips Norelco MG7750/49 Series 7000
Quick Overview:
The all in one trimmer (trimmer for beard, head, body and face)
Comes with 23 pieces for all your trimming needs
Rated #1 on Amazon for the 2019 year for being the best selling beard trimmer, so it has some credibility!
Benefits:
Battery can last up to 5 hours without charging
Powerful motor to deliver maximum torque
The cutting guards are ultra strong ensuring no bending and buckling which gives an even trim every-time
DualCut technology offers maximum precision
Includes 2 extra self sharpening blades that last up to 5 years
Drawbacks:
Pricing starts at over $50 which is expensive compared to other beard trimmers
Battery life starts to decline after several months, which is pretty normal with most rechargeable batteries
Remington PG6170 Crafter Trim & Detail Kit
Quick Overview:
Remington is such a well known, successful brand that it's hard to look past them when doing our review.
The PG6170 has 19 length and style settings
It's a 12-piece kit that includes a full size trimer, detailed shaver, nose and ear hair trimmer, and a detailed trimmer
Benefits:
100% Waterproof so you can trim anywhere. Wet or dry, its doesn't matter!
180 minutes of cordless run time after a full charge
The blades are precision cut and coated in titanium which makes them three times stronger and able to last longer
Drawbacks:
Can't think of any except the price point being over $50!
---
Philips Norelco MG3750 Series 3000
Quick Overview:
13 attachments for all of your grooming needs
Maximum precision with dual cut technology
Comes with the usual beard trimming features, plus a nose trimmer which is cool!
Benefits:
Blade is made out of metal and guaranteed to remain sharp for 2 years
Blades and guards are easy to detach and rinse
Price point is really good value for money
Long lasting battery life
Drawbacks:
Plenty of users noted that their series 3000 just literally stopped working immediately and couldn't be fixed
---
Remington MB4040 Lithium Powered Moustache & Stubble Trimmer
Product Overview:
Mainly used as a beard and stubble trimmer
4 piece kit
Benefits:
Cordless
Battery time up to 120 minutes
3 Precision ground blades
Titanium coated blades making them last longer
Many users I spoke to have had their Remington for years without any issues
Drawbacks:
Not waterproof
Battery must be charged for 14-16 hours which is a long time
---
Hatteker Mens Hair And Beard Trimmer Grooming Kit
Product Overview:
All in 1 trimmer (hair, body, nose, moustache and beard)
12 different attachments for all your various grooming needs
Benefits:
Highly powered battered providing a clear, clean cut trimmer
The blades are non-corrosive and won't rust, which prevents the skin from being irritated
The trimmer is fully washable and easy to clean under running water
Waterproof
Battery life capacity displayed in percentage on the trimmer so you know when it almost needs a charge
Looks and feels real good!
Drawbacks:
Battery life only 60 minutes which is low compared to other trimmers
Leans slightly towards the pricey side of things
---
Panasonic Cordless Mens Beard Trimmer ER-GB42-K
Product Overview:
Adjustable 19 length setting beard trimmer that makes personalized beard cutting and sculpting easy
Impressive masculine design with a easy to hold, comfortable rubber grip
Benefits:
Has a matching charger stand
Waterproof
The slim nature of the charger allows for easy for an easy fit into a luggage bag when travelling
Looks good!
Drawbacks:
The beard trimmer is not that suitable to body trimming as other trimmers
Battery life gradually reduces over time
---
Wahl 9916-4301 Beard And Moustache Trimmer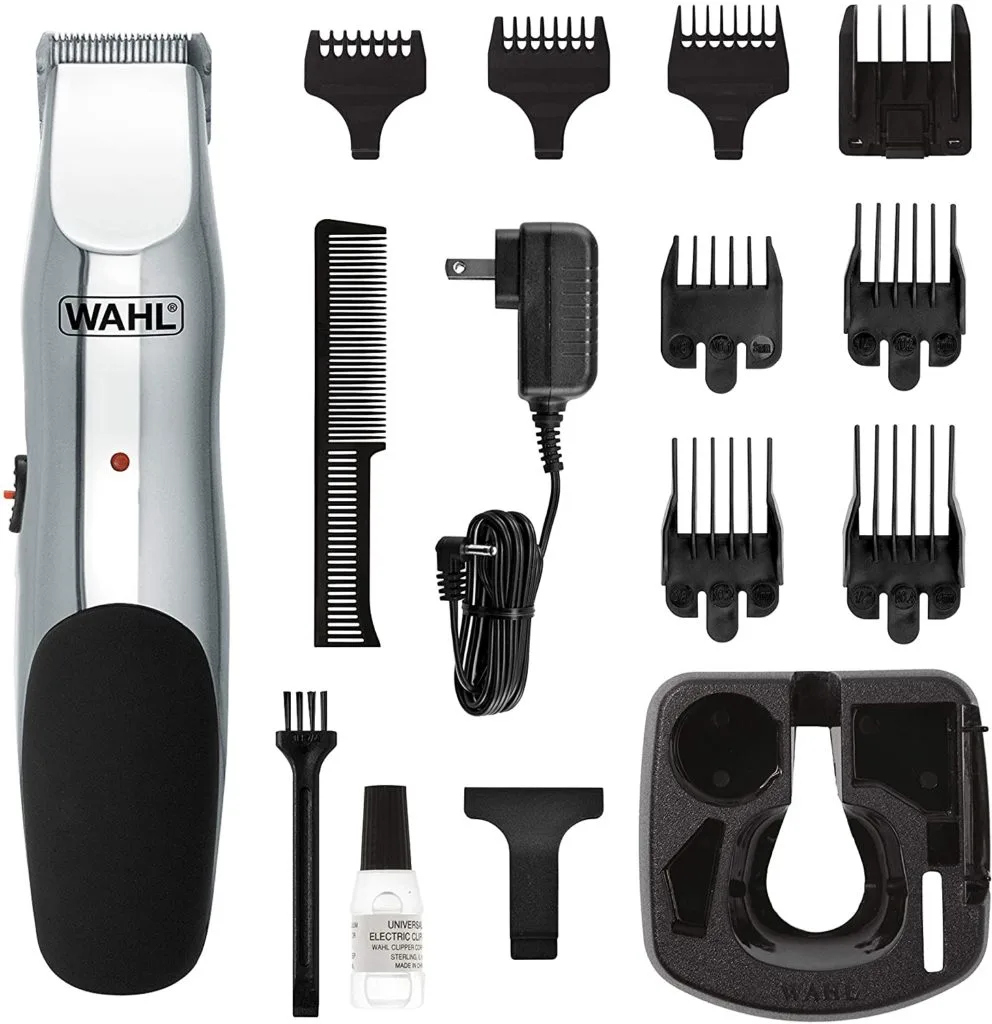 Product Overview:
Wahl has been around since 1919, so it has stood the test of time. They make decent products!
Easy to adjust 5 length setting trimmer
It's super affordable and long lasting
Benefits:
Wahl reputation of being over 100 years old and is hence a trusted brand
Generally speaking the Wahl clippers provide a smooth shave
Price point is very low
Battery charge lasts a long time
It's small and light, making it easy to travel with
Drawbacks:
Generally speaking, you pay for what you get so the low price point can be a negative too as the quality isn't as high as some of the other beard trimmers
Won't give you a very precise cut
---
Conclusion: So Which Is The Best Beard Trimmer?
After having done a thorough review on the above products, for me the stand out beard trimmer was the Hatteker Trimmer.
It's versatile, waterproof and I just like the feel of the trimmer.
Obviously everyone has their individual preferences, but this is mine for sure!
I hope you found this article useful and please feel free to share your favourite beard trimmer!
Cheers,
Will