In this article we are going to share our opinions on the best moisturizer for your bald head.
So you have taken the plunge and decided to shave your head, and for that I congratulate you!
No more worrying about going bald.
No more stressing about whether you can get your hair to grow back again.
You are now officially on your way to embracing baldness 100%.
Awesome!
But with a great bald head comes great responsibilities.
You need to start looking after your newly bald head, otherwise you are going to pay for it in the long run.
All of a sudden your bare skin is exposed to sunlight, to the cold.
It can feel irritated, and it can get dry.
And what's one of the best ways to take good care of the skin on top of your new crown?
Moisturize it on a daily basis!
Early on in my bald journey, I never thought about ever using a moisturizer for a bald head.
I mean, it just wasn't something I thought I ever needed!
Once you take the step and shave your head, your bald head will become exposed to more pollutants, air borne toxins, allergens and even weather elements such as extreme heat and extreme cold. These all directly affect our shaved head.
Being exposed to these elements above will cause dryness, irritations and other skin related problems to your bald head.
So if you are wondering what is the best moisturizer for bald head, then keep scrolling.
You are in the right place!
In A Hurry?
Here is our favorite pick for you to check out!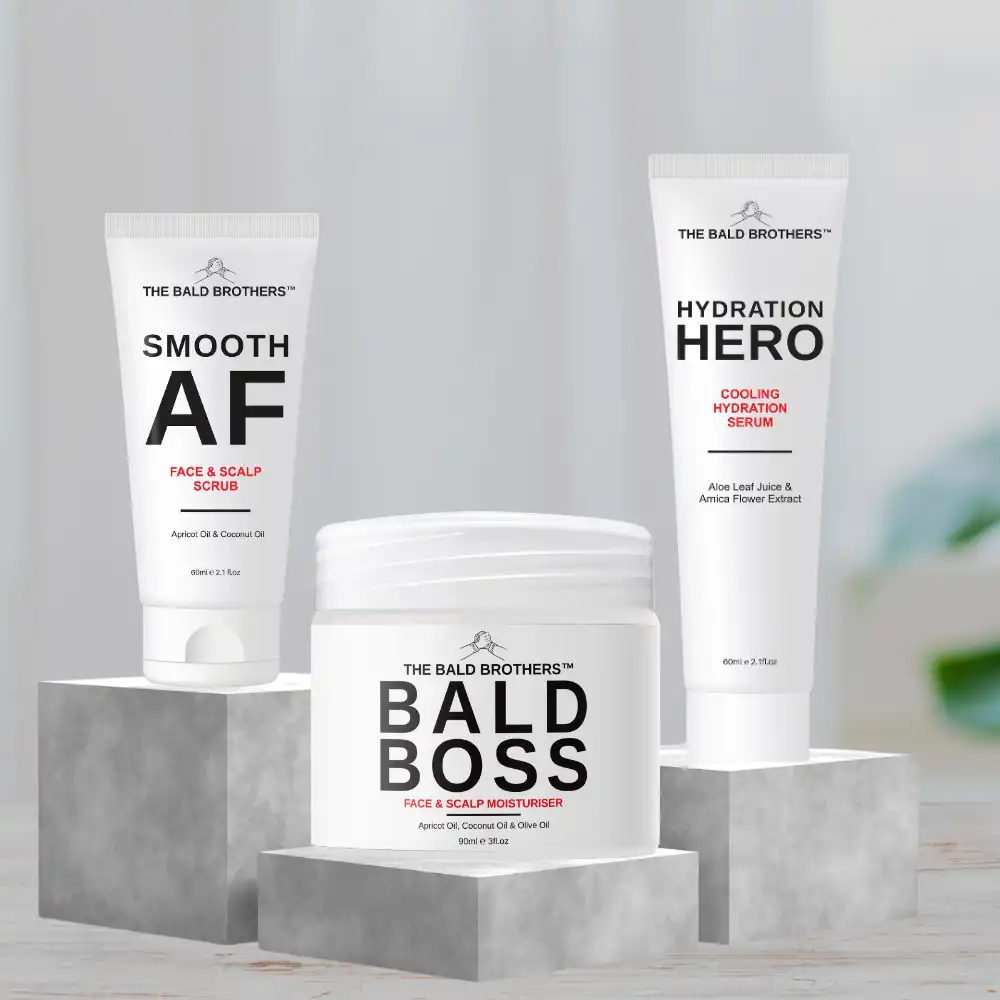 The Bald Brothers Full Bald Head Care Set
Smooth AF - Exfoliate & cleanse
Hydration Hero - Hydrate, cool and smoothen
Bald Boss - world's best moisturiser for bald heads!
Helps to maintain a healthy looking scalp and face.
Non shiny and non greasy moisturiser!
Free, Fast shipping to the USA & UK!
15% OFF your first purchase with code: BALD15
SHOP NOW!
5 Important Considerations To Note About Moisturizers For Your Bald Head
See also:
Below are a few things to take into consideration before you pick a good moisturizer for your bald head.
1. Is It Natural?
Using a moisturizer that is natural and contains little to no chemicals is the best for our shaved head.
When possible, always try and go natural.
2. Is It Sticky?
The last thing you want is to use a moisturizer or cream on your head which is a bit sticky and just feels extremely uncomfortable.
There are some creams out there that just suck.
It is as simple as that.
But if you pick a moisturizer which is made correctly, with high quality ingredients, then this won't be the case.
3. Does It Absorb Easily & Quickly?
We made sure when we created and tested The Bald Boss that it does both of these!
There's nothing worse than trying to put on some cream on your scalp, only for it to not absorb 100%.
You then end up looking like a weird guy with white cream all over his head, and no one wants that!
4. When Is Best Time To Use Moisturizer?
The best time to apply your moisturizer would be directly after your morning shower once you have dried and washed your head.
This has been proven to be the most effective and efficient time to apply moisturizer, as your scalp will be able to absorb it best without it being hindered by dirt and dust particles.
Another good time is right before bed after taking a shower.
On top of that, we use The Bald Boss as an aftershave too. And it works like a charm!
5. How Often Should You Apply Moizturiser?
Most products recommend you apply moisturizer once or twice a day maximum (after your morning and evening shower is best).
That should be enough frequency to keep your bald head in tip top shape!
If you do feel that your head is really dry, then feel free to apply as much as is needed.
The Best Moisturizer for Bald Head
See also:
When we first started The Bald Brothers, it was only meant to be in the form of a blog.
But a lot has changed since then, and we spent months creating our very own bald head skincare products.
As we grow, we will be adding more products to our range.
So we are very excited to be able to share this all with you!
We persoanlly believe our products are the best moisturizer for any bald head.
We use it everyday, and we love it!
---
The Bald Brothers Skincare Products
We actually just launched our very own bald head moisturizer, and are extremely satisfied with how it has turned out!
As it is still early days, we only have one product available – The Bald Boss!
It is the ultimate bald head moisturizer, and we simply love it.
The Bald Boss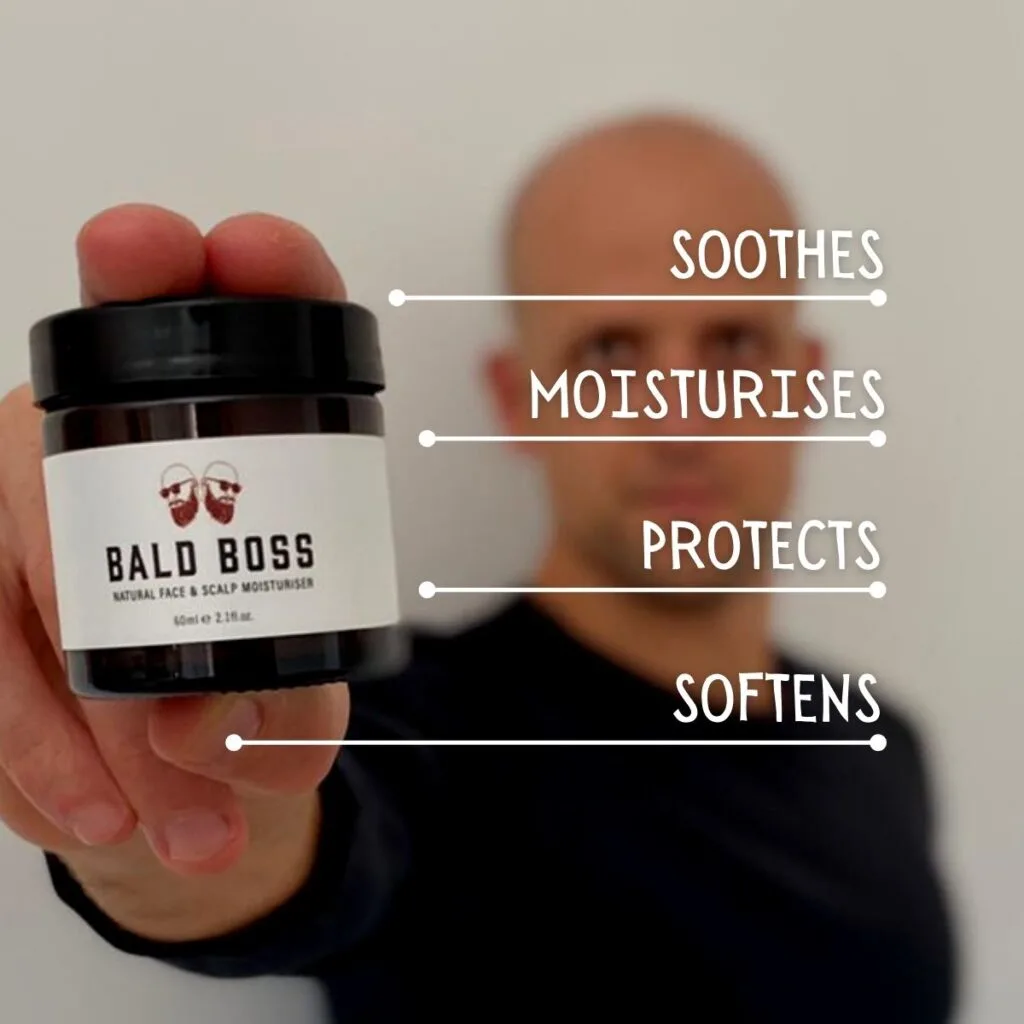 We made sure to include the best ingredients possible in this formula, and it really works!
Benefits:
Soothes the scalp and face
Keeps your skin really soft and healthy
Comes in a glass tub
Size is travel friendly
Acts as an antioxidant to free radicals in the air
Is simply epic!
Key Ingredients:
Apricot kernel oil (rejuvenates the skin)
Coconut oil (acts as an antioxidant & also hydrates the skin)
Baobab oil (a natural anti inflammatory)
Olive oil (moisturizes the skin)
Grapeseed oil (softens the skin)
It's quite a process to come up with your own branded skincare product.
We spent months trying and testing different samples, but finally found a formula which actually works.
On top of it all, we have tested so many other moisturizers for previous pieces of content, so we kind of know what's out there.
And we can proudly say our little tub of Bald Boss is a winner!
There's no added fragrance, we used as high quality ingredients as possible, and we packaged it in a glass tub.
We know it's hard for anyone to trust a new brand.
It's perfectly normal.
But we hope you'll give us a shot!
Check out what some of our customers have to say below:
---
The Importance Of Taking Care Of Your Bald Head
Most guys who shave their heads do not know that you actually need to take really good care of your newly shaved scalp.
It is a lot more sensitive than the skin on your face or body, so you have to make sure that you are applying a high quality product onto your scalp every single day.
We are on a mission to try and educate bald guys of the importance of having a skincare routine centered around your bald head.
Think about all that your head is exposed to on a daily basis.
Sun, dirt and free radicals which roam the air.
So it is important to take care of your head. And you do this by using the right products.
Final Thoughts
Being bald is more popular today than it's ever been in the history of mankind.
Over the years, tons of companies have come out and put products on the market that work for our bald heads.
Not all are good, that is why we created our very own.
As we said earlier, it is important that every guy who shaves his head, or every guy who is about to shave his head learn the art of grooming.
You have to be using a good quality moisturizer for your bald head. A good quality shampoo. And, of course, a good razor to get the job done!
Cheers,
Richard & Will