Disclaimer: The information presented by Bald Brothers is purely for informational purposes only. Any opinions on medical matters are purely the authors' opinions, and do not represent that of any medical professional. It is your responsibility to evaluate your own medical or physical condition before using any of the information presented. By voluntarily undertaking any of the exercises displayed on this post, the user assumes the risk of any resulting injury. This post may contain affiliate links.
As a bald man, I have found it important to have a few important men's self care products at my disposal at all times.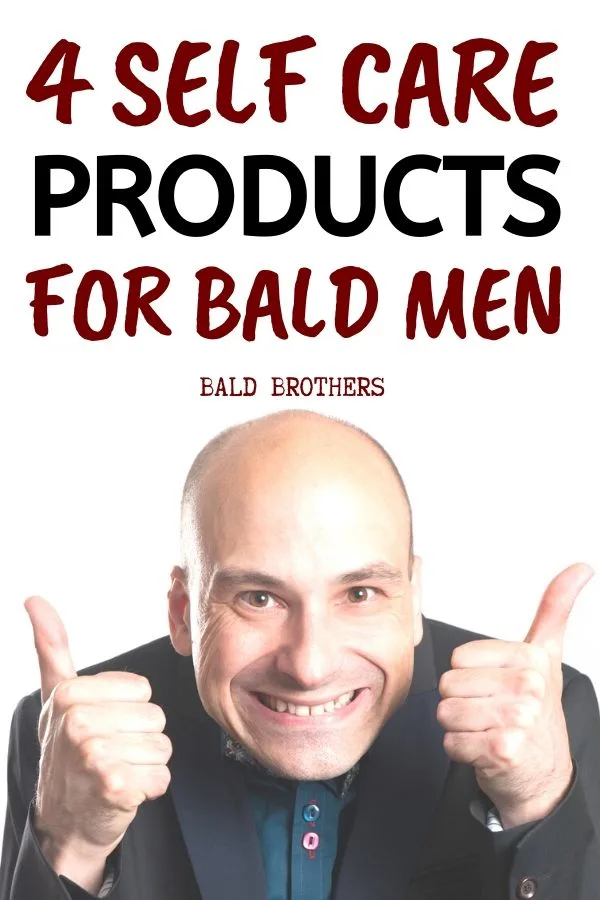 Shaving your head comes with a new form of responsibility.
You don't have a mop of hair protecting your scalp anymore, and so you need to adjust and re think how to protect your most valued asset – your shaved head!
By reading this article, I assume you have either shaved your head with a pair of clippers or a razor blade. And your newly shaved head is making you sit back and wonder what you need to do now that it's all gone, right?
The new responsibility quite simply lies in the fact that you need to maintain and groom your shaved head and protect it from getting damaged, especially if you live in a hot, dry climate.
When we first shaved our heads, we assumed that that was the only work required to look after our heads.
But it's really important that all bald men understand that they need to give their shaved heads a bit of love and care on a daily basis in order to keep your scalp happy and healthy!
Now every bald man has his personal preferences, but I personally have found 4 men's self care products that I simply cannot go without.
And in this article I will quickly list them for you to see!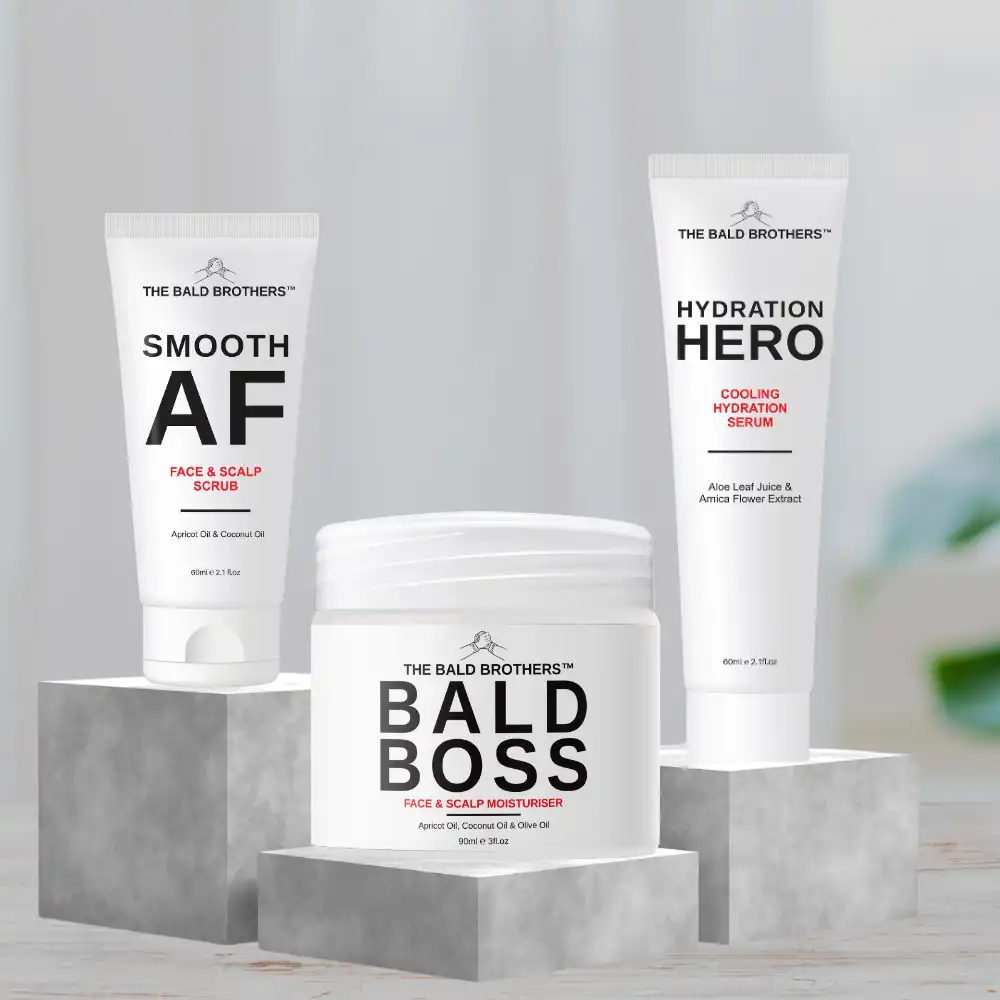 The Bald Brothers Full Bald Head Care Set
Smooth AF - Exfoliate & cleanse
Hydration Hero - Hydrate, cool and smoothen
Bald Boss - world's best moisturiser for bald heads!
Helps to maintain a healthy looking scalp and face.
Non shiny and non greasy moisturiser!
Free, Fast shipping to the USA & UK!
15% OFF your first purchase with code: BALD15
SHOP NOW!
4 Amazing Men's Self Care Products for Bald Men
See also:
Below are 4 of my favorite basic men's self care products that I use almost on a daily basis.
Now of course you might prefer a different product or two.
So if you think you might have any tips or ideas that could add value to this list, then write them in the comments below!
---
1. Face & Head Moisturiser
Getting into the habit of moisturizing your head on a daily basis is really important once you decide to shave your head.
What do we use and recommend?
Nivea Men Maximum Hydration Moisturising Wash
How long should it last?
About 1-2 months if you use it after shaving your face and your head.
Benefits:
Powerful, organic and natural ingredients
Lightweight and easy to apply
Revitalizes your skin
A quality moisturiser will go a long way to not only protecting your skin, but also making you look younger.
Other recommended face and head moisturiser products:
---
2. Coconut Oil
About a year or two ago I started getting into the habit of using organic coconut oil as a grooming product.
It really is a great product to always have around, and you can apply it to your entire body, face and your head.
I often apply it to my scalp right after shaving, and if I have an abnormally dry piece of skin anywhere on my body, I'll put some coconut oil on that spot.
What do we use and recommend?
Sky Organics, Deodorised Coconut Oil
How long should it last?
A tub of coconut oil should last you 3 months. Keep it in a dry, cool place.
Benefits:
Moistens your head and face after shaving
Heals wounds
Treats acne
Protects skin from harmful bacteria and UV rays
Coconut oil is totally natural and organic. It serves many purposes and can be easily acquired anywhere.
Other recommended coconut oil products:
---
3. Apple Cider Vinegar
Apple cider vinegar is one of those kitchen ingredients that can actually help you out quite a bit!
I have started drinking a small amount on a daily basis, and I feel really good.
On top of that, you can use it for your skin too.
It's really one of those multi purpose household items you need to have.
What do we use and recommend?
Bragg Organic Raw Unfiltered Apple Cider Vinegar
What is it used for?
Its has two uses: You can pour a few drops with a pint of water first thing in the morning, or you can apply it to your face and head a few minutes before showering.
How long does it last?
32 Oz should last you 4-6 months.
Benefits:
Can improve digestion
Good for building up immune system
Can assist in weight loss
Can reduce acne breakouts, and also destroys bacteria
Other recommended apple cider vinegar products:
---
4. Sunscreen
The one thing you never want to happen when you have a completely shaved head is to get a sunburn on your scalp.
It's a horrible feeling, but can easily happen.
Get in the habit of applying a good, strong sunscreen to your scalp every single day after showering.
What do we use and recommend?
Nivea Sun Moisturising Sun Lotion SPF 50+ 200ml
How long should it last?
A 200ml bottle should last you a good few months. I usually purchase about 2 bottles a year!
Benefits:
Protects against the sun burn (Obvious!)
Prevents wrinkles
Prevents skin from peeling (especially on your shaved head - you don't want that, trust me!)
Keeps your face and head moist, and prevents it from drying out
Other recommended sunscreen products:
---
Benefits Of Taking Care Of Your Shaved Head & Face
See also:
The benefits of maintaining and taking care of yourself are quite self-explanatory, but can be forgotten quite easily.
I've have added 5 benefits below that I personally have experienced.
Makes you look more attractive
Takes years off your physical appearance, and hence makes you age slower
Women will love you even more
It will draw attention to your best features
Keeps your face and shaved head clean
By maintaining and taking care of your new bald look, you are taking ownership of your current situation and embracing your baldness.
Conclusion
Self care products are both preventative and can be used as a cure to side effects from shaving your head.
As a bald brother, I always keep these 4 self care products at home or when I travel.
They always come in handy!
I hope you found this article informative.
Cheers,
Will