If you are bald like my brother and I and are wondering whether your life is over, then fear not! Being bald can actually kick ass, and this post containing 9 benefits of being bald will show you exactly that.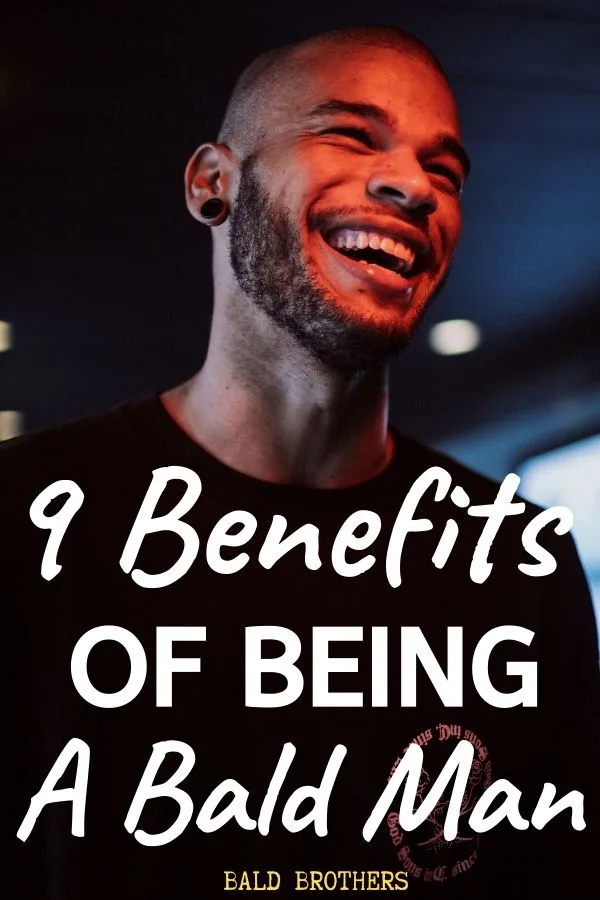 According to the American Hair Loss Association, by the age of 35 two thirds of men will experience some form of hair loss. This is quite a big number, and has a massive impact on balding men, especially emotionally.
I get it.
Losing hair can suck.
You might think your life is completely over, and that any bit of self confidence you thought you had is now out the window.
It can cause anxiety, depression and just pure unhappiness in men.
But it really shouldn't, don't you think?
Going bald can actually be pretty awesome, if you do it the right way!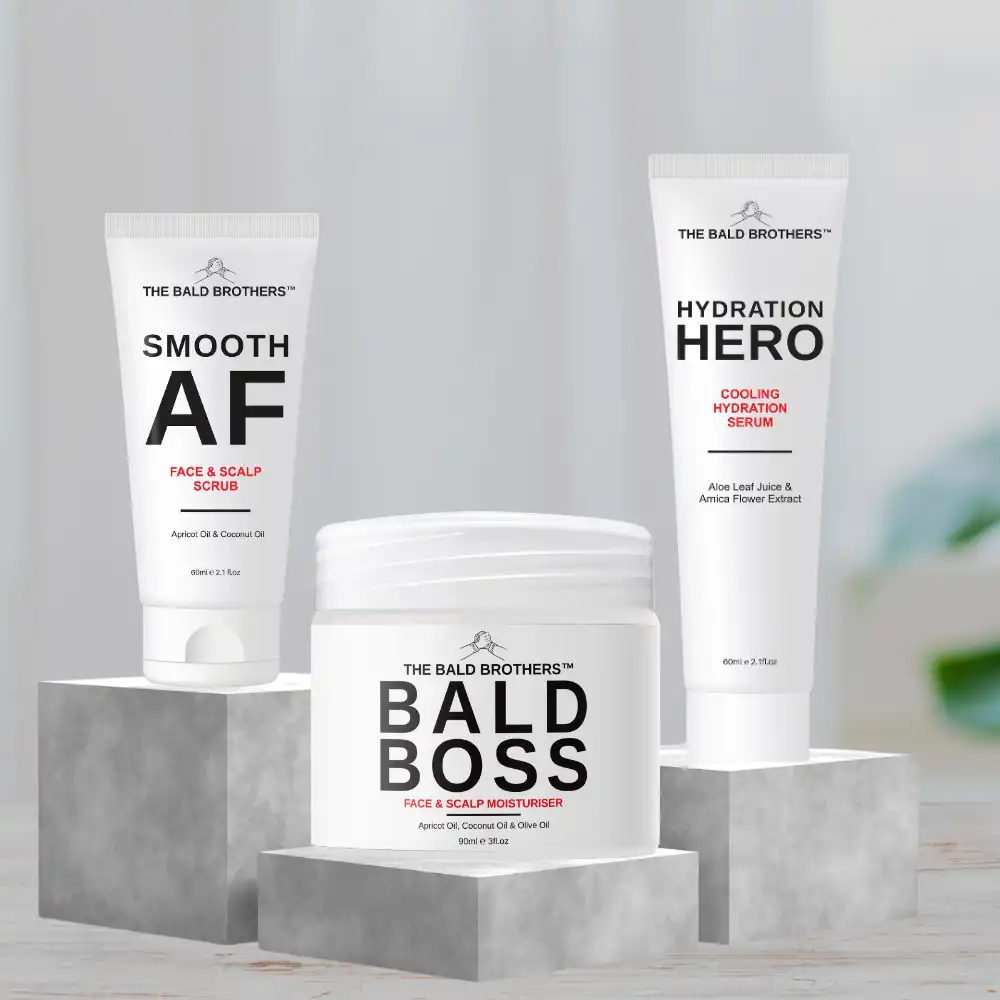 The Bald Brothers Full Bald Head Care Set
Smooth AF - Exfoliate & cleanse
Hydration Hero - Hydrate, cool and smoothen
Bald Boss - world's best moisturiser for bald heads!
Helps to maintain a healthy looking scalp and face.
Non shiny and non greasy moisturiser!
Free, Fast shipping to the USA & UK!
15% OFF your first purchase with code: BALD15
SHOP NOW!
9 Benefits Of Going Bald
See also:
Now when most men start to lose hair in their 20s, they try and cover it up for as long as possible.
They feel like they need to hold onto those last few hairs for as long as nature allows, and then when they have no other choice, they'll get ride of the last bit.
Combovers, strategic hairstyles and caps start to takeover their lives!
I actually disagree with this way, though.
In my opinion, when you see you are starting to go bald, you should shave it off completely and start to own your new look.
Trust me, I have been through it. And if you ask any bald guys who have razored heads, they'll all tell you the same thing.
They wish they did it sooner!
So if you are going bald and having nightmares about it, don't stress!
Today I have put together 9 benefits of going bald that show that you can kick ass in life as a shaven head guy.
As a bald man myself, I can vouch for every single one of these advantages listed below.
So without further ado, here are 9 awesome benefits of being a bald man!
1. You Are Seen As More Masculine
This actually comes as no surprise!
All throughout life men without any hair always get portrayed as being more masculine.
Be it the hardcore guys in films (think Jason Statham, Vin Diesel or The Rock), cops, soldiers, special forces and more.
They always seem to have shaved heads, and just look extremely badass.
Another reason most bald men are seen as being more masculine is the fact that all prisoners have buzz cuts.
So if you are a bald guy, be glad.
This benefit is especially true if you are in shape too!
So with a little of work, you too can get in shape and look like a proper bald badass.
2. You End Up Saving Time & Money
Up until early 2017, I actually had long hair.
Like really long.
Even longer than my girlfriend's hair!
So I know how much time and money gets invested into taking care of your precious locks.
When you take the plunge to complete baldness, and start using a razor every few days on your head, you can forever throw away things such as shampoo, conditioner, brushes, combs, and any sort of hair gel or hair wax.
No more grooming for you!
And on top of it all, you end up showering a lot quicker too.
So that's also a positive for the environment.
3. Summer Will Be Even Better
No more sweaty, greasy hair in the hotter months!
Yes you will get a lot of direct sunlight on your head during summer, but a hat or some SPF will always work.
No hair means both swimming and a light breeze will become a lot more enjoyable during the summer months!
4. You Don't Need To Stress About Going Bald Anymore
The fear of going bald is one of, if not the worst fears younger men have!
And it's even worse when you notice the inevitable: Balding is coming.
You usually know by your late teens or early 20s whether or not you will start to bald.
So many men spend 1000s of Dollars on specialists, products and even hair transplants to try and fight their biggest fear.
But if and when you decide to finally say enough is enough, and bid adios to your hair, you literally eliminate that fear of going bald immediately!
5. You'll Look Great With Facial Hair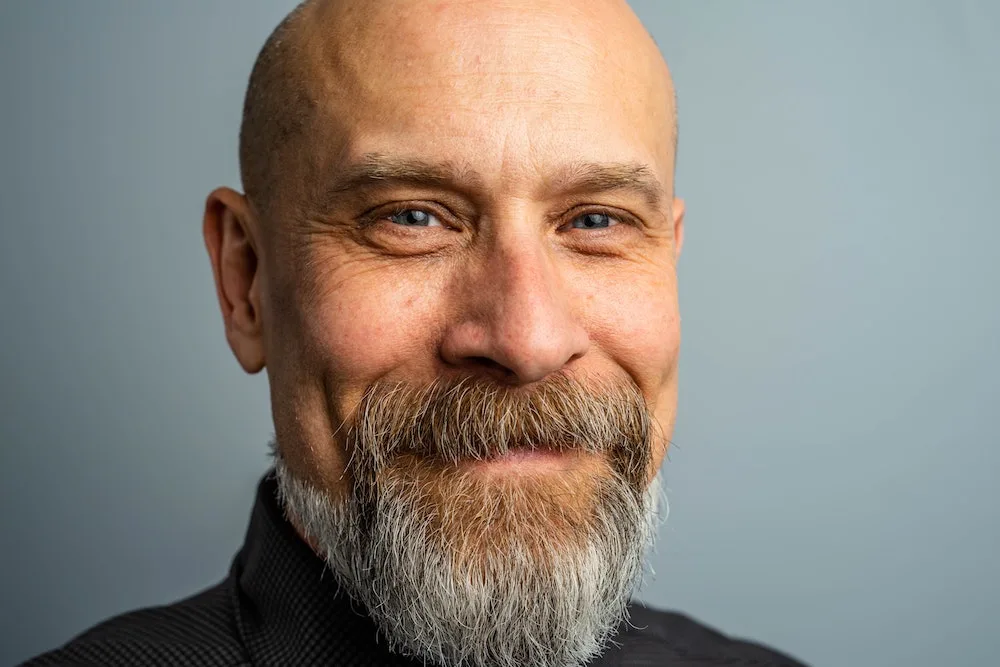 The bald man with amazing facial hair is one look which is becoming more and more popular!
And for good reason.
It just looks awesome.
More often than not men who go bald are able to grow incredible beards. This has been proven in studies showing the correlation between early balding and growing sweet beards.
6. Baldness Can Lead To Better Business Deals
Bald men are often seen by many as being better leaders than non bald guys.
This will definitely give you an edge in the business world!
I guess people find it a bit harder to say no to a hardcore-looking bald man, right?!
But this is only true to men who shave their head completely bald.
If you are partially bald and are holding onto your last few pieces of hair, then the opposite is actually true.
You are seen as weaker.
So make sure to razor your head the moment your baldness starts to clearly show!
7. It Forces Your Personality To Stand Out
Many men think that once their hair is gone they have nothing going for them anymore, and that they have lost all of their good looks and appeal to their favored sex.
This is absolute nonsense.
Going bald firstly doesn't mean your looks are gone. And secondly, it forces you to push your personality outward a bit more!
Trust me, a good personality will take you places with the ladies.
And if you feel your personality isn't where it should be, then work on it a bit.
8. You Don't Age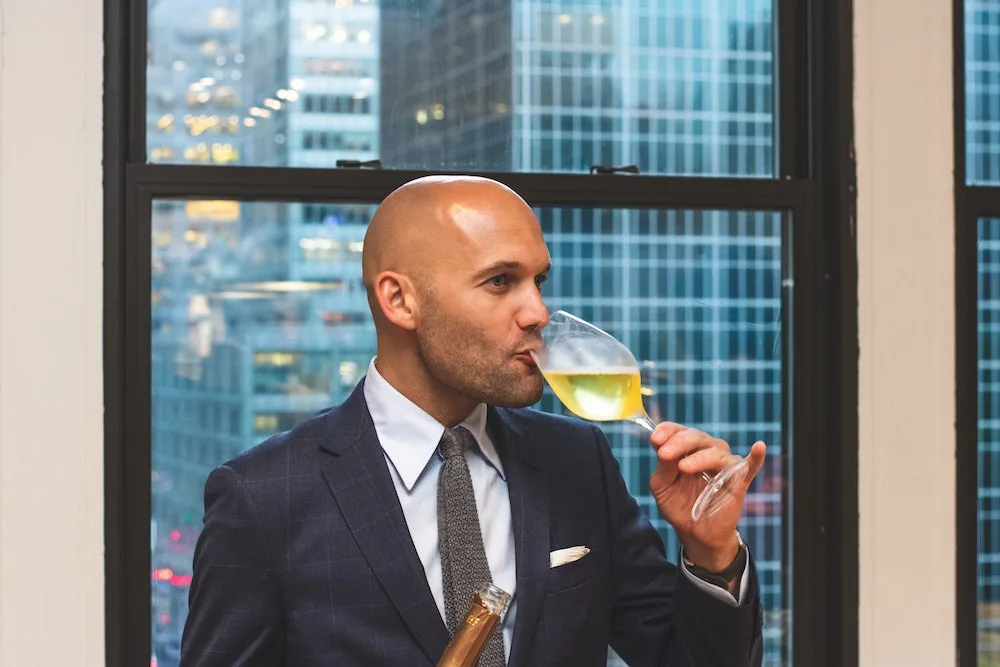 The great thing about being bald is that you'll end up looking the same age in ten years as you do now!
This is mostly due to the fact that you have zero gray hairs showing.
So as long as you keep your skin and physical health in decent condition, you'll look the same in ten or fifteen years!
9. Hats Look Good On You
Don't you just hate how when you have a lot of hair it gets in the way of wearing a hat, or even worse. You get hat hair!
With baldness comes zero hat wearing problems.
Wearing any hat as a bald guy will look good on your head.
So go ahead and get yourself a baseball cap, a flat peak cap, or even a fedora.
You'll look really good!
Final Thoughts
There are plenty of benefits of being bald.
But it's important to own your baldness.
Trust me.
As a fellow bald man myself, this is the most important aspect of baldness.
Ask any guy who is finally at the stage of shaving their head completely with a razor, and they'll tell you that you should own the baldness sooner rather than later.
Don't wait until half your hair is gone.
Get the razor out and be a bald badass the moment you notice you are losing hair.
You won't regret it!
Cheers,
Richard