In this quick article we are going to discuss scalp care for all of you bald beauties, and how you can easily ensure your scalp and face remain healthy and better looking!
It's another weekday morning.
You wake up and your scalp is dry, itchy, flaky and you just can't figure out what the hell is going on.
You thought shaving your head would take away all your problems and issues…
Sure it took away all balding and hair loss emotions, but shaving your head has caused scalp irritation and issues that you didn't think would be an issue!
Most men and women who decide to shave their heads after dealing with hair loss and balding issues, think that the hard work is done. They've shaved their heads and now they can rock the bald head without any worries at all.
If you have read a bunch of our previous posts, then you would've realised how we always stress the importance of taking responsibility for your scalp once you take the plunge and shave your head.
We can't stress enough how important a scalp care routine is, and how important it is to start moisturizing and caring for your bald head immediately after taking the plunge.
In A Hurry? Check Out The Bald AF Bald Head Set!
Shop On Amazon Prime!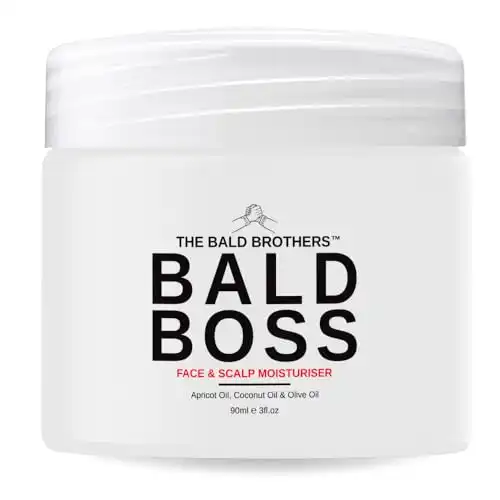 Scalp Care: Why Should You Take Of Your Scalp?
By taking care of your scalp on a daily basis, you prevent loads of potential future scalp issues from occurring.
Below are a few common scalp issues that can occur if you don't make scalp care and grooming a daily habit and routine.
Flaky scalp
Dry scalp
Itchy scalp
Razor bumps
Razor burns
Dehydrated scalp
These can obviously be very easily prevented by getting into a good grooming routine on a daily basis and taking care of your scalp.
This includes moisturising your scalp on a daily basis and using an exfoliate scrub 2-3 times per week, prior to a head shave.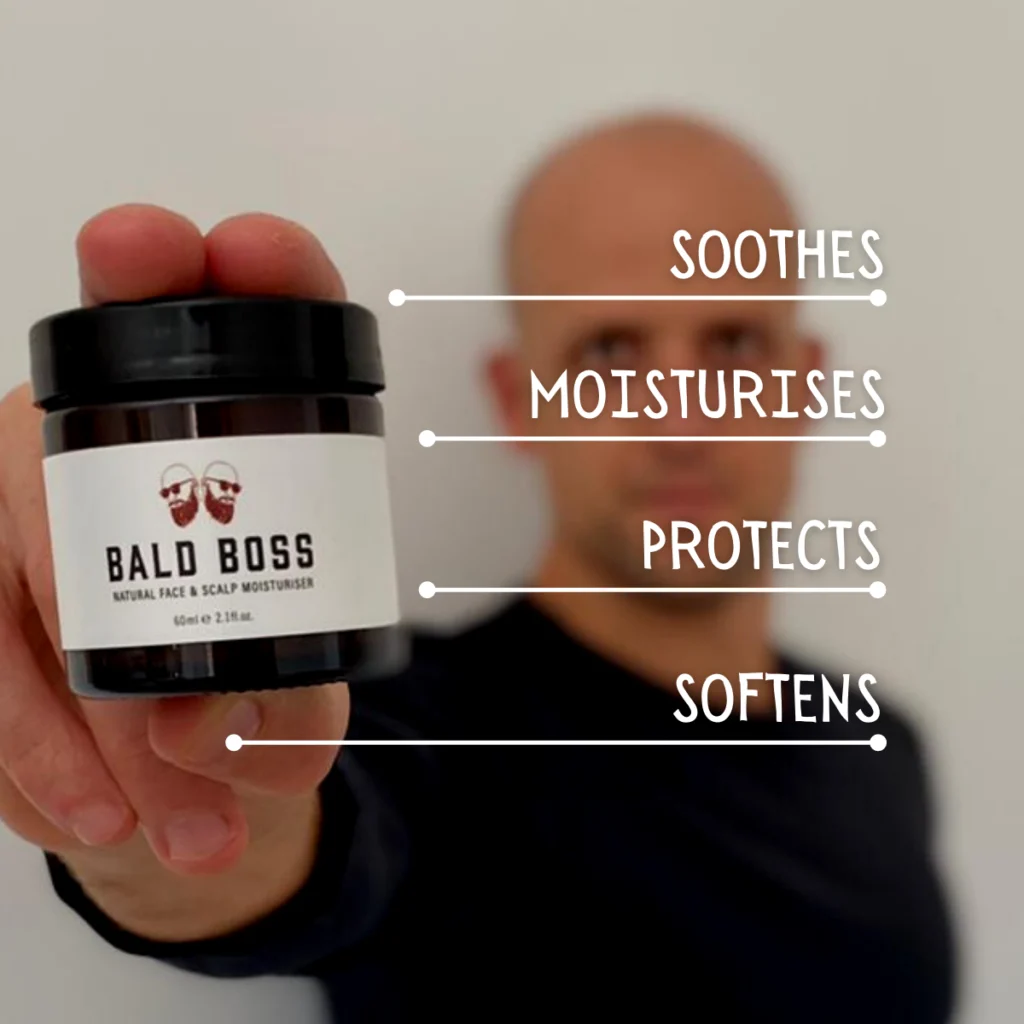 Five Important Considerations When Choosing A Moisturizer For Your Bald Head
See also:
Below are a few things to take into consideration before you pick a good moisturizer or cream for your bald head.
1. Does It Contain Good, Natural Ingredients?
Using a moisturizer that is made up of natural ingredients and contains little to no chemicals is the best for our shaved head.
When possible, always try and go natural.
2. Is It Oily?
The last thing you want is to use a moisturizer or cream on your head which is oily and just feels extremely uncomfortable.
There are some creams out there that are just awful to use, and leave your scalp oiler than before.
But if you pick a moisturizer which is made correctly, with high quality ingredients, then this won't be the case.
3. Does It Absorb Easily & Quickly?
We made sure when we created and tested The Bald Boss that it does both of these.. absorbs easily and quickly!
There's nothing worse than trying to put on some cream on your scalp, only for it to not absorb 100%.
You then end up looking like a weird guy with white cream all over his head, and no one wants that.
4. When Is Best Time To Use Moisturizer?
The best time to apply your moisturizer would be directly after your morning shower once you have dried and washed your head.
This has been proven to be the most effective and efficient time to apply moisturizer, as your scalp will be able to absorb it best without it being hindered by dirt and dust particles.
Another good time is right before bed after taking a shower.
On top of that, we use The Bald Boss as an aftershave too.
And it works like a charm!
5. How Often Should You Apply Moisturizer?
Most products recommend you apply moisturizer once or twice a day maximum (after your morning and evening shower is best).
That should be enough frequency to keep your bald head in tip top shape!
If you do feel that your head is really dry, then feel free to apply as much as is needed.
What Products Do We Recommend Using For A Dry, Itchy Scalp?
Having suffered the consequences of not having a good grooming routine which lead us to having a dry, itchy dehydrated scalp on numerous occasions, we realised how important it was to have a good, quality scalp and skincare product range at our disposal to use on a daily basis.
So we decided to create a bald head care product range that would take your scalp care routine to the next level!
Introducing The Bald Brothers Skincare Products
When we first started The Bald Brothers, it was only meant to be in the form of a blog.
But a lot has changed since then, and we spent months creating our very own bald head skincare product range.
We currently have two products in our skincare range (with more to come!): A scalp moisturiser and an exfoliate scrub.
We are extremely satisfied with our products as they have delivered in their purpose in helping bald men take care of their scalps.
The feeling of a dry, dehydrated flaky scalp is something that should and can be avoided at all costs.
We only have two products available – The Bald Boss and The Smooth AF.
They compliment each other very well and we think they are the perfect bald head grooming set to start off with after shaving your head.
Let's take a further look at our two products and how they compliment each other to make bald heads look better than ever before.
1. The Bald Boss Scalp Moisturizer
It is the ultimate bald head moisturizer, and we simply love it.
It contains five key natural ingredients, it's free from parabens, alcohol and actually works at keeping your skin healthy.
It doubles up as a face moisturiser too, and has a 60-90 supply.
Shop On Amazon Prime!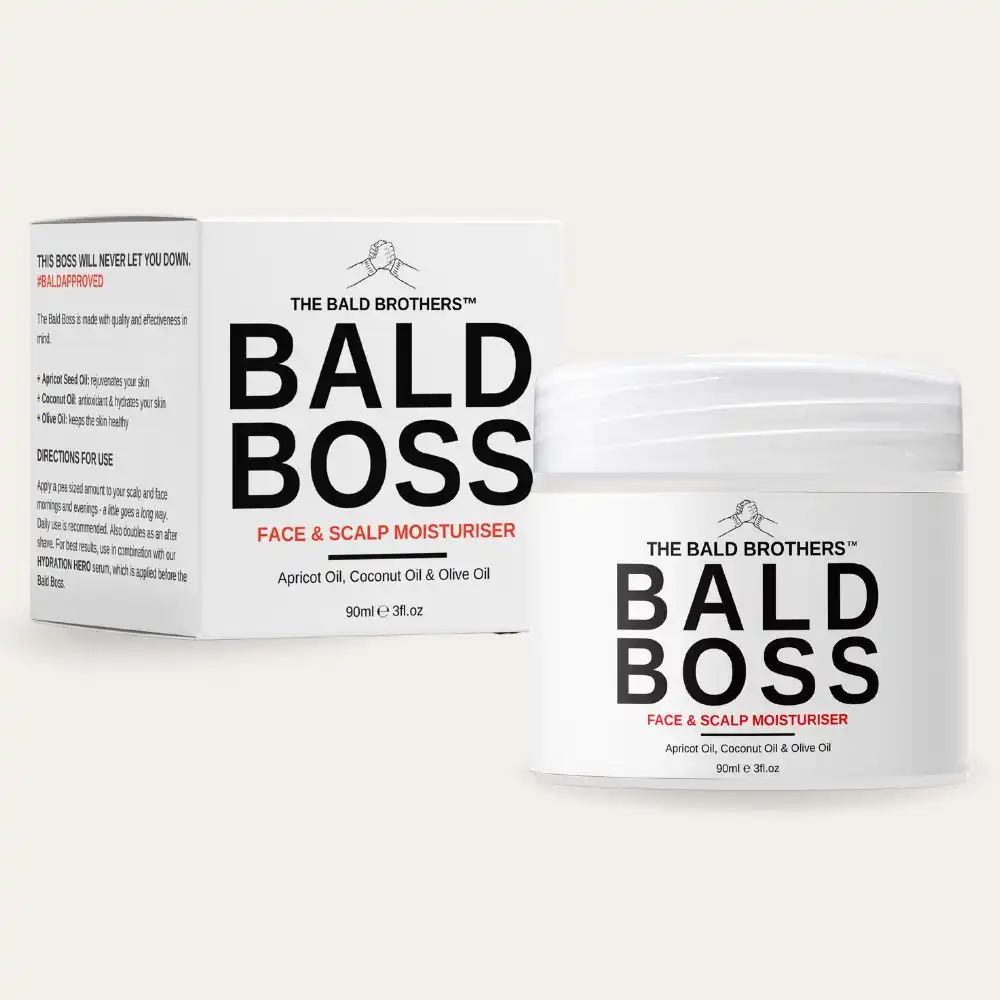 2. The Smooth AF Exfoliate Scrub
Did you know that exfoliating your scalp before a head shave gives you a cleaner, smoother head shave?
When using an exfoliate scrub on your scalp prior to a head shave, it softens the hair follicles which leads to easier, smoother and cleaner head shave!
An exfoliate scrub gets rid of built up dirt, dead skin cells and keeps your skin hydrated.
Softens any hair on your skin, making for a great pre-shave!
Face & Scalp Exfoliate Scrub!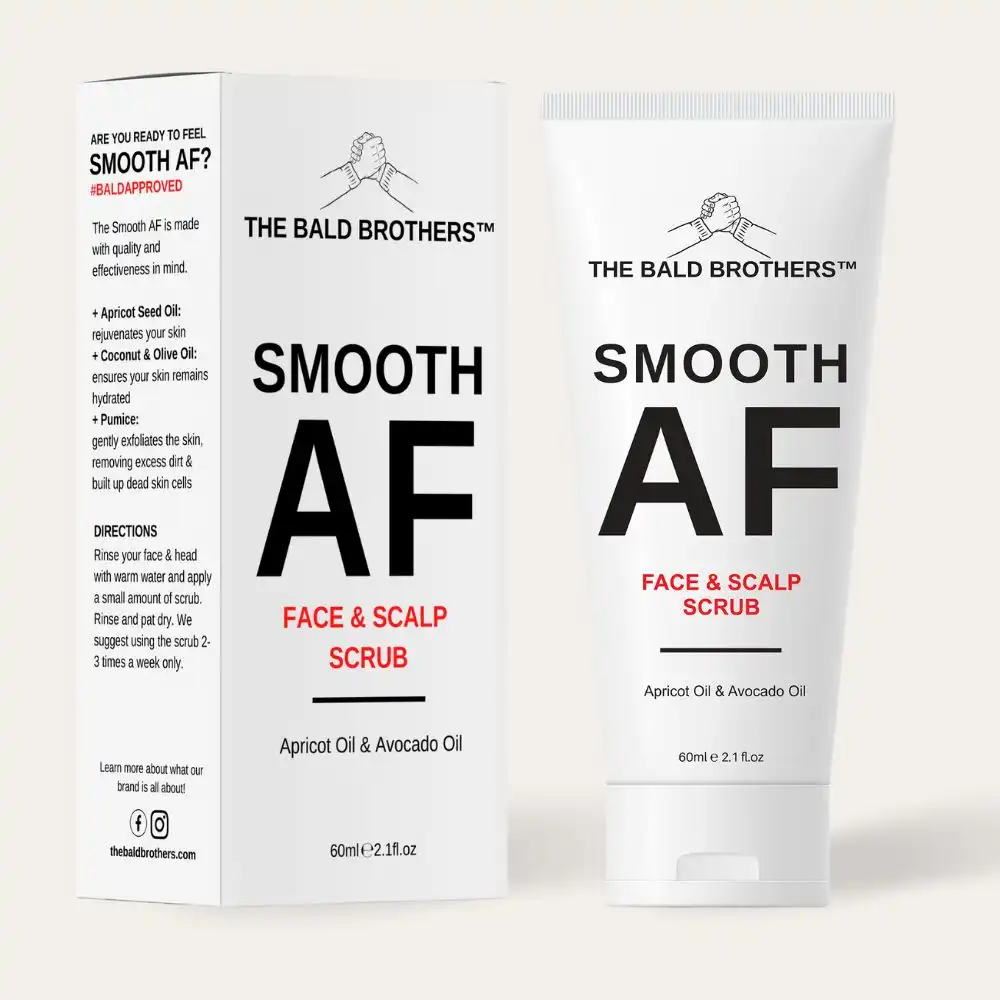 Smooth AF Exfoliate Scrub
Gently exfoliates the skin.
Gets rid of built up dirt and dead skin cells.
Softens any hair on your skin, making for a great pre-shave!
Keeps the skin hydrated.
Made with pumice, apricot kernel oil & coconut oil!
Free, Fast shipping to the USA & UK!
SAVE 15% on 1st purchase when you sign up to our mailing list!
Shop Now
The Importance Of Taking Care Of Your Bald Head
Most guys who shave their heads do not know that you actually need to take really good care of your newly shaved scalp.
It is a lot more sensitive than the skin on your face or body, so you have to make sure that you are applying a high quality product onto your scalp every single day.
We are on a mission to try and educate bald guys of the importance of having a skincare routine centered around your bald head.
Think about all that your head is exposed to on a daily basis.
Sun, dirt and free radicals which roam the air.
So it is important to take care of your head.
And you do this by using the right products.
Final Words
Being bald in the year 2022 is very popular.
Men and women have realised that owning your hair loss and shaving your head will set you free.
Grooming is one aspect that most men still neglect, and we are here to change that!
This basically boils down to it not being part of most mens routine for years and having to start a new habit is always difficult in the initial phase.
Over the years, many brands have come out and put products on the market that work for our bald heads.
Most of them aren't good, that is why we created our very own bald head product range.
As we said earlier, it is important that every guy who shaves his head, or every guy who is about to shave his head learn the art of grooming.
You have to be using a good quality moisturizer for your bald head.
And, of course, a good exfoliate scrub and razor to get the job done!
Cheers
Will