Below you'll find my honest Boldking review, what I liked and what I disliked, and how it felt shaving my head with their uniquely flexible blades.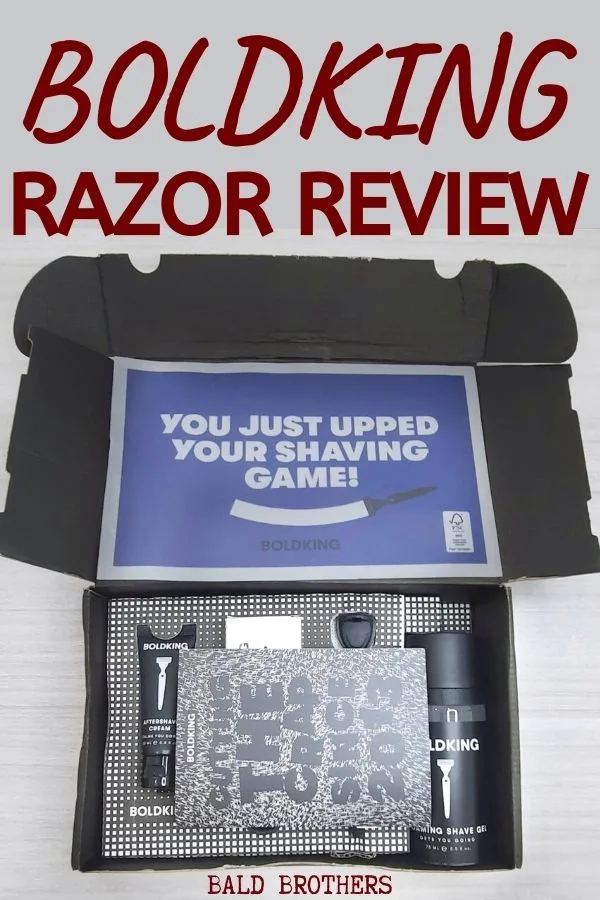 Recently I was doing a bit of research and trying to find a shaving company that's based in Europe and that isn't one of the big two shaving brands.
Now I know there are already so many companies that have made shaving affordable once again, and these companies have some amazing subscription services etc, but they are mostly based in the USA.
And as I am currently based in Europe, I wanted something a bit more local.
So I stumbled upon a shaving company called Boldking, and I was intrigued immediately.
They seemed to have a completely different type of product to the conventional razors, with a flexible, rubber razor that claims to work with literally any shape of head or face.
So I thought let me get my hand on a set of their goods and give my 100% honest opinion of how they perform!
So if you are looking for an extremely thorough Boldking review and are contemplating purchasing this product, then keep scrolling.
If you are a newly bald man and need to learn how to shave your head the best possible way, then make sure to check out this guide!
Who is Boldking?
Boldking were founded in the Netherlands in 2013, and have since racked up over half a million customers. And in 2019 they landed a €10million capital injection from investors.
They serve over 9 different European countries, and will most likely expand in the future if things keep going well.
With their headquarters still in Amsterdam, they are shipping and doing monthly subscriptions to a list of countries inside Europe and the United Kingdom.
Their marketing also seems pretty cool, and you immediately sense that they are quite with it when you land on their homepage.
Everything seems slick, easy to navigate and just very modern. Even their use of language is something which I enjoyed. None of this super conservative, old school language.
Companies that head in a bit of a different direction often catch my eye a lot easier!
So let's get started with our honest Boldking review, and at the end I will give my overall score based on a number of categories.
Are We Being Paid to Write This Review?
In simple terms:
No.
We did reach out to Boldking and asked them to send us over their best stuff. And in return we will give an honest review of everything.
---
Boldking Review & Unboxing the Products
When you land on Boldking's homepage, you immediately see their 3-in-1 shave set for sale, which is what I received.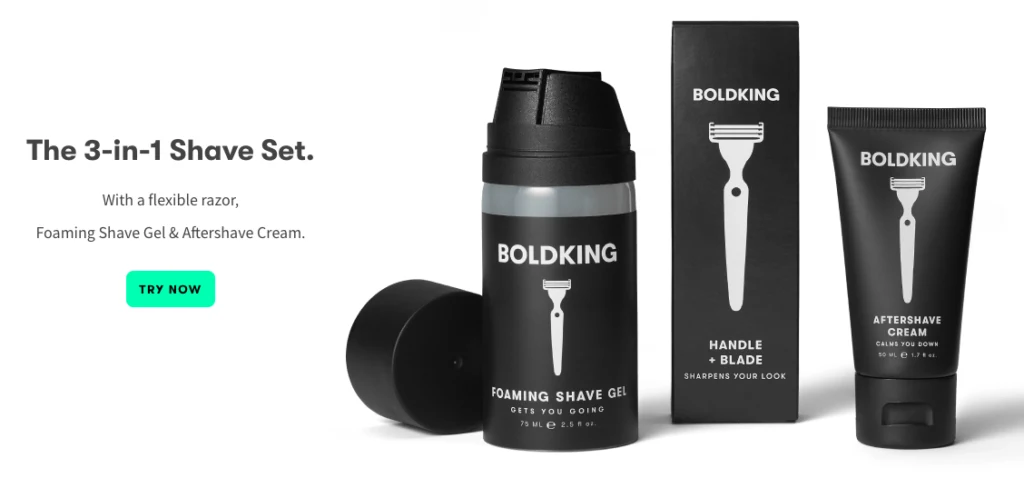 Included in this set is some shaving foam, aftershave cream, your razor, and 4 of the unique Boldking razor blades.
Upon checking out, you get the option of either purchasing a Boldking Repeat, where you get sent new blades every so often. Or you can just make a one time purchase.
Naturally if you choose the Repeat option, you save money in the long run.
The choice is yours.
What's Inside The Box?
Once my box arrived, I started to unpack it!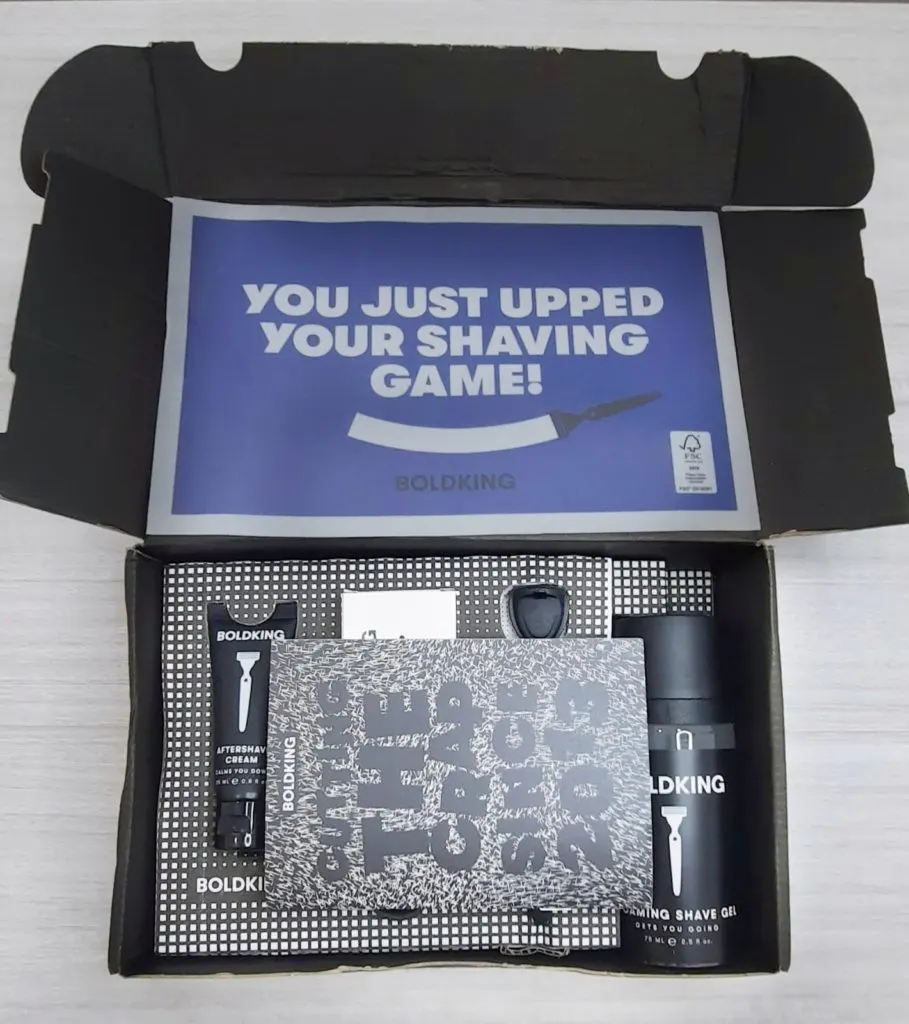 One thing I noticed immediately was that there's no industrial strength, plastic packaging.
You know, that kind where you need a set of pliers just to get your products out?
It comes in a simple cardboard box, and you are greeted by a welcome note and a small booklet explaining what Boldking's all about.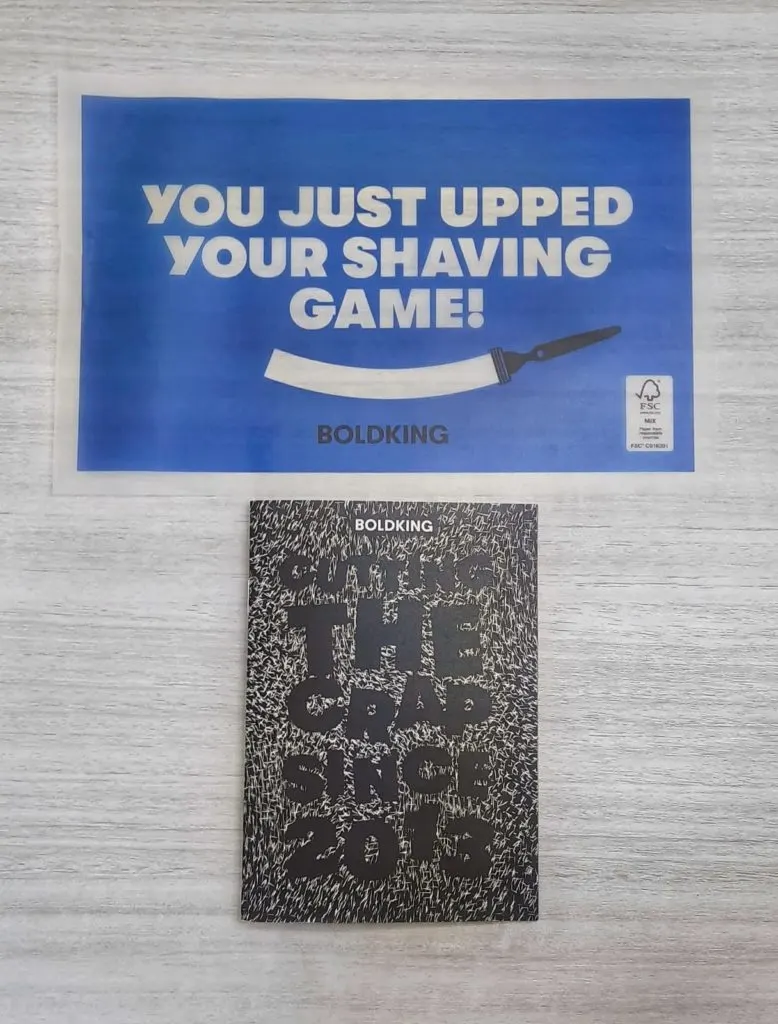 Love their slogan – "Cutting the crap since 2013".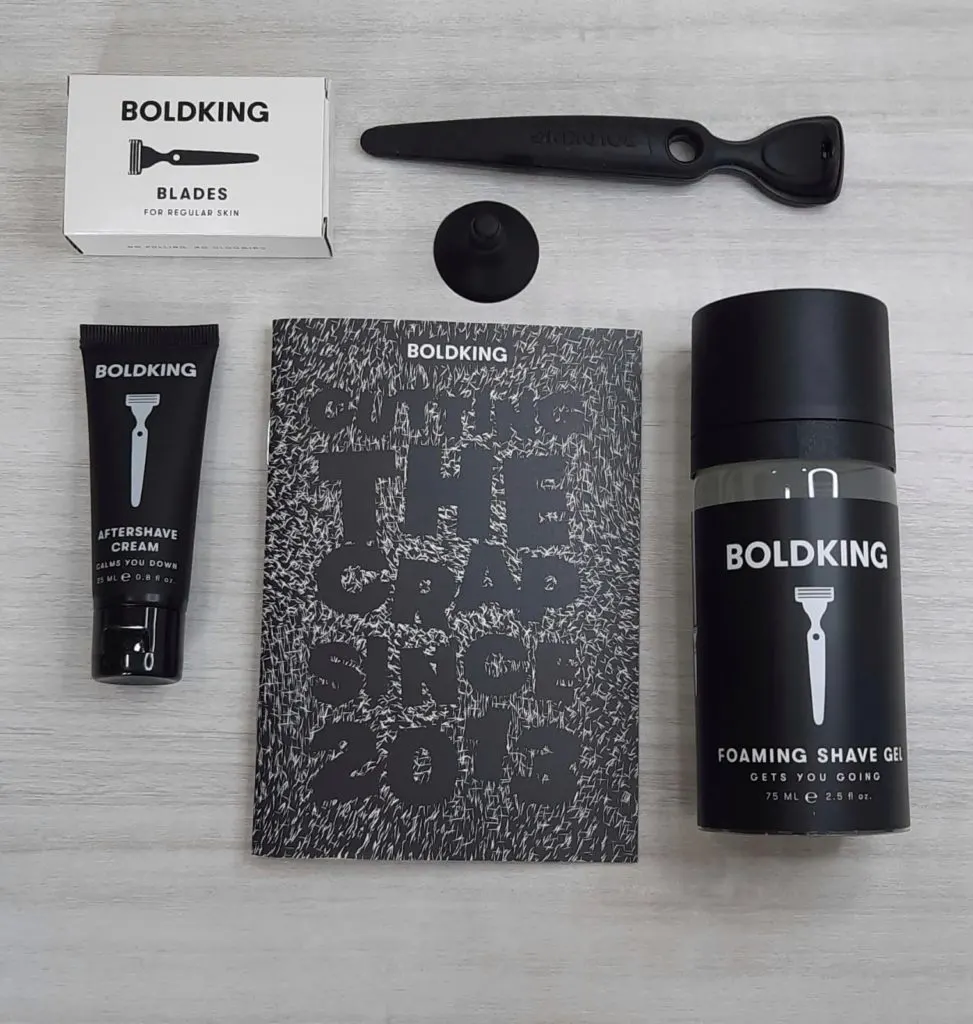 Included in the box I received was one bottle of shaving gel, aftershave cream, a razor handle with 4 razor blades. There's and a suction device for storage (more on that later) which is really handy.
And once all the products are removed from the box, you are still left with a few messages from the company.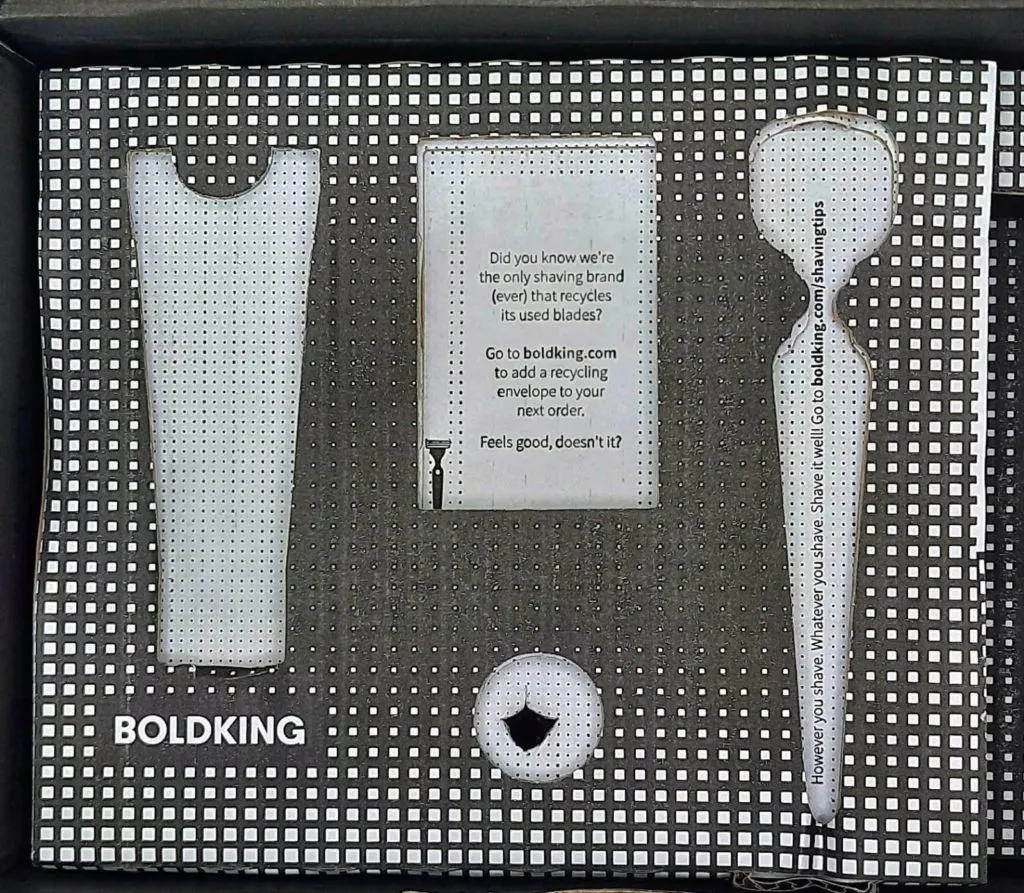 I found this to be pretty cool, and overall the packaging seemed simple and quite efficient.
A bit of the box had been slightly damaged whilst in the post, so some parts were a bit bent!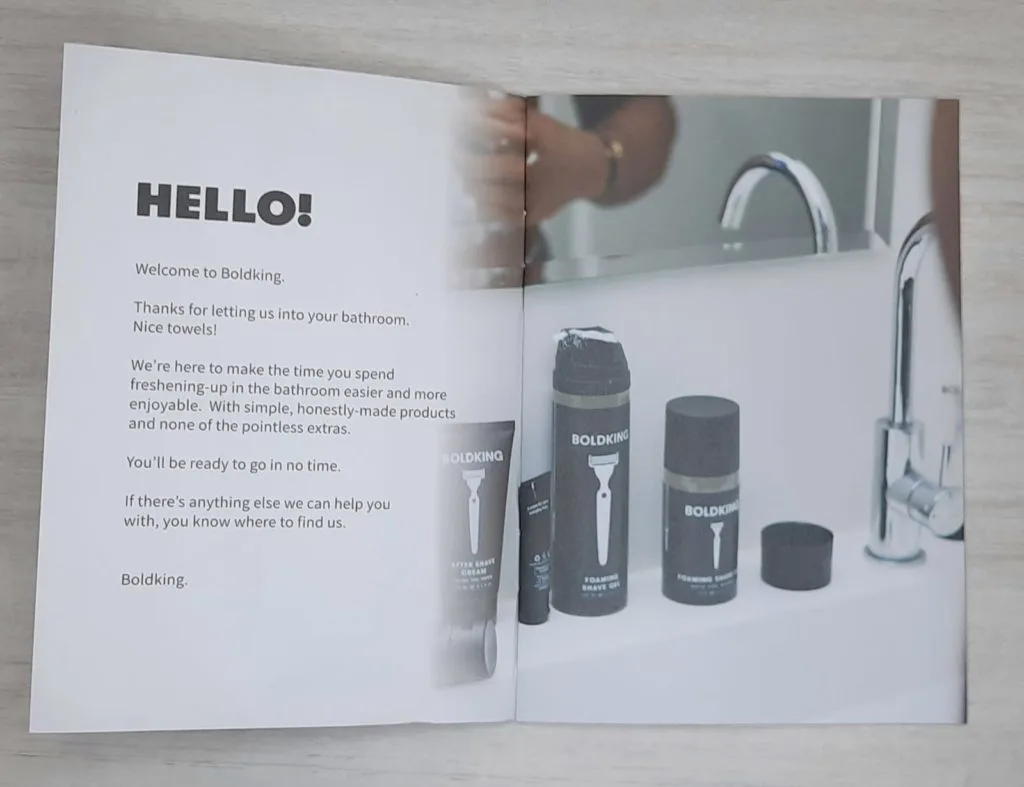 The first page of the information booklet which you receive has a quick welcome note in it.
A nice touch!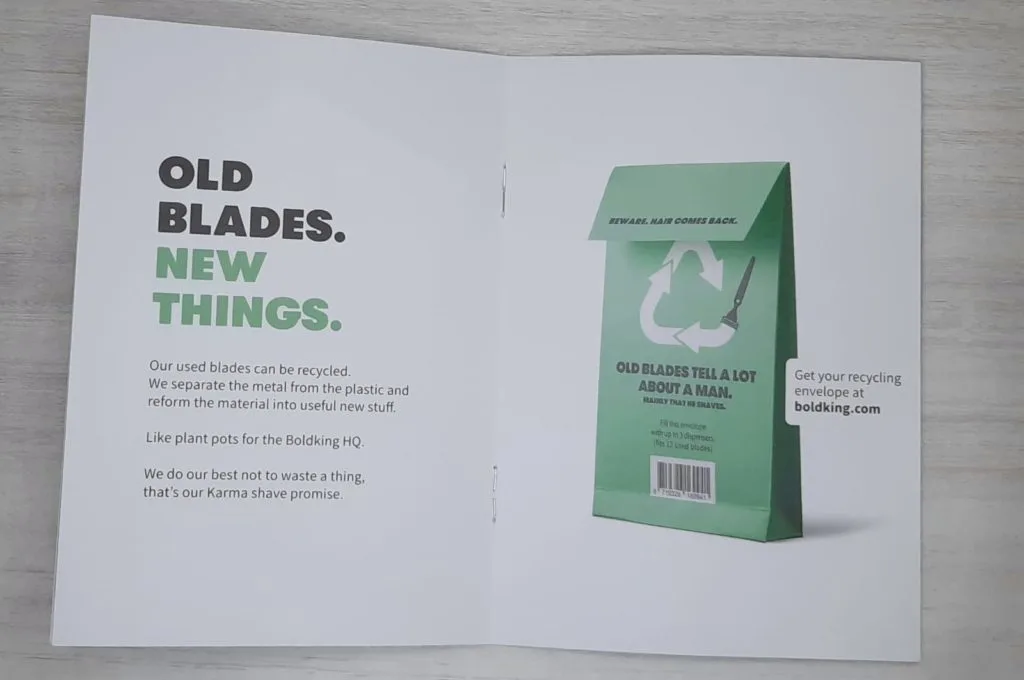 This I found to be really cool.
Most companies just expect you to throw your old, used razor blades in the trash.
Boldking have a recycling program, which is a big positive!
You can simply add these recycling envelopes to your order, and do your part in making the world a bit of a better place.
Initial Reaction & Comparisons with Other Big Brands
Now let's get onto the actual razor itself.
How it feels, and how it compares to other razors.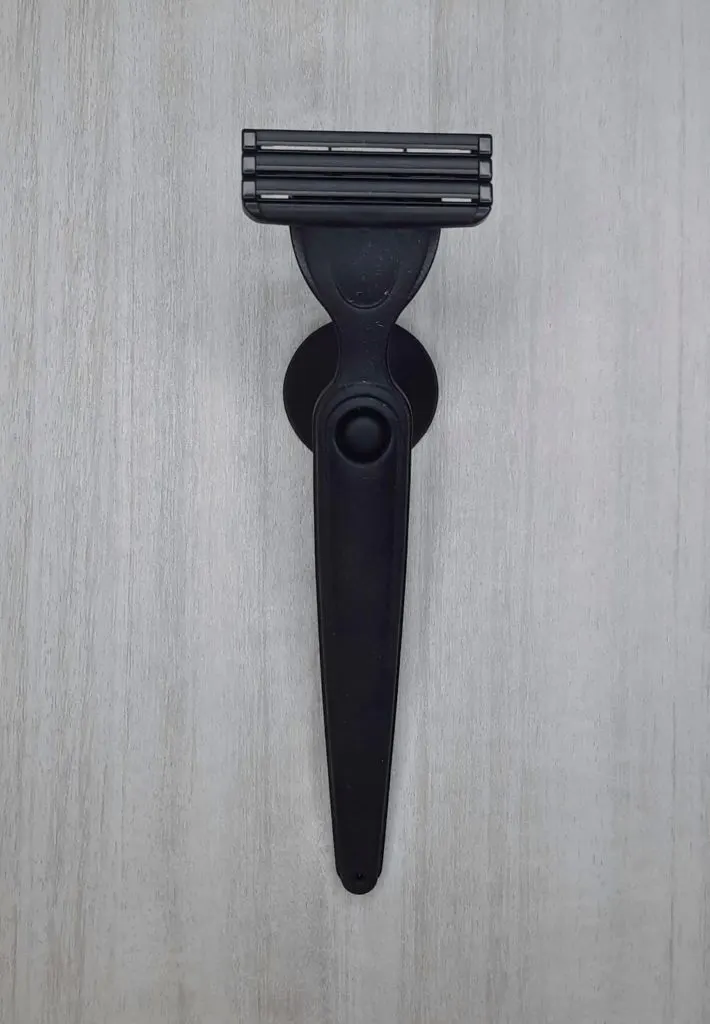 One thing I noticed immediately is that the entire razor and handle are pretty much made out of rubber.
I'm more used to the heavy handles that seem to be the norm, so this was something new for me.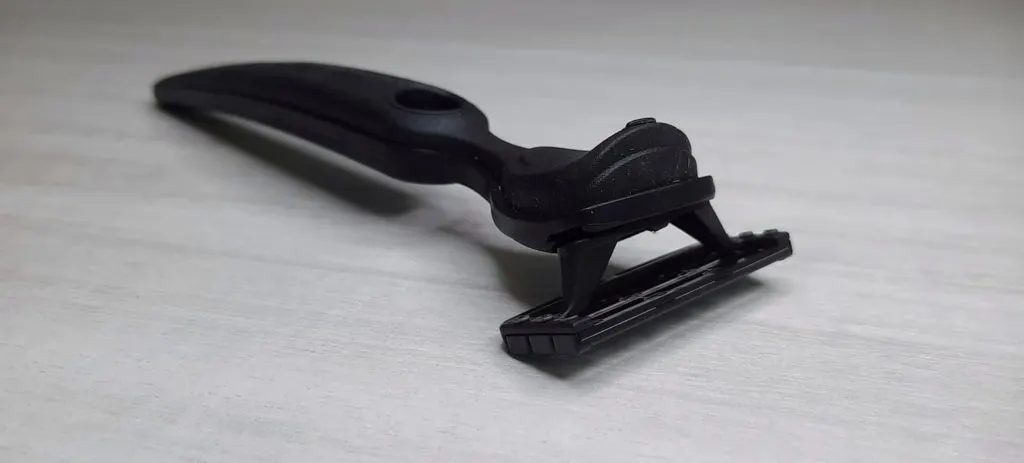 The design is pretty basic, and is consistently black all around.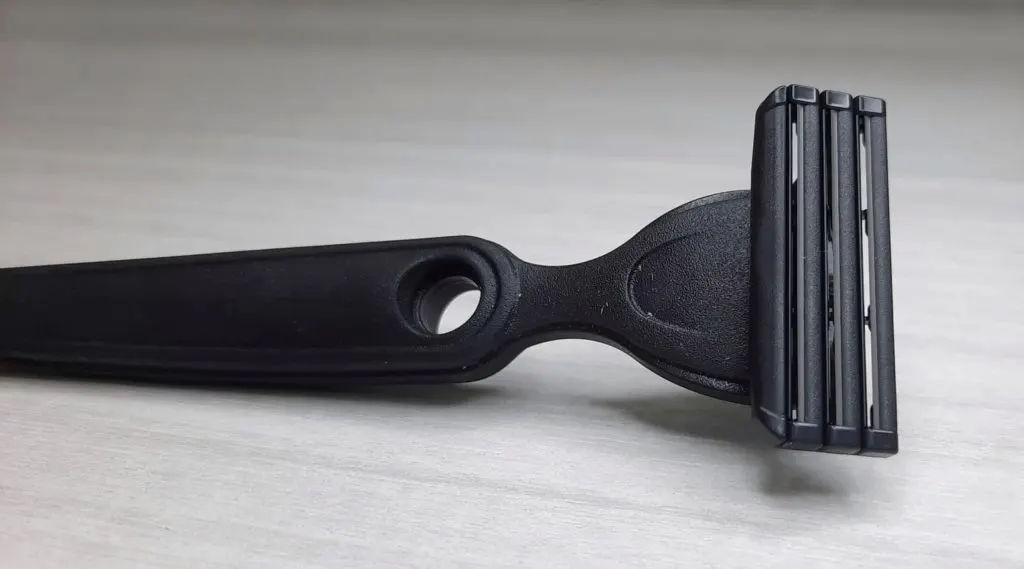 Boldking claim that by having their razor blades further apart, this will prevent clogging of hairs and foam.
Size wise, the handle isn't any shorter than the common handles found on a Gillette razor.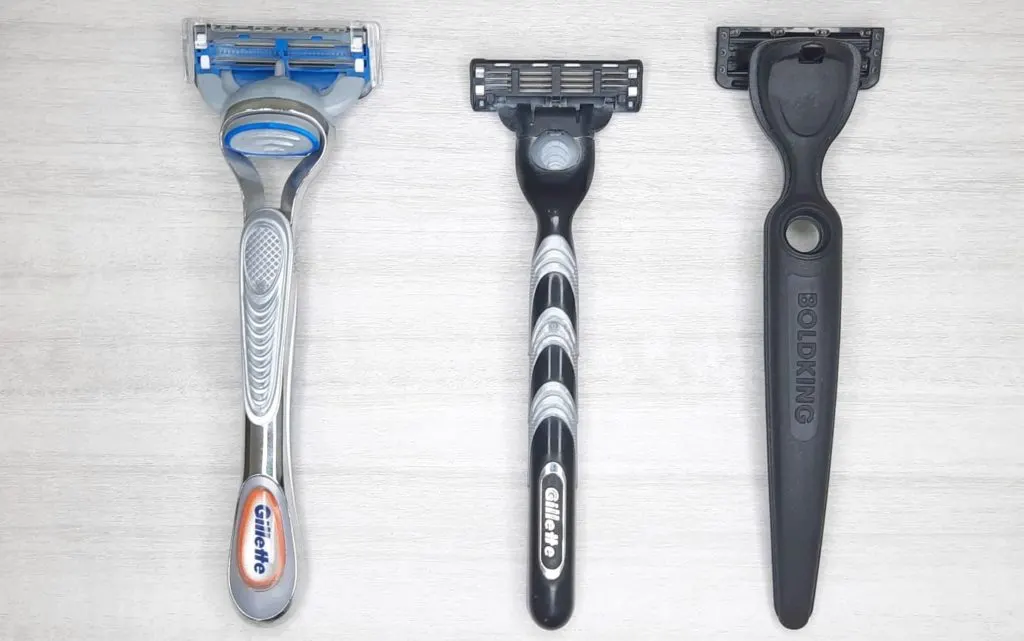 In fact, it might even be a touch longer.
I am quite a big guy, so I always like to have a big handle to hold onto when shaving my head.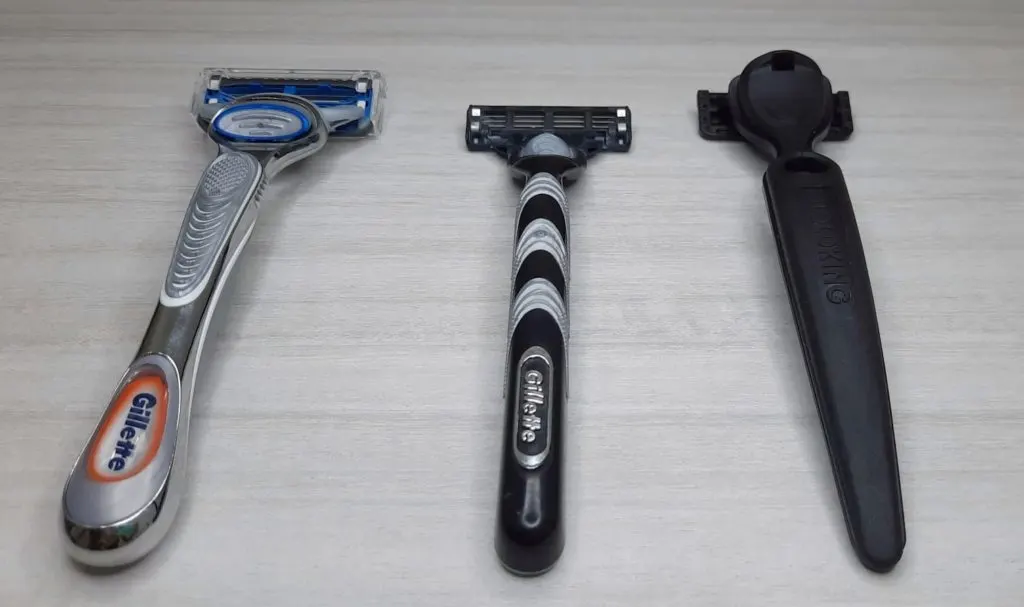 And in terms of weight, this Boldking razor and handle definitely feels a lot lighter than any other razor I have used before.
Now some guys might prefer the feeling of a heavier handle, but personally I prefer a slick, lightweight one.

Now the most intriguing selling point for me with Boldking was their rubber, flexible blade.
These blades are supposed to be flexible, which twist and adapt to the surface of your skin.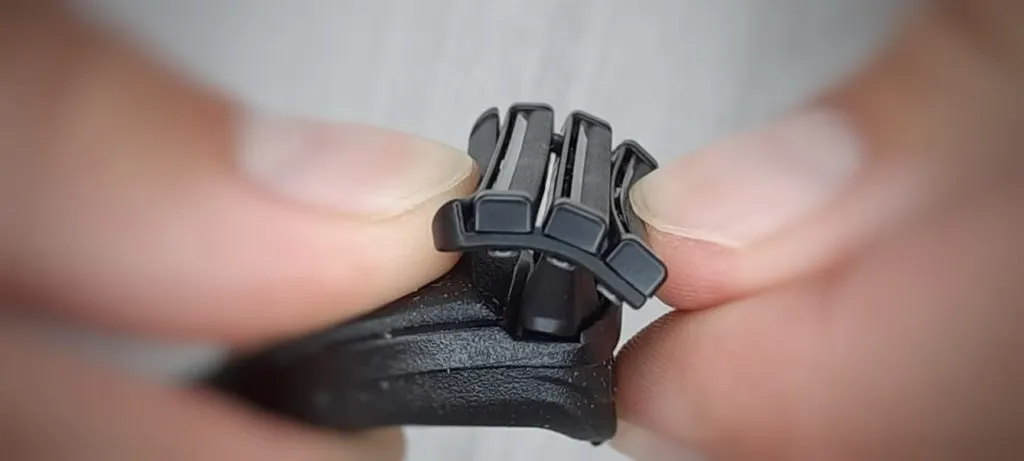 They also claim that it will reach every single hair no matter where it is.
So far everything seems good!
The packaging, the feel of the products, the notes etc.
But this is all pointless if the performance of the product is sub-par.
So let's get to the shaving part and see if Boldking really is good for shaving your head.
---
Boldking Review & Shaving My Head
I usually shave my head every two days or so, so I made sure I had given my head a good two to three days to grow before testing out these blades and writing up this Boldking review.
Now most shaving companies claim that their razors are perfect for both your face and your head.
But this is often not always the case!
I am hopeful going into this review, as I have never shaved my head using a flexible rubber blade.
Companies can send you any type of product that looks and feels amazing, but if they fail to do their job well, then it's just a massive fail.
Shaving your head is something which you do on a regular basis, and it needs to be as comfortable and clean as possible.
If a razor gives you burns, bumps, cuts and just makes your skin feel unwell, then are you going to use it again?
Definitely not.
So I grabbed my Boldking products, headed to the bathroom and started shaving!
Below is how my head looked before starting a shave.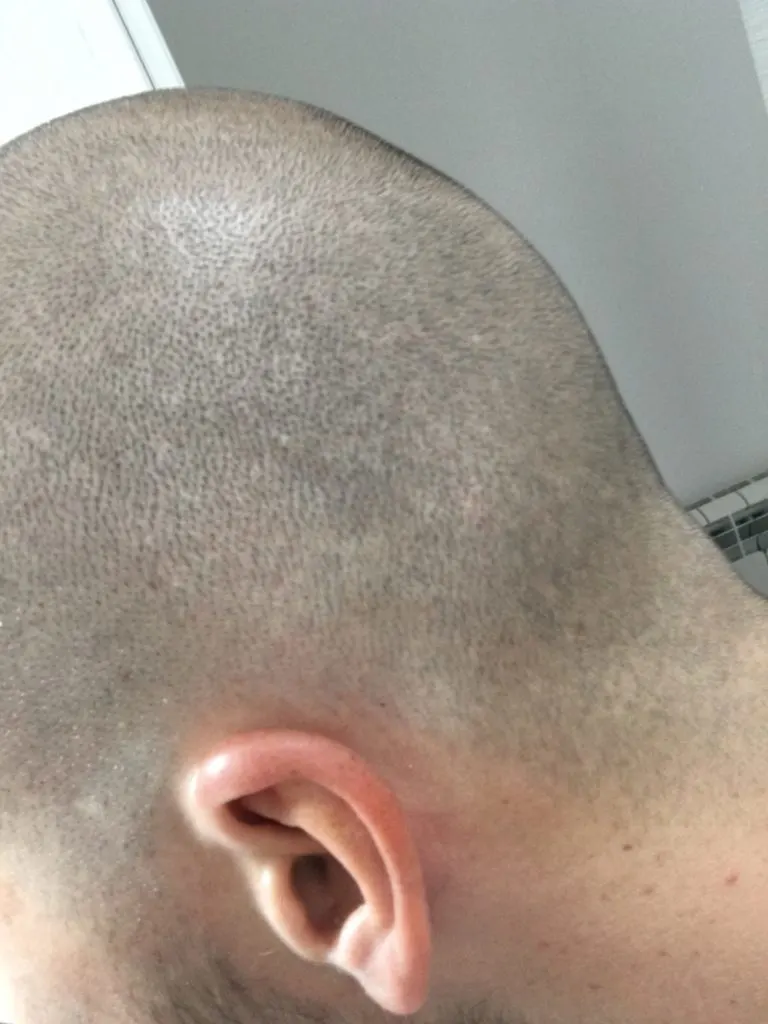 I used quite a fair bit of Boldking's shaving gel that comes in their 3-in-1 shave set.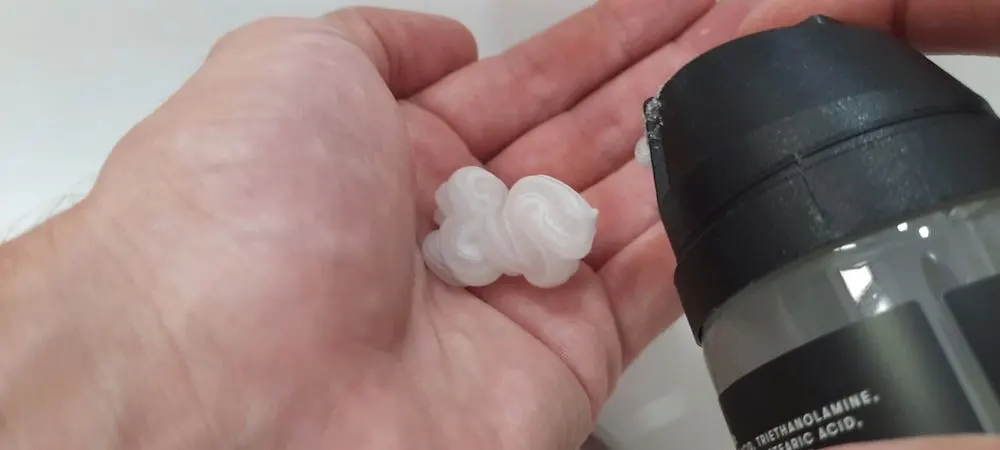 Then I started with my usual head shaving routine, beginning on my sides and working my way through my head.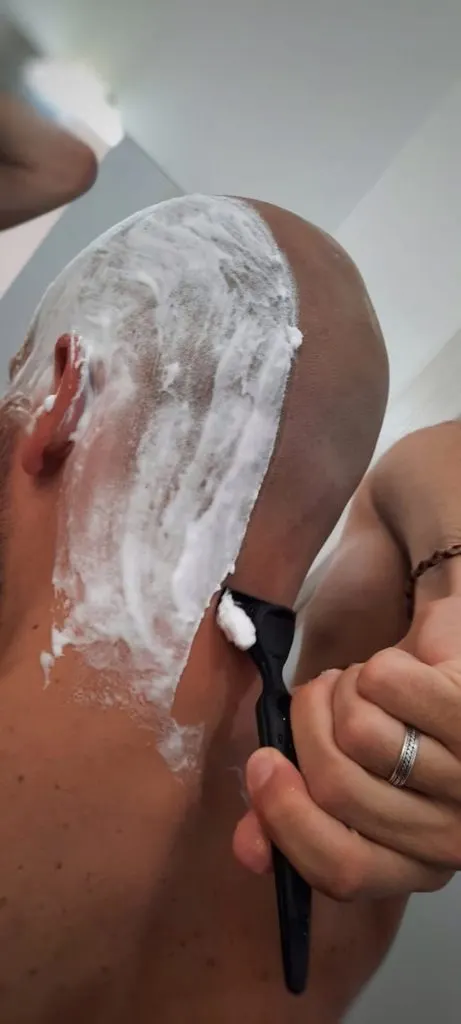 I will be honest.
I had read a few reviews of Boldking customers saying that at first they cut themselves etc, as the far apart razors took some time to get used to. So I did shave with a bit of extra caution.
Boldking pride themselves on the fact that no hairs or excess shaving gel will get clogged up in between their razor blades, and it's pretty much true!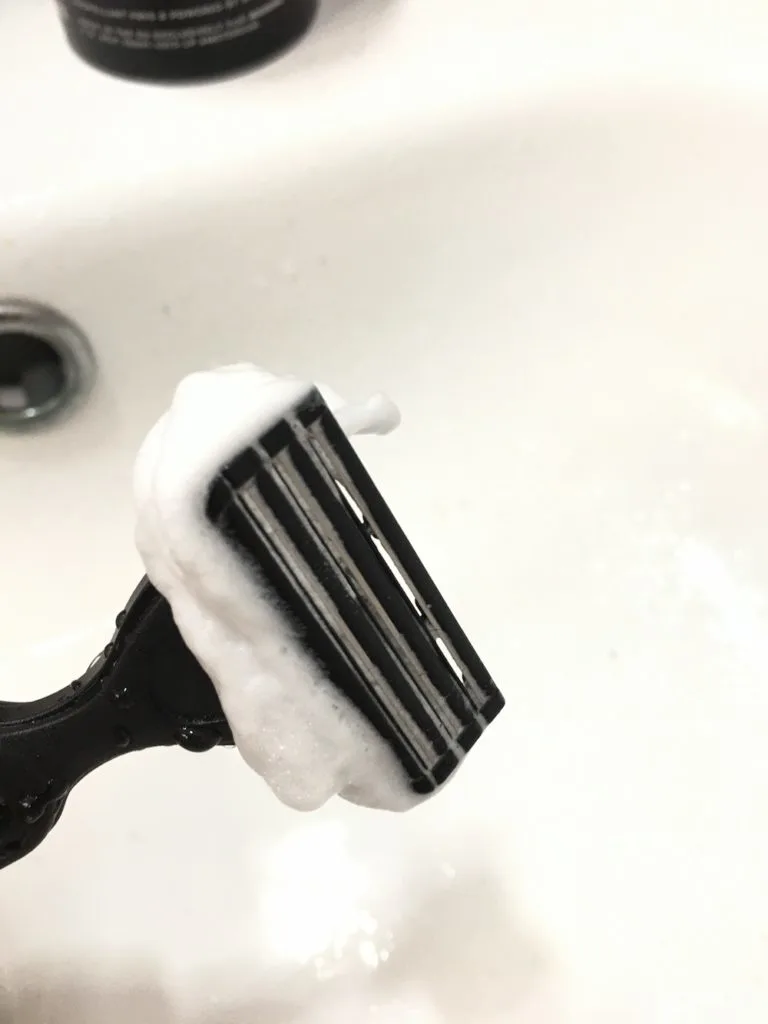 For me the biggest headache is when I am normally shaving and after every three or four strokes I need to try and shake out all the mess that has clogged up between my blades.
I was actually surprised how easily this razor rinsed, and pretty impressed!
And I purposely tried going a few extra strokes without rinsing, and found that because the blades are flexible, you simply just bend the razor and any excess dirt falls out.
So it's super easy to rinse and clean!
One thing that did bother me a little bit was the angle of the razor.
In order to shave certain parts of my head, I had to hold the handle almost at a vertical position, as the blades and the handle are almost parallel. Where as other shaving products usually have a sort of swivel motion at the end of the handle, this one doesn't.
This isn't a huge issue, just something one has to get used to.
Once done, I rinsed off as usual.
Overall the shave went well, actually better than expected!
It was a clean, close shave, and I actually think this razor might just be better suited to head shaving than to face shaving!
Once I rinsed and dried my head thoroughly, I tried out the Boldking aftershave balm.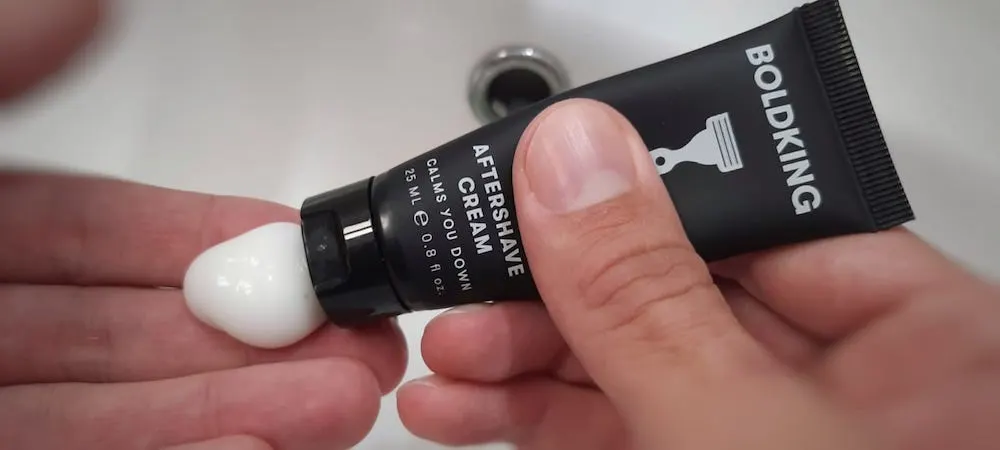 It smells good, and is quite thick in texture.
---
My Overall Thoughts On This Boldking Review
There's plenty which I liked about Boldking's products, and a few things which I disliked.
What I Liked
+ The flexible blade. It's the first of its kind, and it actually does work. Everyone has a differently shaped head, so having a blade that moves over our unique domes with ease is quite awesome.
+ No clogging in between blades. This is always my pet hate, and I often curse so many shaving companies whenever I have to spend a good few minutes per shave trying to get the rubbish out of my cartridge. This wasn't the case with Boldking.
+ The shave was as close as possible, and ended up being real clean.
+ No cuts whatsoever. It's not fun cutting your head when shaving, so having a cut-free shave after the first time of using a new style of razor was quite satisfying.
+ They recycle! This is a big plus for me, especially in the shaving industry. Hopefully other larger brands follow suit one day.
What I Didn't Like
– As the razor blades are further apart, the shave can feel slightly rougher and not as smooth as say, a 5 blade razor.
– The shaving gel that comes with the 3-in-1 set could be improved a bit. It just didnt feel as good quality as some other brands.
– I know some guys enjoy having a razor that feels really fancy. This isn't the case with Boldking, as the entire product's made out of rubber and is really light. It's not a big deal for me personally, but if you are after something more metal, heavy and sturdy, then you might not like the feel.
---
Final Verdict
Boldking's overall customer base seems satisfied with their products, based on the various online reviews.
Now I did only base this Boldking review on shaving my head, as this is what we are all about here at The Bald Brothers.
And as for its performance on shaving my head, overall I truly enjoyed the experience.
I think the combination of further apart razor blades and the flexible rubber actually work well for a head shave.
It's a shame they only currently operate within the UK and Europe, as I would love all of our American readers to be able to give them a try.
If you are currently in Europe or the United Kingdom, then you should really try this razor out!
Their 3-in-1 set is affordable. And you can then top up on razor blades frequently.
So the fact that the blades work well for head shaving, that you can recycle your blades, and that the price is reasonable, I'd say it's a yes from my side.
Boldking isn't perfect, but they might just be perfect for every bald man!
You can visit Boldking's website right now and have a look around.
The site's really user friendly, and it's easy to find what you are looking for.
Cheers,
Richard
---
SPECIAL OFFER!
If you feel enticed to give Boldking a go, then make sure to use the discount coupon code BALDBROS upon checkout, and you'll receive a discount of €5 on any purchase over €20. Free shipping anywhere in the UK or Europe.
Simply click here to visit Boldking's website and purchase your set! If you do make a purchase, let us know how your experience was.
---