This week's post we will be focussing on 15 of the most powerful bald men in the world.
If you have read our previous post about why bald men are seen and perceived as being more dominant and attractive (according to science and statistics), then it won't come as a surprise to you that some of the most successful and powerful men in the world, are in fact, bald men.
You can't really argue with science and facts, can you?!
Let's quickly do a thorough recap on why bald men are seen as more attractive and dominant.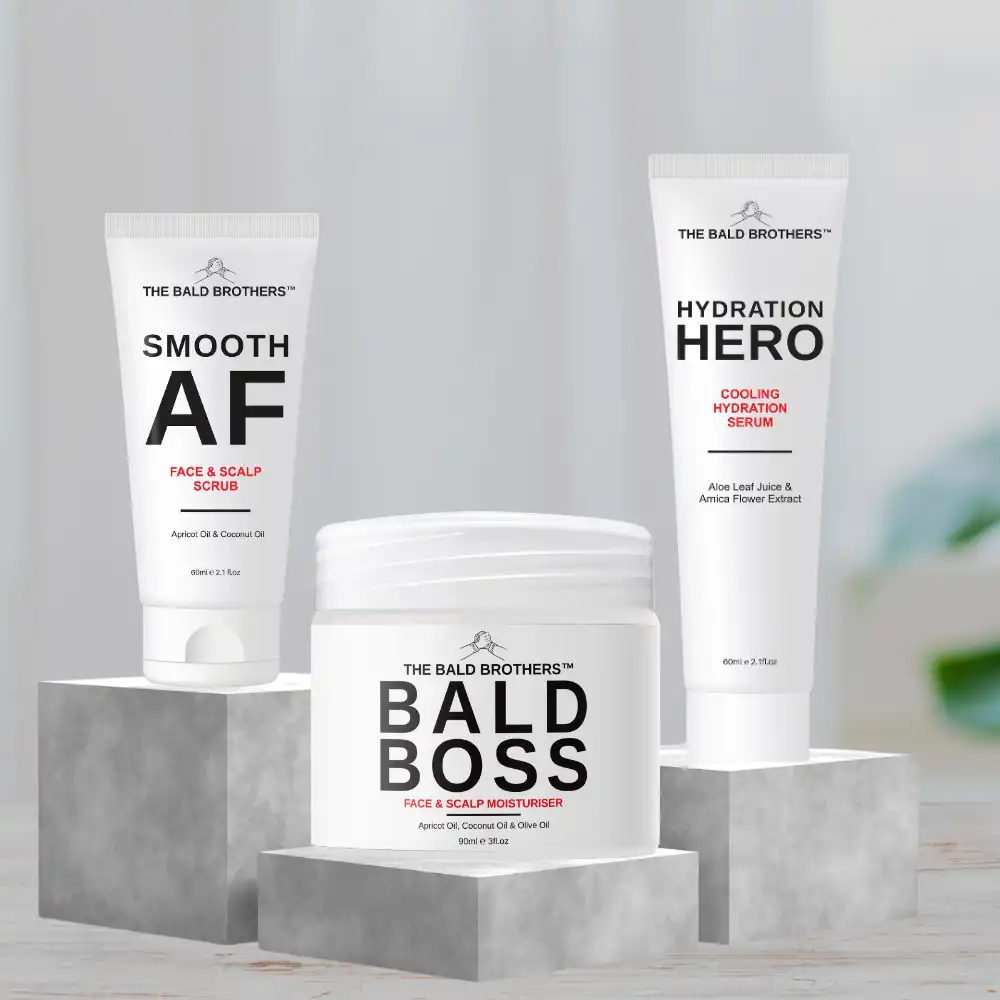 The Bald Brothers Full Bald Head Care Set
Smooth AF - Exfoliate & cleanse
Hydration Hero - Hydrate, cool and smoothen
Bald Boss - world's best moisturiser for bald heads!
Helps to maintain a healthy looking scalp and face.
Non shiny and non greasy moisturiser!
Free, Fast shipping to the USA & UK!
15% OFF your first purchase with code: BALD15
SHOP NOW!
Bald Men Are More Attractive & Dominant?
See also:
Having been a bald brother myself now for almost 3 years, I clearly know that having a shaved head is very liberating, freeing from emotional turmoil, simple to maintain and generally just looks badass.
All of these factors I have just mentioned will lead to so much emotional energy saved, let's not even get into the amount of money saved from shaving your head.
With all this amount of time and emotional energy saved from shaving your head, it's no wonder that bald men are more powerful and successful in business and in life.
Why is this?
In the business world, they found that guys who are completely bald will often be rejected less than other men with hair on their head.
There have been studies conducted on this, in fact, and you can read more about those right now.
According to research from the University of Pennsylvania, there's something powerful about having a completely shaven, bald head.
Pretty cool, huh?
Let's get to the list of the top 15 most successful and powerful bald men on this planet!
Our Top 15 Most Powerful Bald Men
If you keep scrolling down, you'll see that I have included a before and after picture of the most successful bald men on the planet, so that you can see what they looked like before they decided to shave their heads.
I'll let you be the judge to decide whether you think they looked better with shaved heads or not.
Let's get to it!
---
1. Jeff Bezos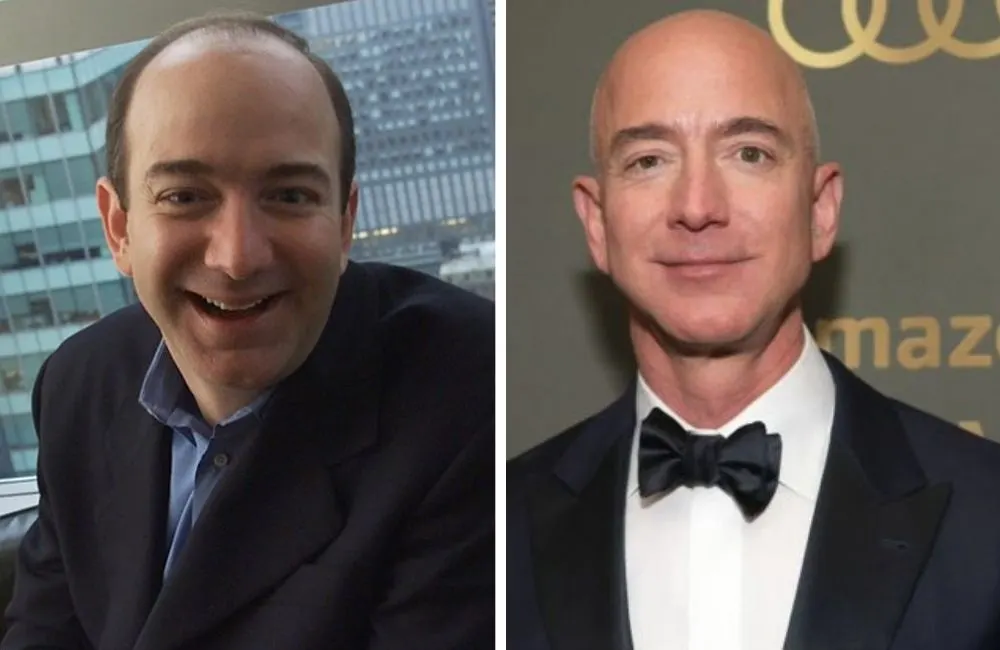 Net worth: $191 billion
If you haven't heard of Amazon, then you are probably living in a cave.
Jeff Bezos is undoubtedly of the most successful entrepreneurs and businessmen of our generation. Or any other, really.
He is often the richest man in the world, depending on how Amazon shares are performing.
The wealthiest guy on the planet is a bald brother.
Nice!
2. Joe Rogan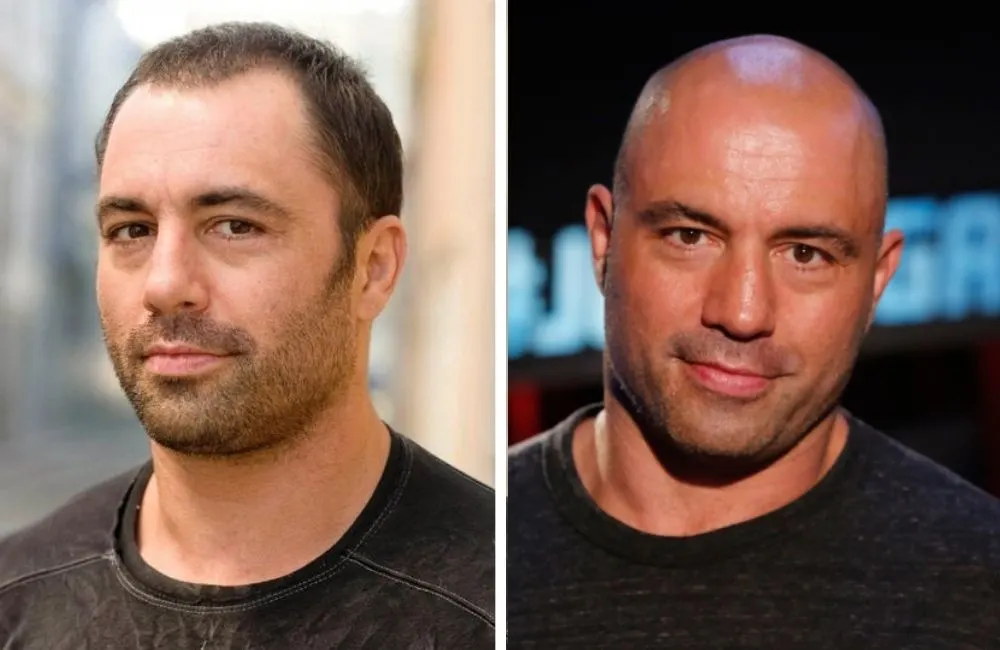 Net worth: $100 million
Podcast owner of The Joe Rogan Experience, UFC commentator and a badass mixed martial artist, Joe Rogan is certainly one of the world's most powerful men.
He also just happens to be bald!
Be sure to watch one of his podcasts on YouTube for something more informative.
I am sure none of you need any introduction to his show!
3. David Goggins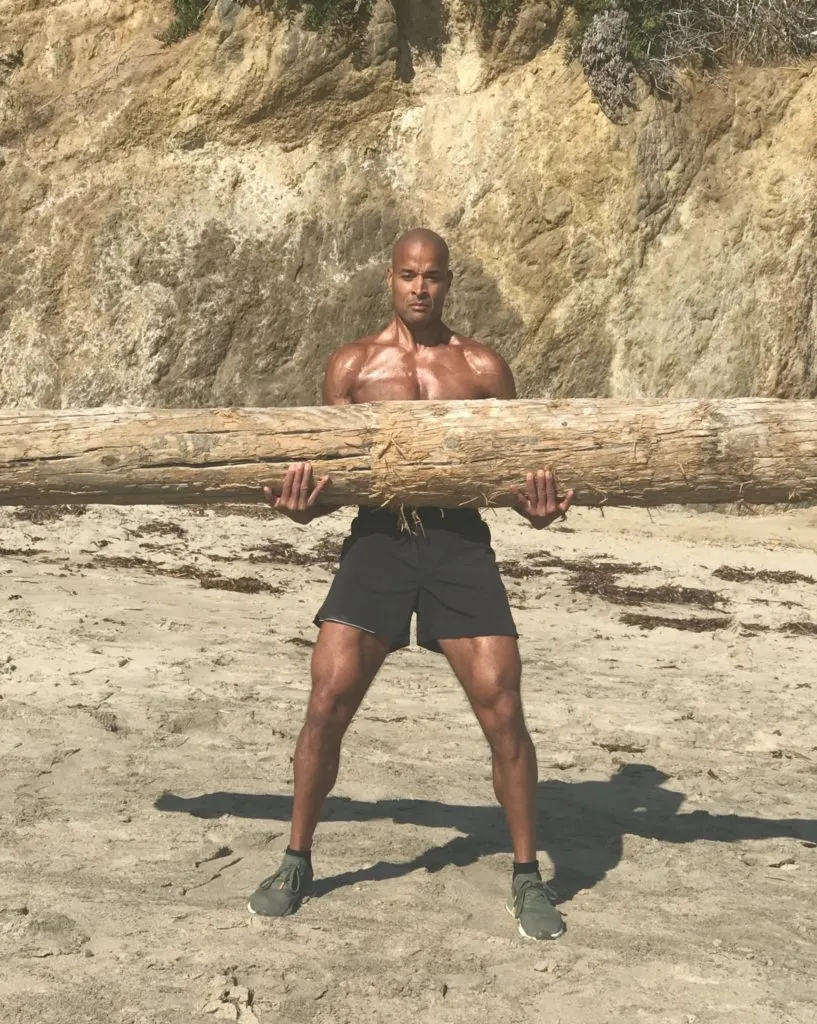 Net worth: $30 million
The hardest man on the planet hands down.
This guy's a former Navy Seal who did hell week three times, just for fun.
David Goggins has also gone and completed numerous ultra marathons and holds the world record for the most pull ups in a 24 hour period.
Be sure to read his Amazon bestseller book, 'Cant Hurt Me'.
David Goggins has been bald for so long that we could not find a picture of him with hair!
4. Michael Jordan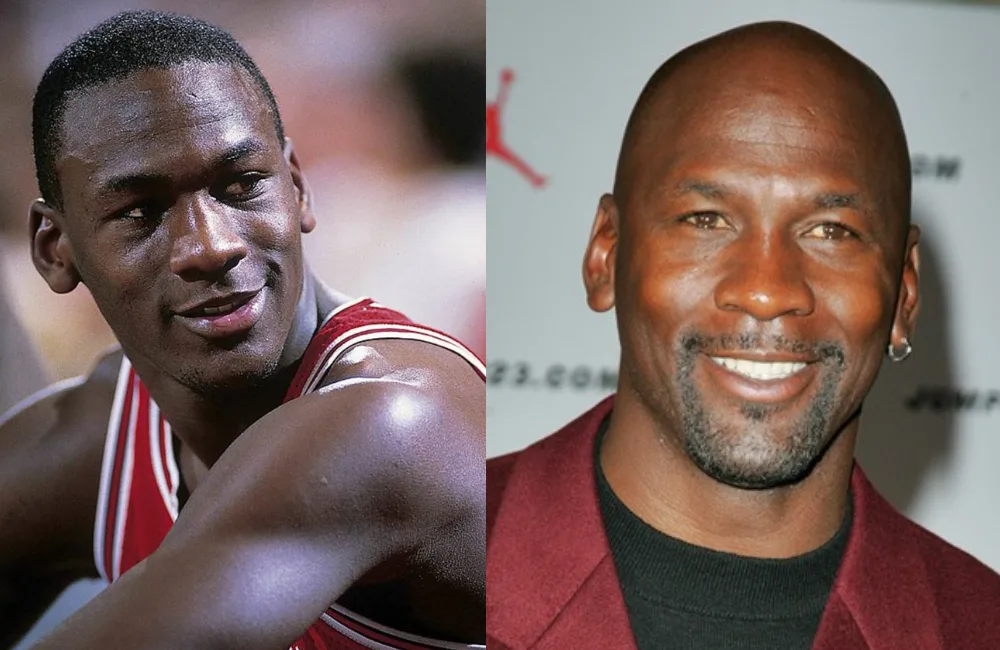 Net worth: $2 Billion
Six NBA titles with the Chicago Bulls, which included two 3-peats!
The best basketball player ever? No doubt!
If you haven't seen The Last Dance on Netflix, then you have to check it out.
You will then realize how good MJ was.
5. Dwayne 'The Rock' Johnson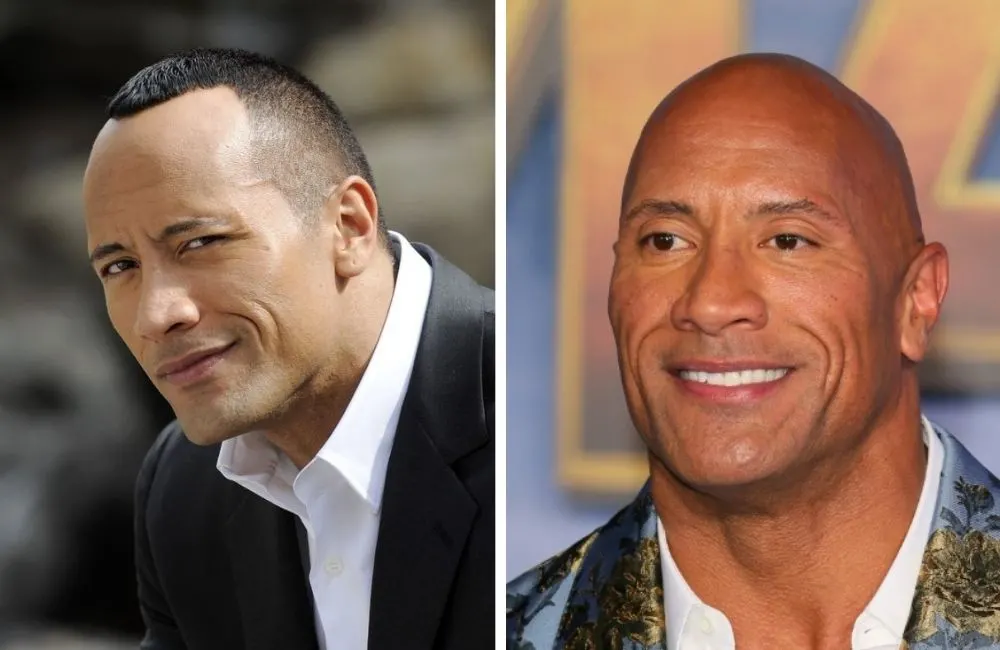 Net worth: $320 Million
Former WWE wrestler and movie star, Dwayne Johnson is a bald icon.
He is also built like a bus. The man is in insane shape!
Proves that being bald is better when you are in shape, doesn't it?
6. Andre Agassi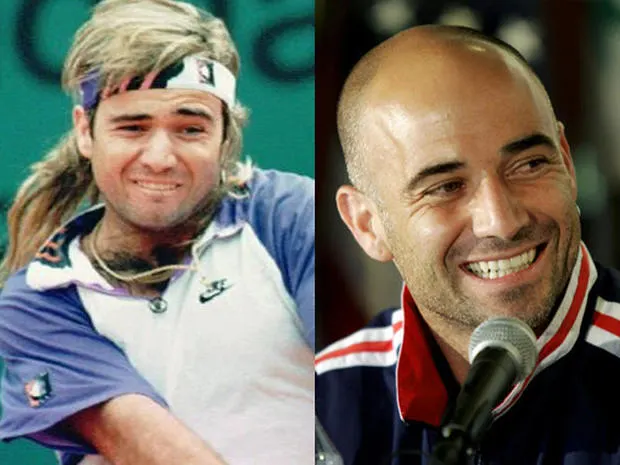 Net worth: $175 million
Andre Agassi suffered with hair loss for years. He has confessed that he wore a hair piece for much of his tennis playing career, as can be seen on the picture above left.
And then he finally decided to start shaving his head, and all of a sudden we all got bombarded with the famous Agassi razor blade ads, remember?!
Agassi has won 8 grand slams and is married to Steffi Graaf, who has won 22 women's tennis grand slam titles.
Talk about a power tennis couple!
7. Bruce Willis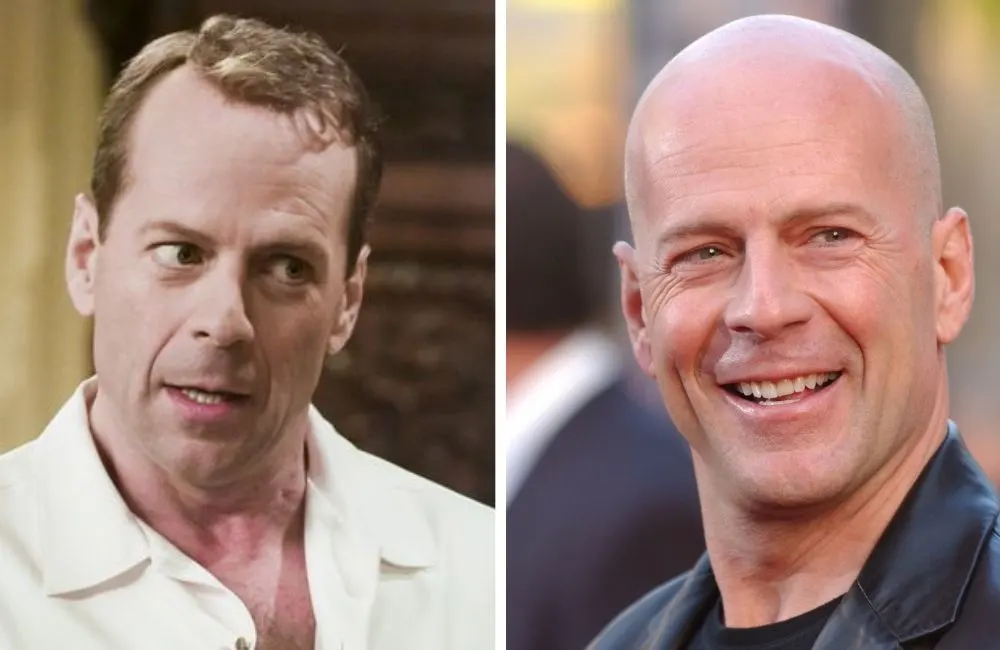 Net worth: $250 Million
This guy is known to be a Hollywood tough guy, even before he lost his hair. But we have to admit, he just looks even tougher as a bald man, don't you think?
Willis just looks way better bald.
No need to even argue on this one.
8. Kelly Slater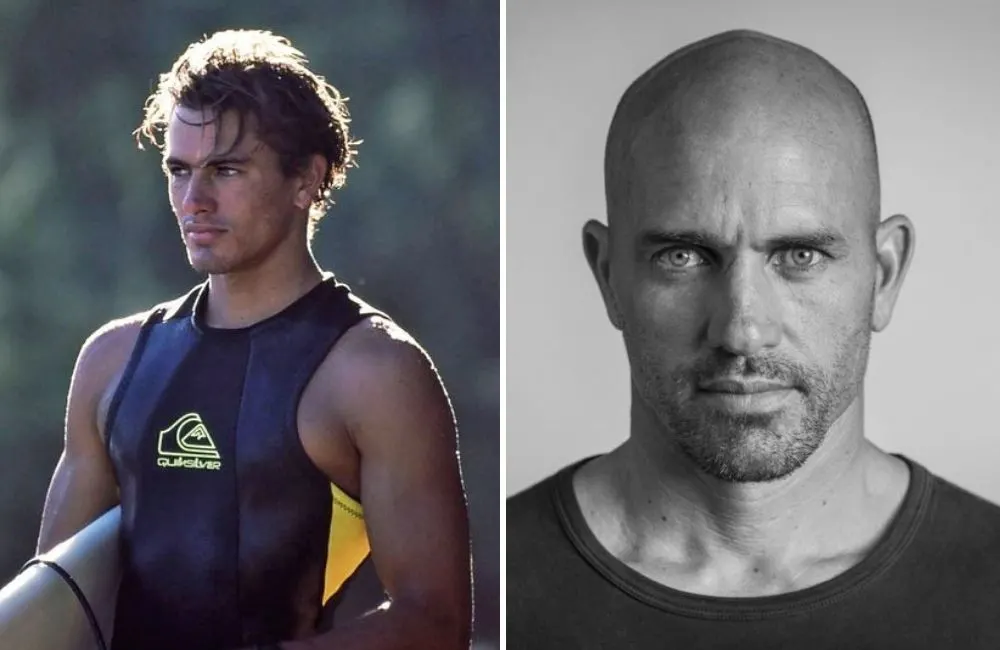 Net worth: $25 Million
In his 25 year pro surfing career, Kelly Slater has a record eleven world titles and 54 WCT (World Championship Tour) victories. He has won events all over the world, including Hawaii, Australia, France, Japan and South Africa.
At 48 years of age, Kelly Slater still surfs the world pro tour.
He proves that age is just a number.
We like to think that his baldness has played a role in this!
9. Vin Diesel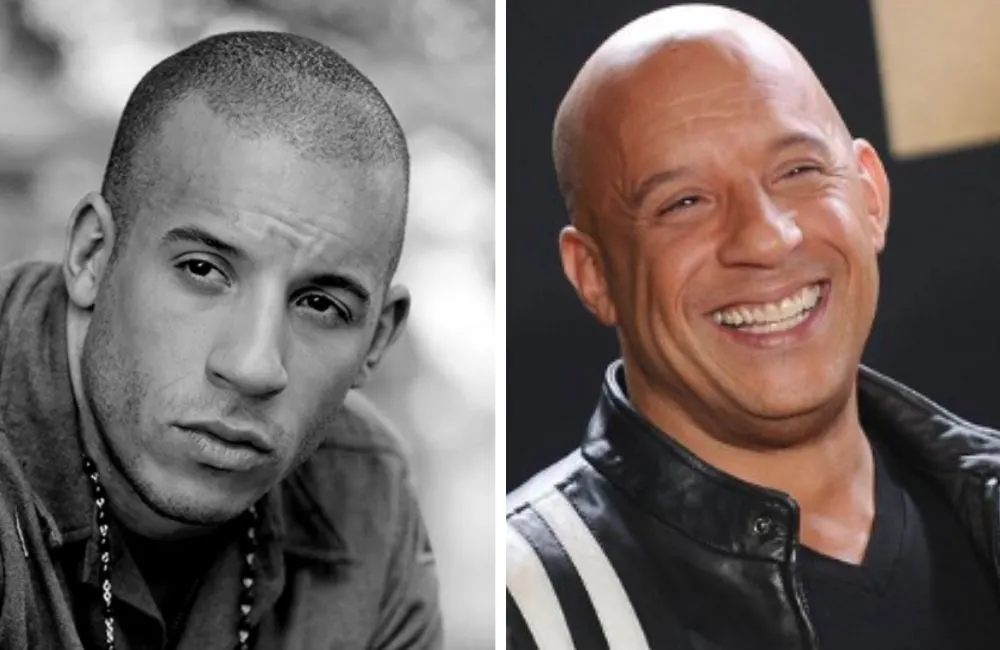 Net worth: $225 Million
Famous action moviestar, Vin Diesel is another bald icon and legend.
Vin Diesel preaches what we at The Bald Brothers preach.
Shave your head and get in shape! End of story.
10. The Dalai Lama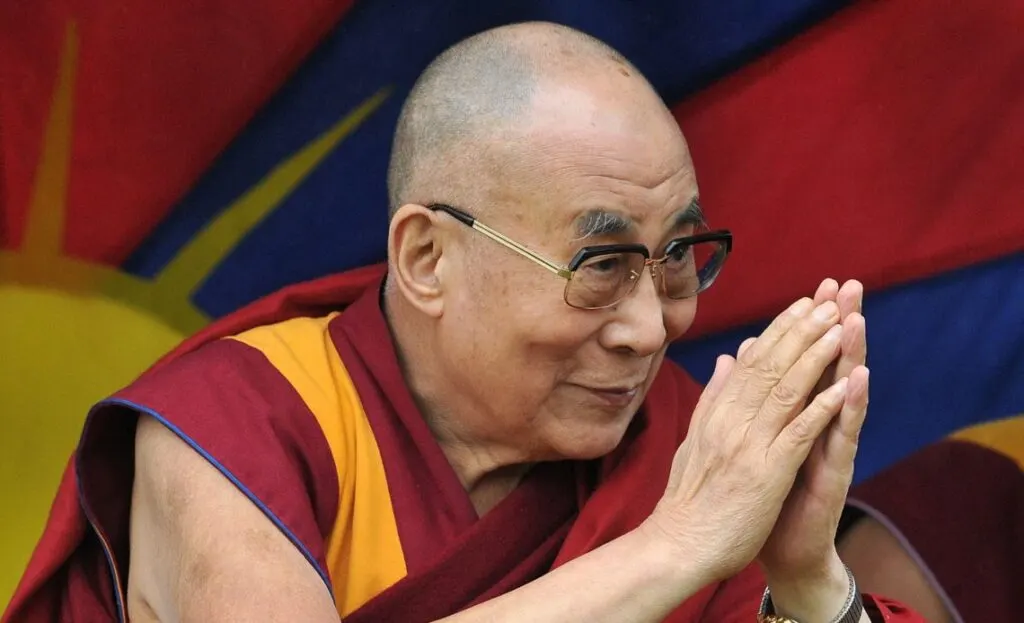 Net worth: Unknown
His Holiness, the 14th Dalai Lama, is one of the most well known (if not the most) spiritual people in the world.
The Dalai Lama lives in a small town in northern India called Dharmasala.
We have no before picture of the Dalai Lama because Tibetan Monks shave their heads from a very early age!
But as far as famous and powerful bald men go, he's up there.
11. Mike Tyson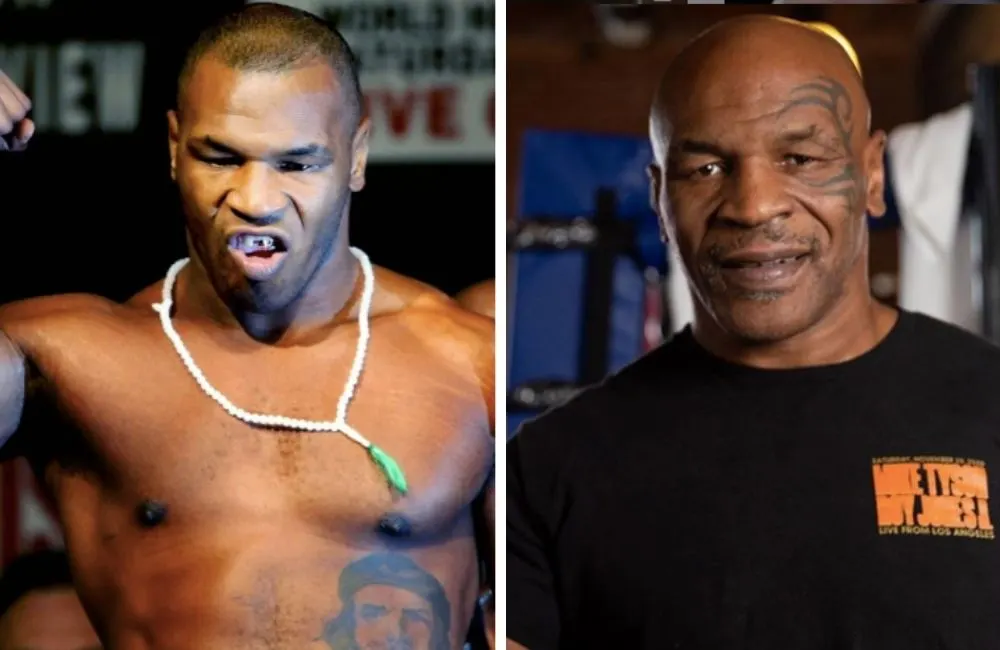 Net worth: $10 million
Mike Tyson had a net worth of over $500 million in his hayday.
His lavish lifestyle led to him almost losing everything, but this doesn't take away that he was one badass boxer and feared by most opponents.
The bald look intimidates.
No doubt!
12. Terry Crews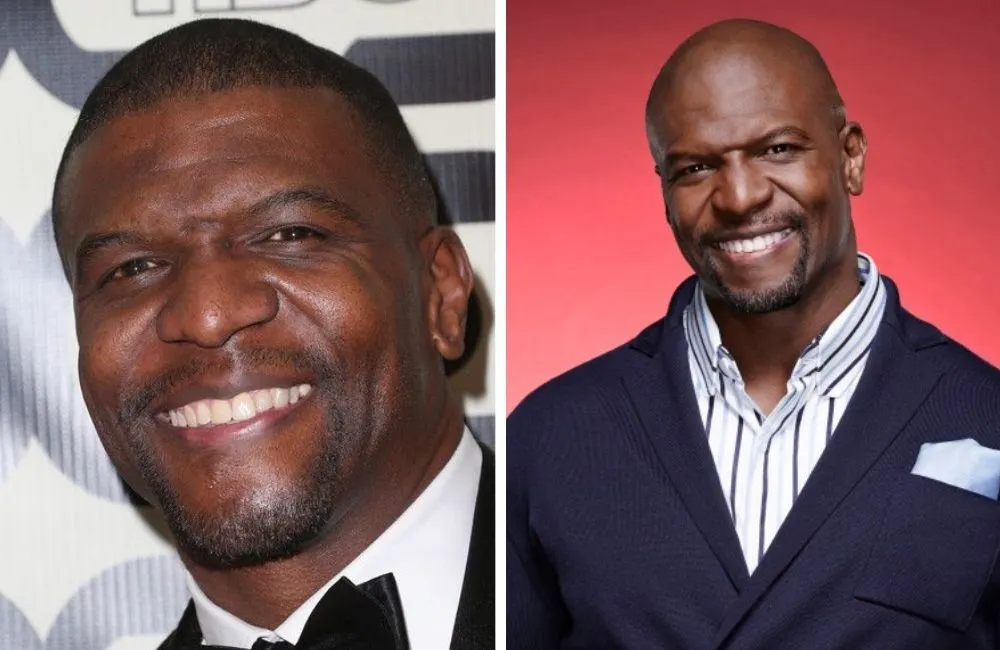 Net worth: $25 Million
Crews started his career as a football player in the NFL and decided to pursue his acting career after that.
Being bald and in crazy shape definitely helps this man a lot!
13. Tyson Fury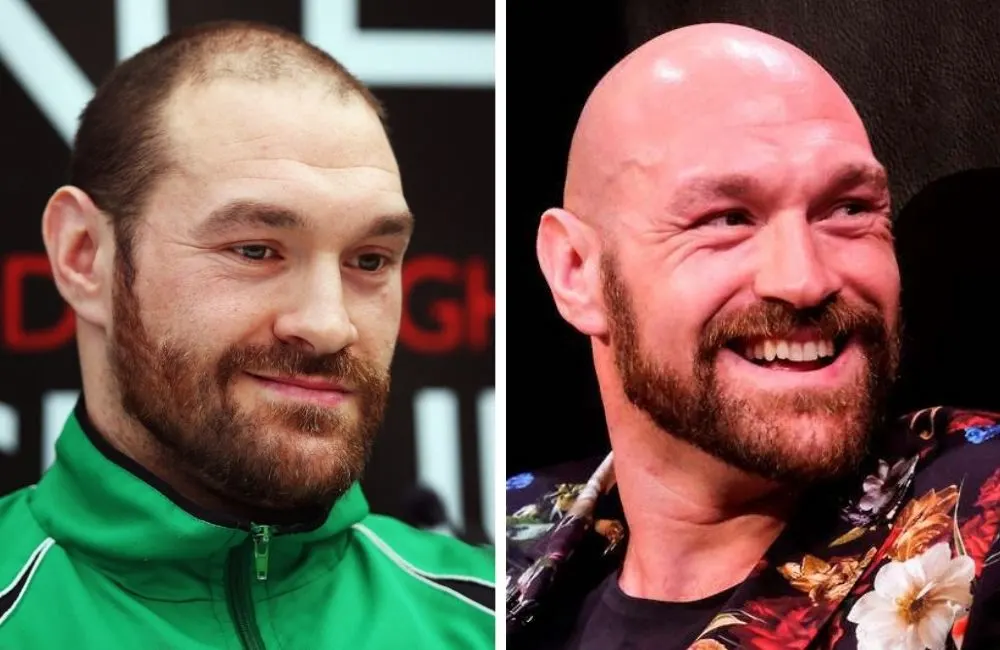 Net worth: $30 Million
Tyson Fury, the world heavyweight boxing champion, lost his hair at a fairly young age.
He suffered huge bouts of depression and mental illness in 2017 & 2018. Thereafter, the champ conquered his demons to make a boxing comeback and became world champion.
Just another bald brother conquering the world, Tyson is tough as nails.
I wouldn't want to meet him in the boxing ring. That's for sure
14. John Travolta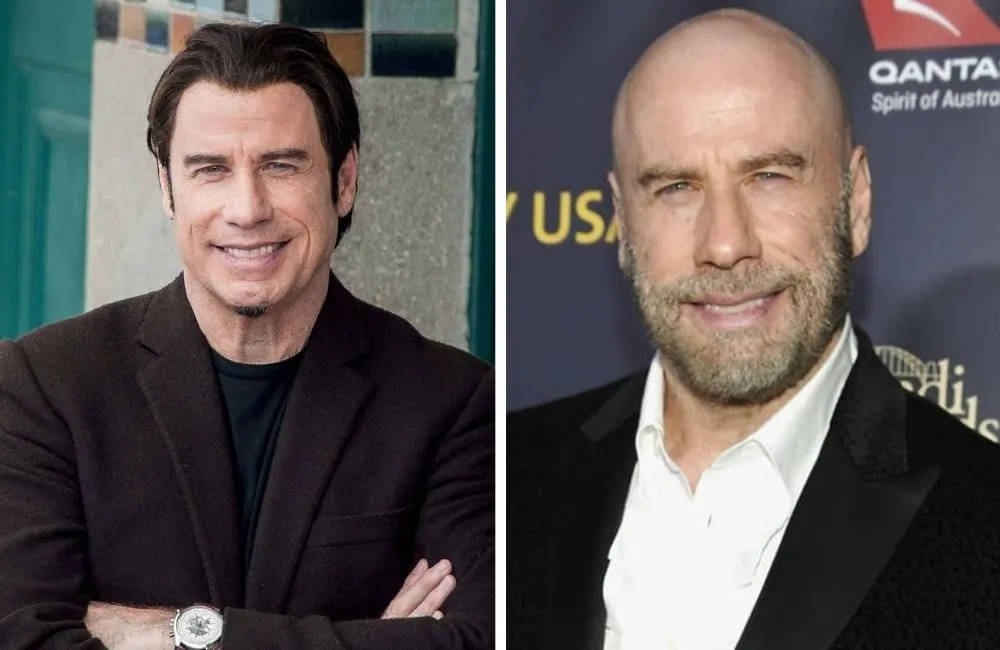 Net worth: $250 million
John Travolta is a successful actor, pilot and hid the fact that he's 100% bald for pretty long!
I guess he had to for his career, although he looks way better with a shaved head. Don't you think?
15. Jason Statham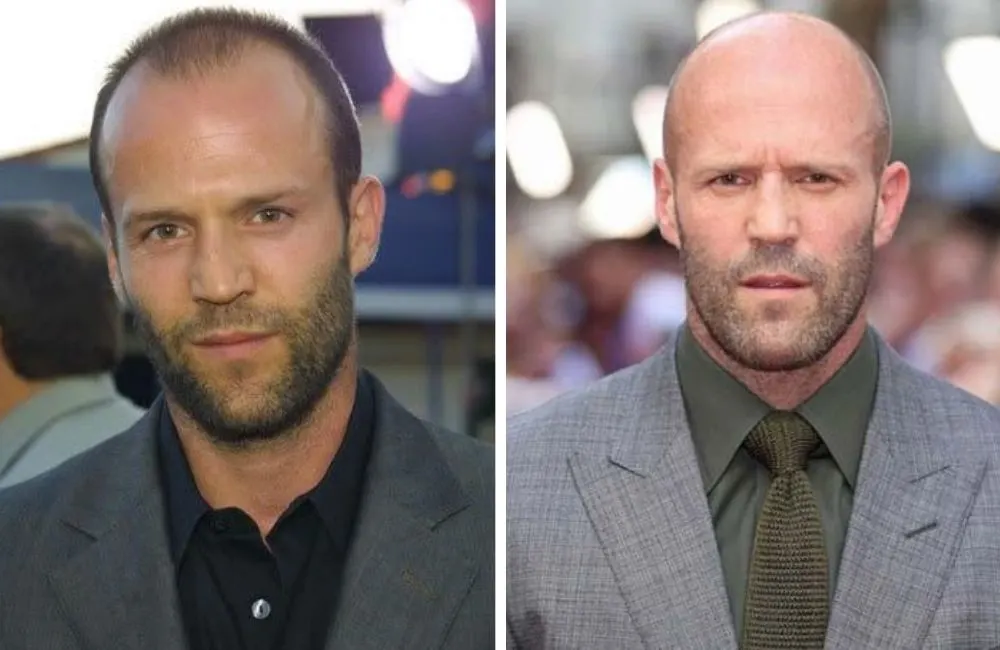 Net worth: $90 Million
Jason Statham is a Hollywood actor, and one of the biggest inspirations to all of us bald men.
He is also a highly skilled mixed martial artist, and specializes in kickboxing and Brazilian Jiu-Jitsu.
Here are a few of his martial arts achievements:
He currently holds a 10th degree black belt in kickboxing, a 9th degree black belt in Tang Soo Do, an 8th degree black belt in Taekwondo, a 5th degree black belt in Karate, a 3rd degree black belt in Brazilian Jiu-Jitsu and a black belt in Judo.
Insane, yeah?
We also use Jason Statham when reminding men that bald actually looks better than thinning hair (see picture above).
Now you tell me which you think looks better?
---
Final Words
You might think that it's a coincidence that some of the most powerful men in the world are bald.
As science has proven, being bald and taking the plunge and shaving your head gives most men an added sense of self belief and self confidence that is unmatched.
We therefore think that being bald and being more powerful and successful is not a coincidence at all!
So if you are balding, then do not stress too much.
You'll be fine!
Cheers,
Will