Scalp Micropigmentation (SMP), also known as hair tattooing, has recently become a new way of overcoming hair loss that we at The Bald Brothers didn't always know about.
Scalp micropigmentation is all about creating the illusion of having hair tattooed on your scalp.
The end product is having your head look like it has been buzzed really shortly, and it does look rather impressive!
We didn't know much about SMP until we started our own scalp moisturiser brand and had SMP artists reach out to try it on their clients.
Scalp Micropigmentation Artist Interview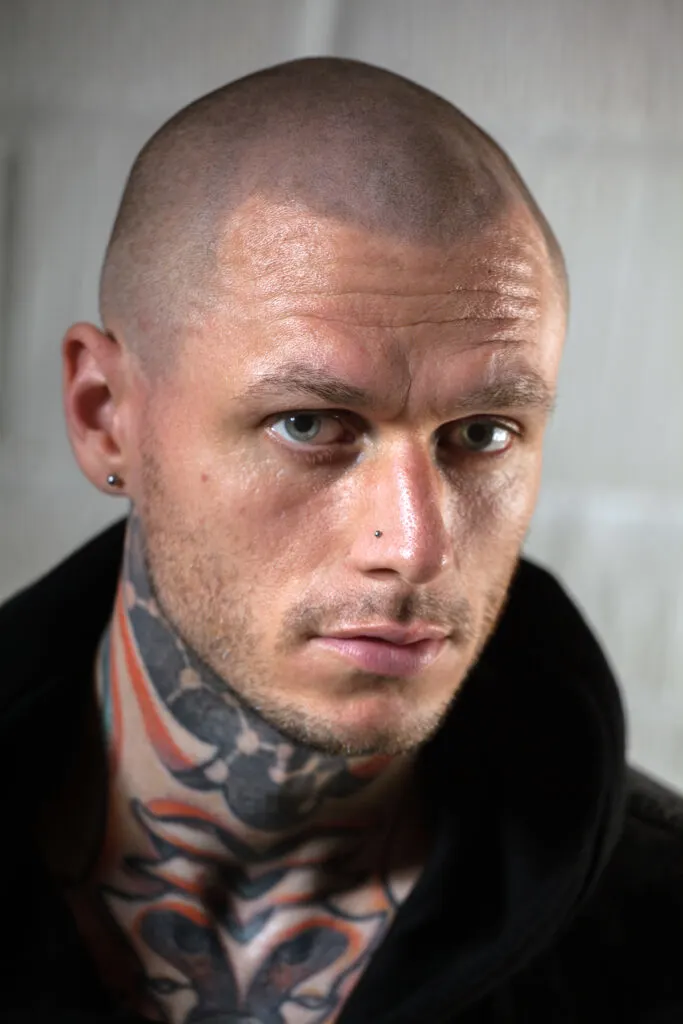 One of these artists was Eve Pleavin from Velvet Micropigmentation.
Eve is an experienced SMP artist and has studios in both London and Brighton in the UK.
She recently tried and used our two products on her clients, and now offers them for sale in her studio. These are our flagship moisturiser, The Bald Boss, and our new product, The Smooth AF exfoliate scrub.
We recently took some time to interview Eve.
Below is what she had to say about SMP and how it has helped countless men overcome the emotional turmoil of hair loss. We also discuss scalp care treatment and how important it is to moisturiser and care for your scalp!
So if you are interested in SMP, keep reading, as the answers really do help give you a lot more information about the process and what one can expect.
1. What is SMP, and who would you recommend it for?
Men who buzz (shave) the rest of their hair, men who have diffused thinning, women suffering from hair loss (usually diffused thinning).
Alopecia areata.

2. Tell us a bit about your clinics in London and Brighton and how you got it started?
In 2015 I was living in Brighton and had a tattoo studio when my dad came across it on the internet and asked if I could try it out on him.
I tried it through his thinning hair and it wasn't bad at all.
I found a willing victim with substantial hair loss who was already rocking the shaved look and I went about lightly applying the tiny impressions to his bald area, 6 sessions later we were both very pleased with the result. I did a few other guys for a very low cost.
I stopped tattooing so I could focus solely on perfecting this fantastic treatment. Eventually I found a training course in Trico-pigmentation (the semi-permanent version of SMP) and loved it even more.
I offer both Trico-pigmentation and traditional SMP. I now offer intense, highly accredited training in SMP.
After a few years I sold my tattoo studio so I could split my time between London (Shoreditch) and Brighton.
As I got busier in London I moved here permanently and only occasionally work in Brighton.

3. What can a client expect after all the SMP sessions have been completed?
Mainly to stop worrying about their hair loss.
They will need to stick to a regular regime for shaving/clippering to ensure the scalp micropigmentation blends seamlessly with the remaining hair stubble.

4. Are your clients predominantly male or do you have a large female client base too?
Predominantly male.
I have recently tried reaching out to women of colour as many of them are suffering with traction alopecia (caused by very tight hair styles). I was really pleased help one lady in particular who created a funky shaved look but was still able to keep her longer dreadlocks.

5. How many sessions do most clients require?
Almost everyone has 3 sessions and around 20% of clients may need a short 4th session for perfecting.

6. What are your suggestions for pre-treatment care and post treatment care?
Pre-treatment care is greatly beneficial to the success of the final result.
Gentle exfoliation starting from at least 2 weeks before is advised however no exfoliation for at least 3 weeks after.
Moisturising 2-3 times a day after treatment is essential for optimum results.
I give a jar of Bald Boss to each client as it is lightweight and contains all natural ingredients and aids healing.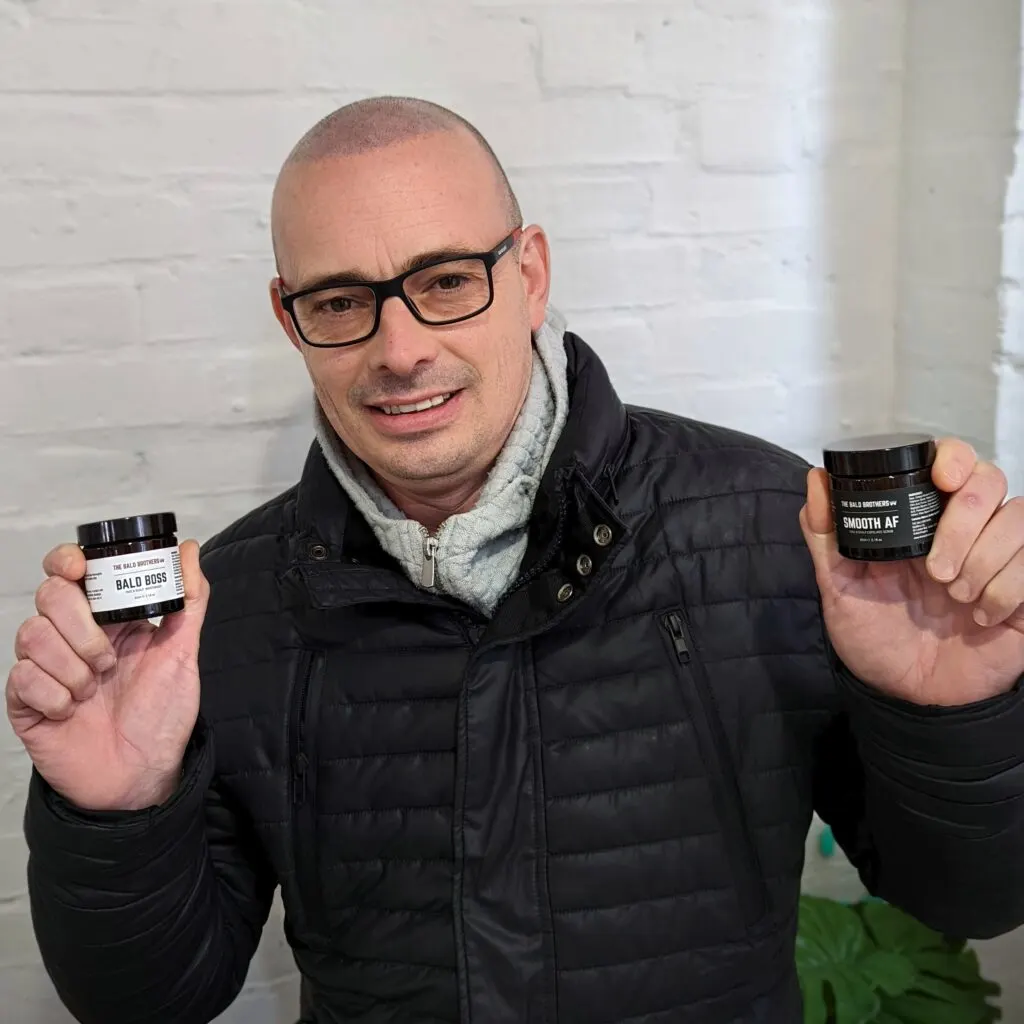 7. How many years does SMP usually last and when would clients expect to come back for another course of treatment?
On average it is around 3 years later that the SMP will benefit from a refresh.
It is still strong but has softened, a new layer of crisp micro dots on top makes it look fantastic.

8. After having SMP procedures done, what is the biggest mistake most of clients make that could have a negative effect on their scalp?
The healing process is fairly quick and there are a few easy steps to ensure good healing.
After the SMP is settled the number one enemy is the SUN.
Men are starting to understand it is incredibly important to protect the top of the head (with or without SMP).

9. Have you personally noticed an improvement in your clients confidence levels following SMP sessions?
Absolutely!
Last year a client was leaving the clinic and I said "You forgot your hat" he said, "I don't need it, put it in the bin".
I am constantly hearing feedback from clients on their last session or refresh session about how it's made them feel.
I believe the bigger impact is seen in clients who weren't already shaving their remaining hair, it appears even just the shaving it off has a positive effect.
A good few clients have told me people have commented "You have a full head of hair, why don't you grow it?" they either decide to tell them it's a hair tattoo (of which many don't believe) or simply say "I like it this way, it's easy to maintain".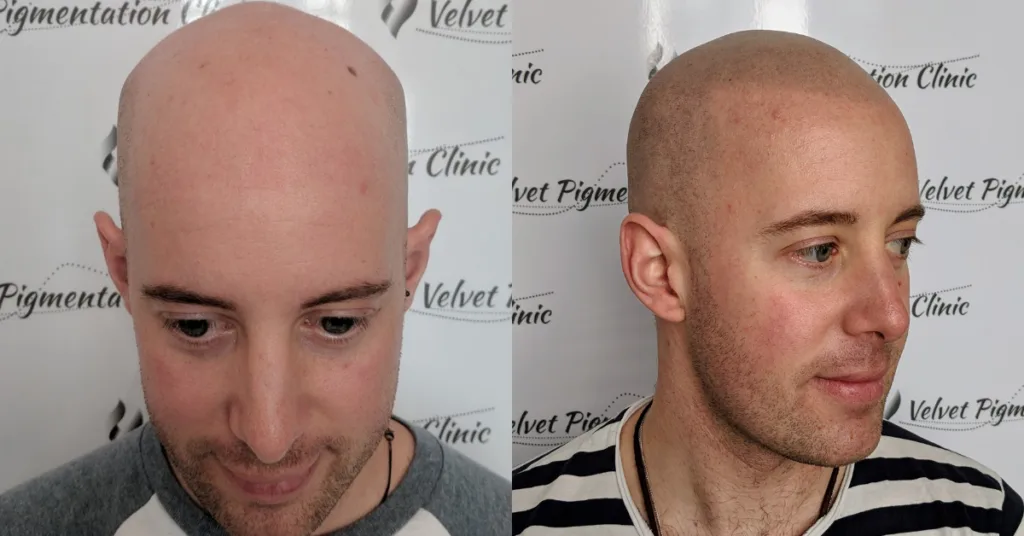 10. What happens if someone doesn't like it or wants to change it?
Laser tattoo removal is very affective at removing SMP, on light skin tones, in as little as 2 sessions.
This makes it simple to make changes.
Some clients have concerns it may be 'too much' ten years down the line, well they can have the hairline changed to a more age appropriate one.
11. Does it age well?
Yes!
If it's applied professionally and carefully at the start, fine micro dots with layering of different shades. It should not be over saturated with pigment and made too dark, this will not age well.
My aim is for it to look very natural and I'm well known for my natural hair lines.
12. What is the best feedback you've had from a client?
One client sent me a text around 20 minutes after leaving the clinic to tell me he felt like Beyonce walking back to the train station!
Final Words
Scalp micropigmentation is certainly a new, innovative way of overcoming hair loss and the negative emotions surrounding it.
Eve does a wonderful job as a SMP artist and her experience in the industry is next level after having completed many SMP on men's scalp.
If you are on of those men or women who is dealing with hair loss and you think SMP might be the next step, then I would recommend contacting Eve on her website at Velvet Micropigmentation or visit their Instagram page @velvetmicropigmentation directly.
SMP is a way of overcoming hair loss, and that what we are all about at The Bald Brothers.