Baobab oil for skin has many well known benefits, and is often found in quality skincare products.
The oil is found in most of our products because we believe it compliments our other natural extracts in our product range by combating skin redness, swelling and irritation of the skin.
Baobab Oil For The Skin
In this article below we will break down exactly what baobab oil is, what the benefits are and you'll see exactly why we use it as an extract in most of our products.
What Is Baobab Oil?
Baobab Oil is obtained from the kernel of the Baobab seed.
A Baobab is a tree native to Africa and Australia, and is often referred to as the Tree of Life.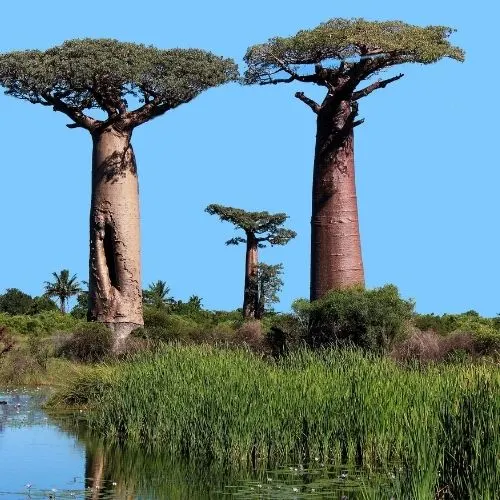 The production of Baobab oil begins by cracking the fruit open and separating the seeds from the dry powdery pulp.
The seeds are first hammer-milled to remove the hard outer coat from the kernel.
Baobab oil is then cold-pressed from seeds for various uses, from cooking to hair care to skin care.
Baobab oil is rich in omega-3 fatty acids and other fats, including palmitic acid, oleic acid and linolenic acid.
There are many different oils and extracts that can be of benefit to your skin and scalp.
We have included other natural extracts such as grapeseed oil, olive oil, apricot kernel oil and jojoba oil into all our products which we think will be of benefit you skin and scalp.
But Baobab oil is really an amazing natural oil with quite a few skincare benefits and uses!
Benefits Of Baobab Oil For Your Skin
Having been on the raw end of some bad skin care habits early on in our head shaving tenure, we at The Bald Brothers quickly came to realise how important daily skin care was.
Our products are there to not only assist and provide bald men with an organic, quality skin care range, but can be used by other men (and women) too because they really work well on your face and scalp!
Below are a few benefits of baobab oil for your skin and scalp.
---
#1: Baobab Oil Helps Reduce Skin Irritation & Redness
Baobab oil is high in linoleic acid, a kind of omega-3 fatty acid that has anti inflammatory properties.
Therefore, it may help reduce skin redness, irritation, and swelling. This can also help treat acne.
#2: Moisturizes & Hydrates Your Skin
Over time, taking care of your skin's barrier will help prevent ageing and maintain a resilient, healthy skin.
Baobab oil contains vitamin E, which is great for moisturizing the skin and supporting healthy skin.
#3: Promotes Rejuvenation Of Skin Cells
Baobab oil contains moisturizing vitamins A, D, E and F, which help to rejuvenate damaged skin cells.
It is an emollient that provides hydration, but at the same time doesn't clog pores.
It quickly absorbs into the skin without making the skin feel greasy, making it beneficial for all skin types, even oily skin.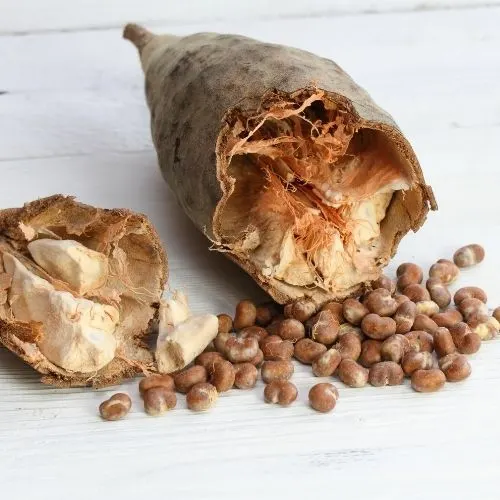 #4: Heals Wounds & Protects Skin From Temperature Fluctuations
Baobab oil may accelerate wound healing.
In recent in-vitro studies and topical applications, it demonstrated a regenerating, nourishing and toning effect on healthy skin and promoted healing of skin damage due to acne, rosacea, dermatitis, eczema and scars.
#5: Baobab Oil Is An Anti Inflammatory
Baobab oil is a rich source of omega fatty acids that fight inflammation, making it a great choice for sensitive or inflamed skin.
It's anti inflammatory properties soothe irritation, and can even help with skin conditions like eczema and psoriasis
---
Baobab oil is generally known for its regenerative abilities.
It is excellent for softening skin and helping heal any imperfections due to its antioxidants.
The oil also contains copious amounts of vitamin A, B, and C, along with omega 3, 6, and 9 fatty acids. It also contains magnesium, potassium and calcium.
Can You Use Pure Baobab Oil?
Yes, you can also use pure Baobab oil as a skin moisturizer.
The high omega-3 fatty acid content of this seed oil will make it beneficial for your skin and hair.
I have tried many different natural oil extracts such as coconut oil on my skin. But there does some a certain level of messiness to it, as these natural oils do leave your skin and scalp to feel quite oily afterwards.
That's why we have used Baobab oil as one of the few natural extracts found in our products.
When you add the natural extracts into a complete product, you reap the benefits from it without having to deal with the oily mess!
What Should You Do Next?
It doesn't matter whether you are a bald man, have hair or even if you are female and looking for a skin care moisturizer product.
Yes, our products are made specifically for bald men in mind and to be used to protect and moisturize bald heads, but our products can be used on your face too, making it a perfect addition to anyone's skincare range!
Check out our shop and have a see for yourself!