Below you will find my honest Leaf Shave review and how it felt shaving my head head with their three blade spring loaded, pivoting razor head set.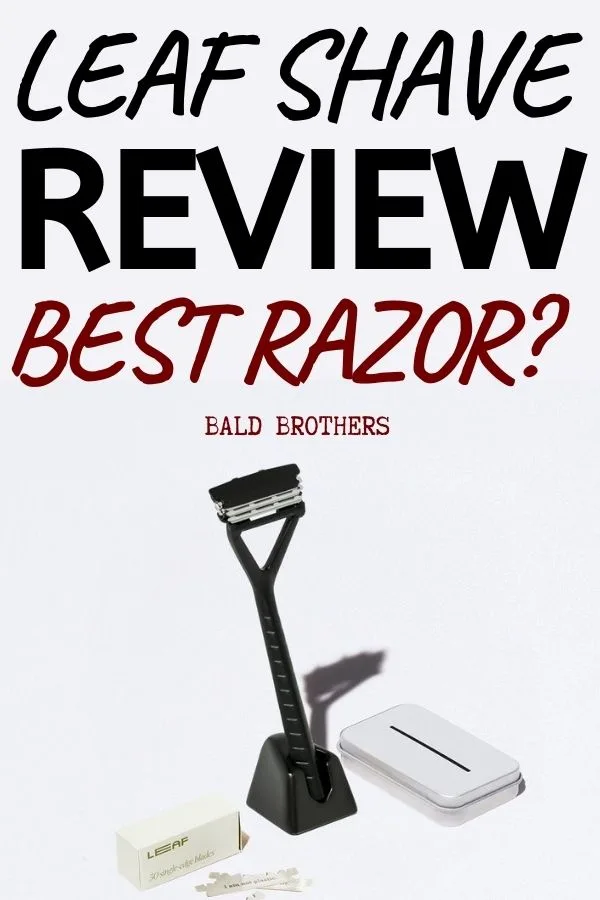 I am always on the lookout to try new razor brands and styles and naturally I compare razors to what i have previously used.
But this time I had a different razor search mission on my mind.
I recently read that over 2 billion disposable razors make it to the landfills every year which is an alarming statistic in itself!
And so my quest for a non-plastic, environmentally friendly razor brand lead me to searching the internet for many hours until I stumbled upon Leaf Shave's website.
I was immediately drawn to their website and their story.
'The Leaf' razor immediately caught my attention for various reasons, most importantly the pivot head razor and the fact that it was non-plastic mean't I was almost sold immediately.
I wanted to get my hands on a their Leaf Shave Kit and give our users my 100% honest opinion.
So if you are looking for an in-depth Leaf Shave review and are contemplating purchasing their razor, then keep on reading.
If you are a newly bald man and need to learn how to shave your head the best possible way, then make sure to check out this guide!
Who is Leaf Shave?
Leaf Shave was founded in 2016 by Adam and Adam (their 2 founders) while they were working at a medical device startup together, and decided the obvious next step in their career was to start a razor company!
They spent nights and weekends designing the razor, filing patents and testing of the razor.
In 2017 they launched their first official kickstarter campaign which provided some funds to help with the first production run.
On 1 April 2018, Leaf Shave launched commercially and they are currently based in Pittsburgh, USA.
Leaf Shave serves and ships mainly the USA market.
Their marketing is very cool.
It immediately caught my attention that they were environmentally friendly and that they were a 100% non-plastic company when I landed on their homepage.
The Leaf Shave website is extremely user-friendly and easy to navigate to their shop section where you have the option to purchase either The Leaf Kit (the razor and all accessories), the razor (The Leaf Razor) and you can purchase accessories (The Leaf Stand, 50-Blade Pack or Blade Recycling Tin) separately.
I like a simple a website that gives me an explanation of what their company is about and a shop section that makes it easy for me to choose any product of my choice.
So let's get started with our honest Leaf Shave review, and at the end I will give my overall score based on a number of categories.
Are We Being Paid To Write This Review?
No. We are not being paid to write this review.
We reached out to Leaf Shave and asked them to send us over some of their best stuff.
Nathan, the Leaf Shave Customer Experience Specialist, was very kind to send over The Leaf Kit, and in return we will give you an honest review.
All opinions are 100% my own.
---
Leaf Shave Review & Unboxing the Products
Landing on the homepage of Leaf Shave, you immediately see The Leaf Kit, which is what I received and will do my review on.
Included in The Leaf Kit set is The Leaf Razor and stand, 50-Blade Pack and a Blade Recycling Tin.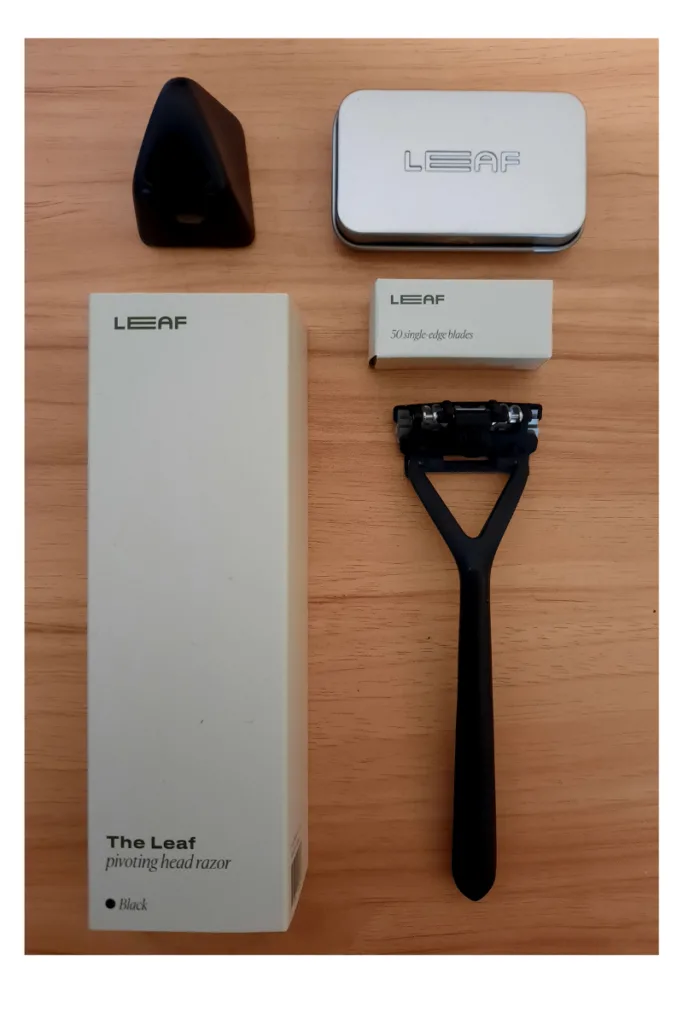 What's Inside The Box?
Once the box arrived, I immediately started to unpack it.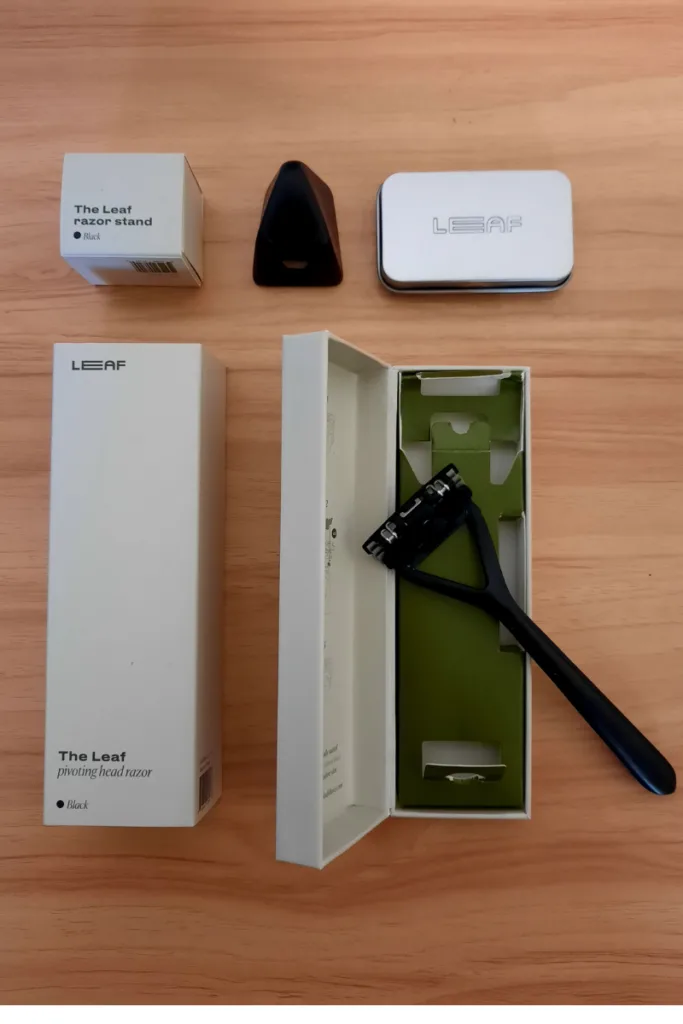 My first impression was a small, neatly packed box with no plastic packaging.
It comes in a simple, tiny, thick cardboard box which includes two smaller boxes that arrived in a good healthy condition and was not damaged at all.
The Leaf Razor in a small white box and The Leaf Razor Stand, 50 Blade-Pack and Blade Recycling Tin are separately packed and wrapped in paper and boxed within the big box.
Thick cardboard really protects the products which I liked, and mean't no damage and no admin issues.
Happy days!
Their slogan on the box is simple and to the point – 'Go sustainable. Ditch the plastic'.
The recycling tin is an incredible initiative – I found this to be a great touch and really cool!
Most companies just expect you to throw your old, used razor blades into the trash.
Leaf Shave have a recycling program which is a big positive in my opinion.
Once your recycling tin is filled up with your old blades, you can send it back to Leaf Shave and they will recycle it and re-use it.
Brands that support and encourage their users in making the world a better place is definitely a positive in my eyes.
Initial Reaction & Comparisons With Other Big Razor Brands?
I think its time to get to the main part of the review – The Leaf Razor!
I ordered the black color razor.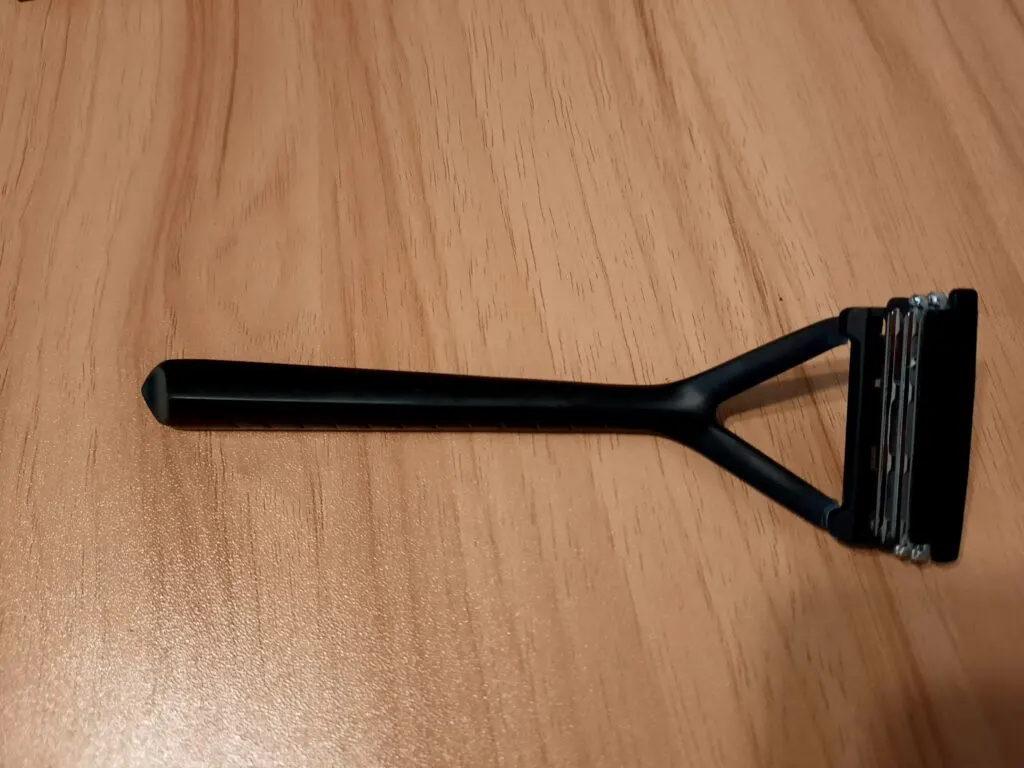 How it feels and compares to other razors?
The first thing I noticed was how heavy the razor was compared to other razors I am more used to.
It's a 100% ergonomic, all metal design and looks beautiful on my counter top!
The handle design is basic and is consistently black all round.
The handle size is longer than other common razor handles, which I liked because I enjoy a big handle to hold onto when shaving my head.
The Leaf Razor – what sets it apart from the rest?
The Leaf Razor has a pivoting head which Leaf Shave claims sets them apart from every other safety razor, because its hugs all the curves without all the waste.
Leaf blades
The blades are spaced further apart than on cartridge razors and this reduces irritation, in-grown hairs and prevents clogging.
The most intriguing part and selling point for me was I got to choose how many blades I want to put into their razor.
The Leaf Razor has the option to put up two or three blades into the razor.
Leaf Shave recommend as follows: two blades for sensitive skin and three blades for the closest shave.
So depending on whether you have sensitive skin or prefer a close shave, you can use either two or three blades.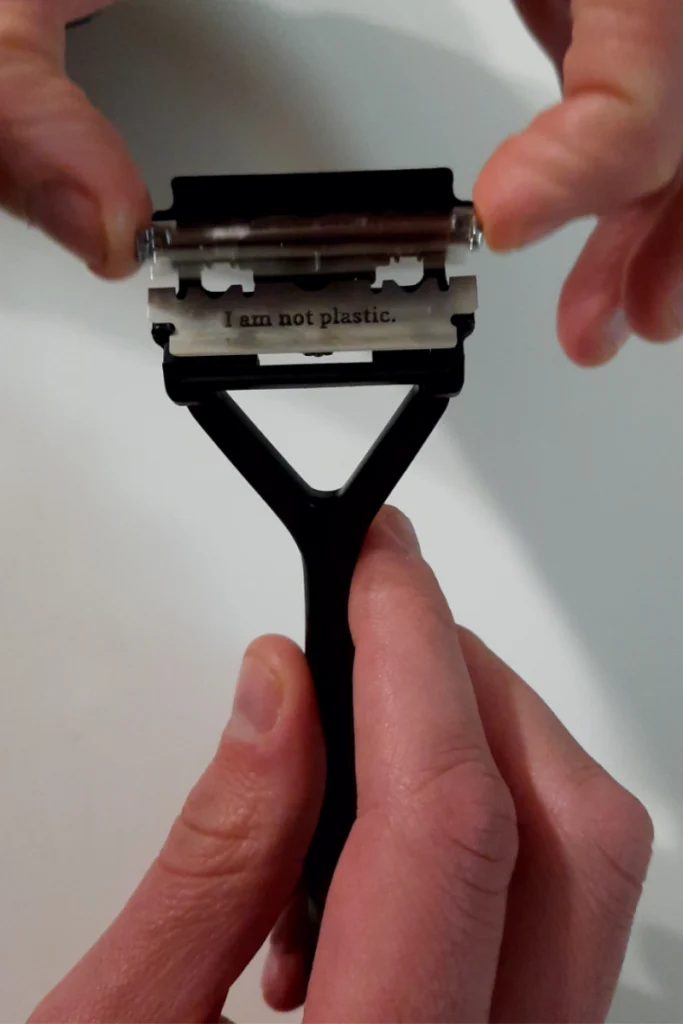 Everything seems really good so far.
The simple packaging, The Leaf Razor, the blades and their vision to be 100% plastic free is just what I was looking for in a razor brand.
But, this is all pointless if the head shaving experience is a disappointment.
So let's get to the head shaving part and see if The Leaf Razor really is good for shaving your head.
Leaf Shave Review & Shaving My Head?
I shave my head on average every three days, so I made sure I gave my hair a good three days to grow before testing out the Leaf Razor and writing this review.
Leaf Shave claims that their razors are tailor made for shaving your head, face and legs.
This review is only going to be done on my head shaving experience.
I am super excited to start the shave as I have never shaved my head with a pivot razor of this kind, where you have to manually put the blades in.
The product can look and feel amazing, but if it doesn't get the job done, then its just a massive fail.
Shaving our heads is something we do a regular basis, so the head shave needs to be comfortable and clean.
You are most likely never going to use their product again if it gives you razor cuts, burns and bumps. This just irritates your skin and then its definitely not worth using them again!
So I grabbed The Leaf Razor and headed to the bathroom and started shaving.
My head looked like this before I started shaving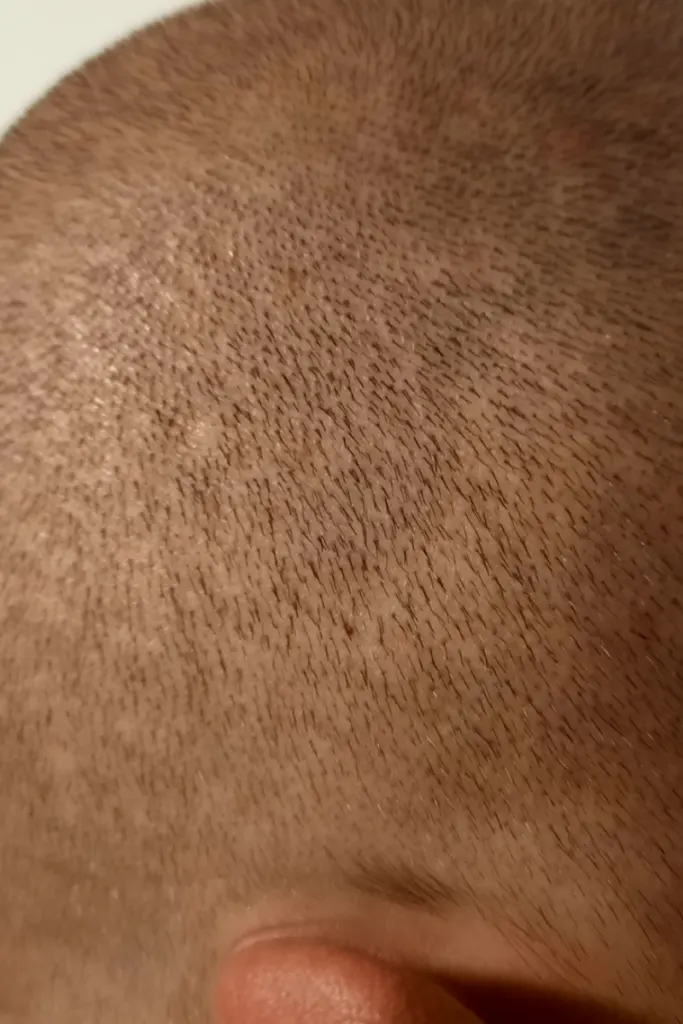 I applied my shaving cream and then started my usual head shaving routine.
Usually I start from one side and then move to other side, working my way through my head with long strokes.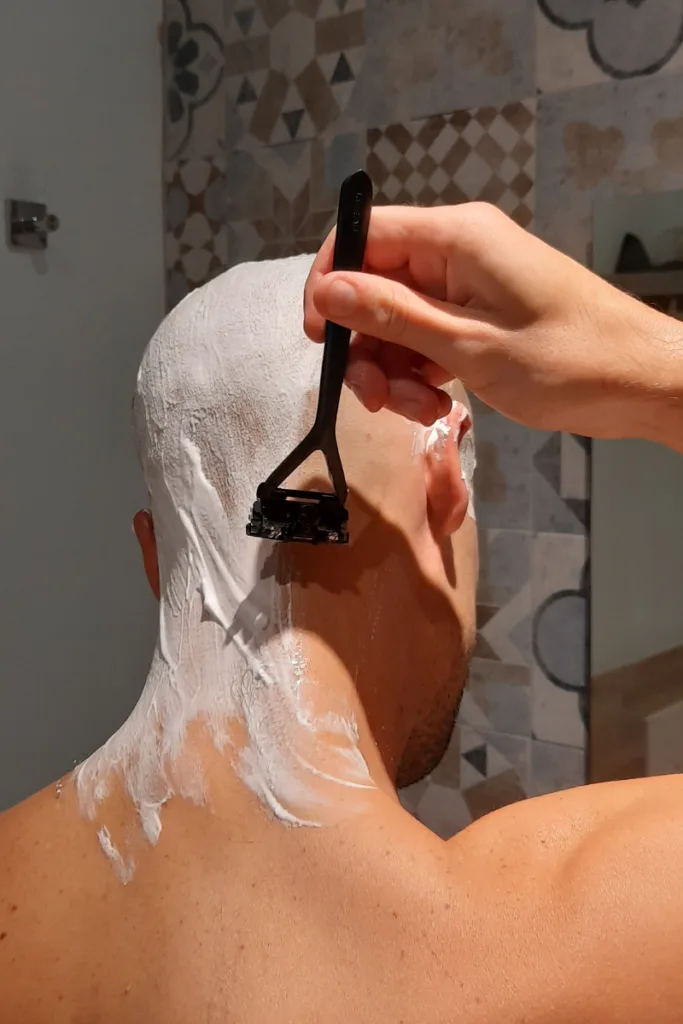 The reviews that I read from other Leaf Shave users were that they raved about about how the pivoting head hugs all the curves without any left over hairs. This got me super excited as I always battle to get the hairs out the curve.
I put three blades in the razor as I don't suffer from sensitive skin.
Leaf Shave prides themselves on their optimal blade spacing which reduces irritation of the skin and prevents clogging.
I found the option of either using two or three blades a great initiative which gives the users flexibility.
The Leaf Razor rinsed very easily and there was no mess that clogged the blades after a few strokes, which has come to irritate me about other razors.
When I started the shave, there was a slight learning curve with the pivot razor head and I had to adjust the handle direction position when going over the curves. This is no big issue, just something I had to get used too.
After a while you learn how to use it properly!
The weight of the handle and razor is also much heavier to the Gillette Mach3 (for example) which I used previously.
I generally prefer a lighter handle but I am willing to make sacrifices for planet earth!
Once done, I rinsed my head with hot water.
The shave went really well and I only expect it to get better and better because with every razor, their is a learning curve.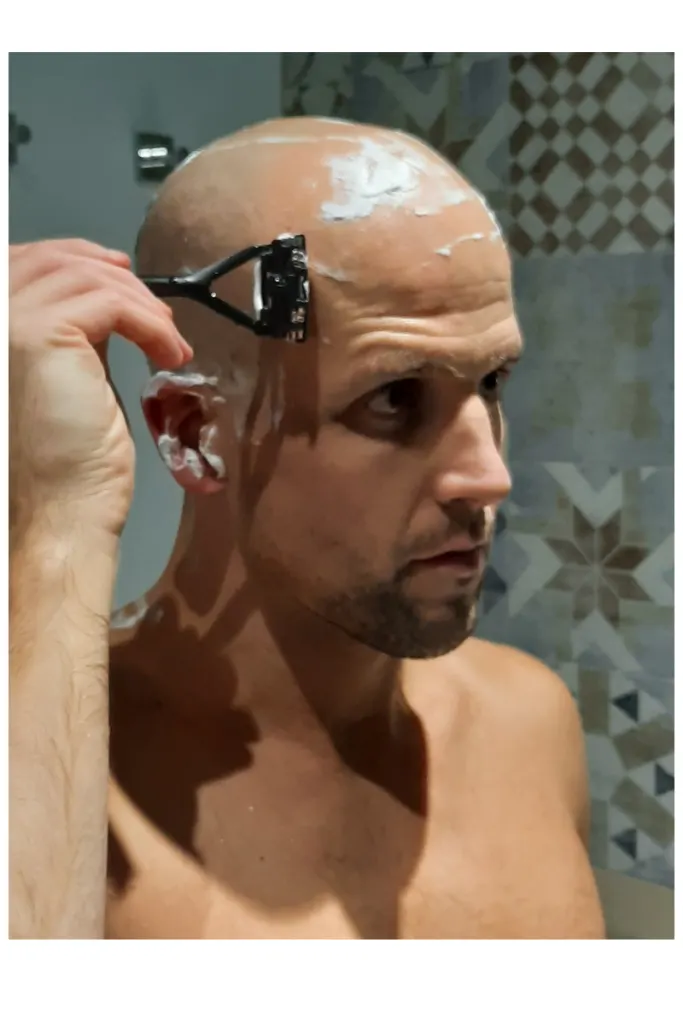 It took me 7 minutes to accomplish a clean, close shave.
Once I dried my head, I applied my usual coconut oil.
Overall Thoughts On The Leaf Shave Razor Kit
There were so many positives about The Leaf Razor and few things I disliked.
What I Liked
+ The spring loaded pivot head helps shave the hair on the curves on my head that usually get missed. I really liked how the pivot head hit the surface area of the curve.
+ No clogging between blades and very easy to clean after five strokes. Loved this about The Leaf Razor!
+ Every man hates a cut on their head and with The Leaf Razor I experienced no cuts. This is really impressive considering there is always a learning curve to every razor.
+ The shave was as close as could be and resulted in a clean shave.
+ Leaf Shave provide a lifetime limited warranty and a 100% refund of your purchase price within 30 days of purchase.
+ They give men (and woman) the option to shave with plastic free, environmentally friendly razors.
+ The recycling program of their blades is a huge benefit and Leaf Shave definitely does their part in making the world a better place! (more on it below)
+ Their razors felt and looked fancy! This isn't a big deal for me as I am all about the performance, but The Leaf Razor looks classy and it fits a bald kings bathroom once on its stand!
What I Disliked
– No subscription option where you get new blades sent every set period. The blades are unique and need to be purchased from Leaf Shave every time they are finished. So I think a subscription option for razor blades could be a game changer for the user.
– Pricing is initially on the high end and requires an initial investment when making your purchase of The Leaf Kit. But buying a one-time stainless steel razor and a very cheap pack of blades is definitely cheaper in the long run.
– The heavy handle of The Leaf Razor is something that took some getting used to. I generally prefer a lighter handle but I am willing to make a change to go non-plastic.
The Leaf Shave Recycling Program
I thought Leaf Shave's recycling program needed some extra mentioning on this post.
It really is a game changer in the razor blade industry and something thats very welcome considering over 2 billion disposable cartridge razors get thrown away every year.
It's important that we all do our part for the environment, and investing in non-plastic goes a long way.
When you consider that almost all men and women either shave either head, face or legs, there is a huge need for people to change the way they consume.
I salute Leaf Shave on this initiative, and hope other brands follow suit!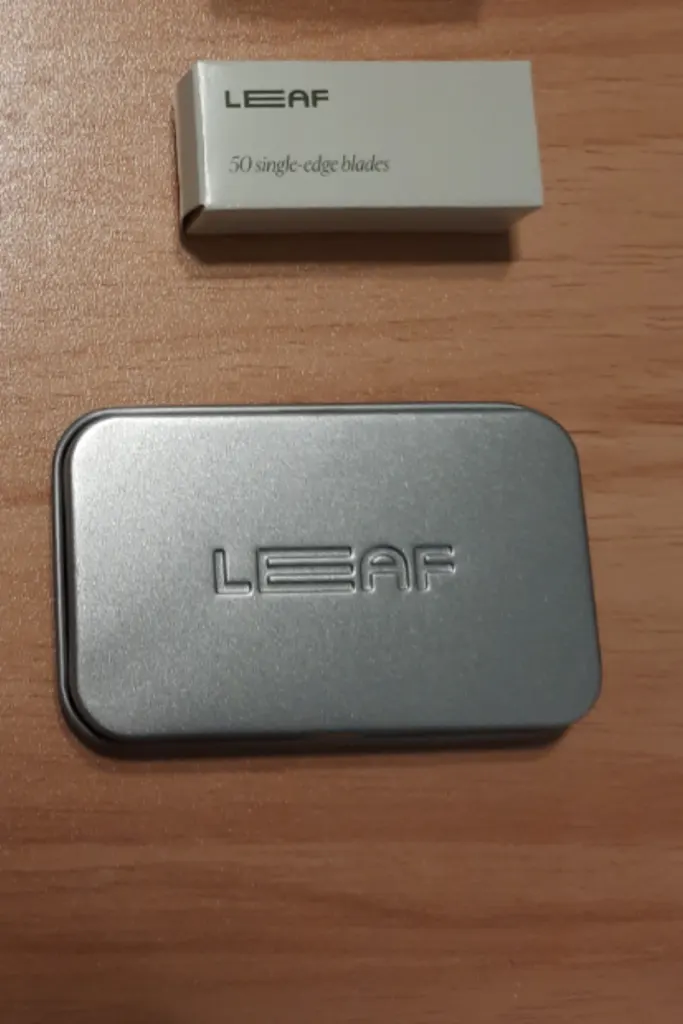 ---
Final Verdict
Based on Leaf Shaves online reviews, their customers seem super satisfied, and this comes as no surprise.
I only did the review on shaving my head as this is what we at The Bald Brothers are all about.
Leaf Shave ticks all the boxes when it comes to head shaving, and I truly enjoyed the experience as it was the first of its kind for me!
I think the combination of being able to add either two or three blades to your razor combined with the pivot razor, works very well for a head shave.
Until recently they only shipped to the USA, but have now opened to more international locations.
International customers that choose to shop/ship with Leaf Shave, will pay for their own shipping and VAT due on the order.
If you are in the USA, I recommend you definitely try The Leaf Razor!
It is a good investment in your head shaving career.
The fact that the blades work well and give you clean head shave, that you can recycle your blades and they are non-plastic and environmentally friendly, is a big yes from my side!
You can visit Leaf Shave website right now and have a look.
The site's really user friendly, and it's easy to find what you are looking for.
Cheers,
Will