So is this the best balls trimmer around?
Below you will find my honest Balls Trimmer review, what I liked and disliked, and how they performed as being an exclusive product for men!
You might find this as a random review from our side, but we have been asked by plenty of men if we know of any manscaping products out there in the market that don't cause any damage!
I was informed of Balls by a friend of mine and immediately checked out their website and saw that it was exactly the product myself and various of our users have been looking for.
I immediately reached out to Tyler, the co-owner of Balls, and he had no hesitation in sending me over their Balls Trimmer for me to review.
The products seemed to be high quality from reading all the reviews and I loved that for every trimmer purchased, they planted a tree.
Who is Balls?
Balls are a company that was founded by Tyler and Matt after having an awkward conversation with a family member about using kitchen scissors on their manhood.
After experimenting for over a year with different designs, they finally designed the Balls Trimmer.
Balls also offers other products such as their deodorize lotion and recharge body wash, but their main product is The Trimmer!
You can also buy bundle packages which includes the trimmers, lotions and body wash which naturally saves you money in the long run.
They also offer a subscription service on their SackSafe Blade, where you can get a blade delivered every one, two or three months as per your choice.
Are We Being Paid To Write This Review?
No, we are not being paid.
We reached out to Balls and they were happy to send us over The Trimmer for us to do a review on.
All opinions will be 100% my own, of course.
---
Balls Trimmer Review & Unboxing the Products: Best Balls Trimmer?
Landing on the homepage of Balls, you immediately see the Balls Trimmer, which is what I received and will do my review on.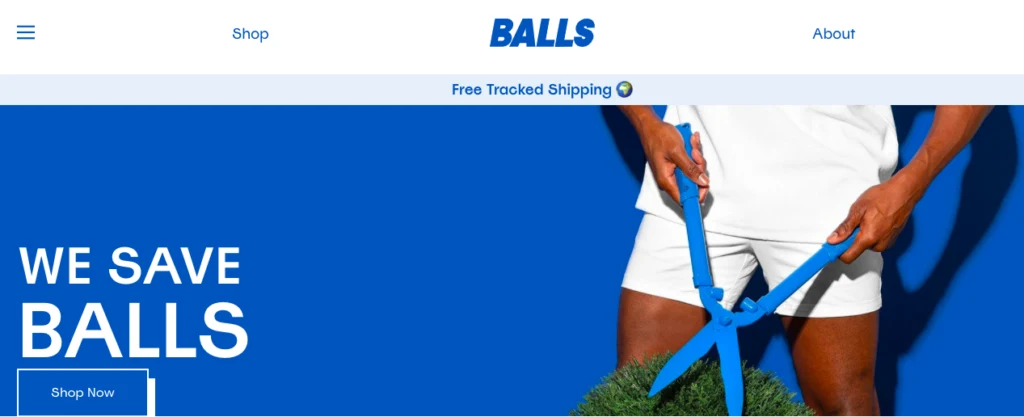 Included in the Balls Trimmer box I received was The Trimmer and a charger only.
I only received the Trimmer and didn't receive either of the deodorize lotion and recharge body wash products to test and review.
So I'll just talk about my experience using The Trimmer, and whether or not I approve of it!
What's Inside The Box?
Once the box arrived, I immediately started to unpack it.
The box is a royal blue colour which matches their website colour.
First impressions was a small box that was easy to open from the top, and that the trimmer was very well protected by the packaging.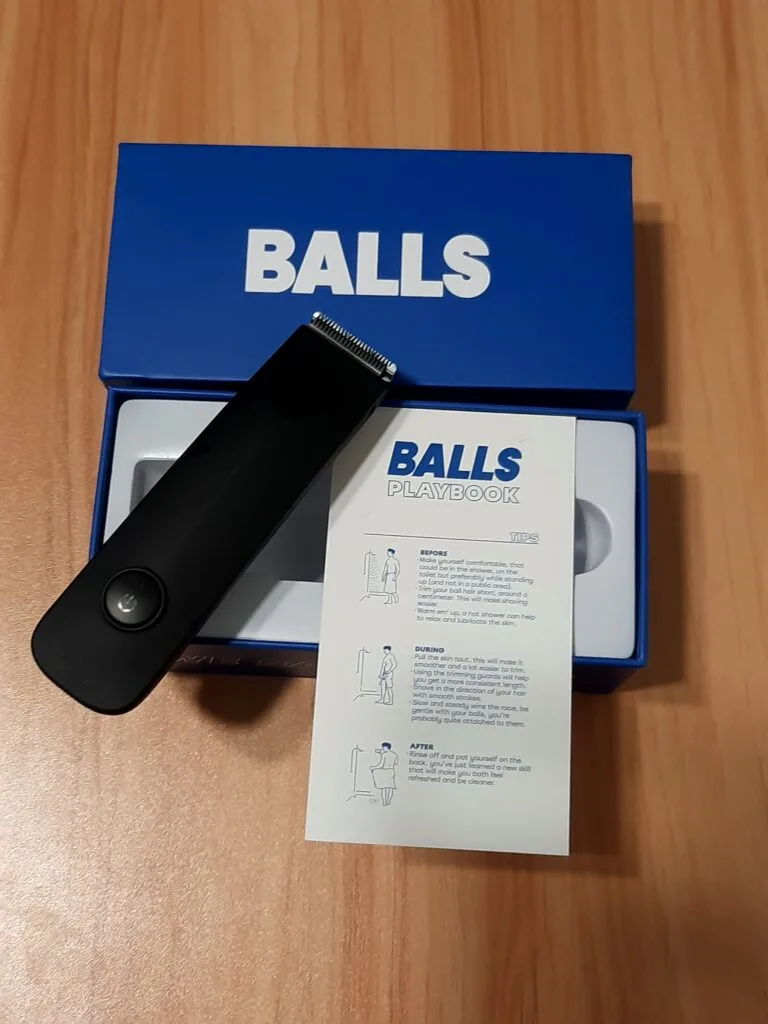 The thick cardboard really protects The Trimmer when being shipped and transported.
The Trimmer was also kept stable and packaged inside the box to prevent it from moving around during shipment.
It arrived in good condition and wasn't broken.
Their slogan on the box is simple and to the point – 'WE SAVE BALLS'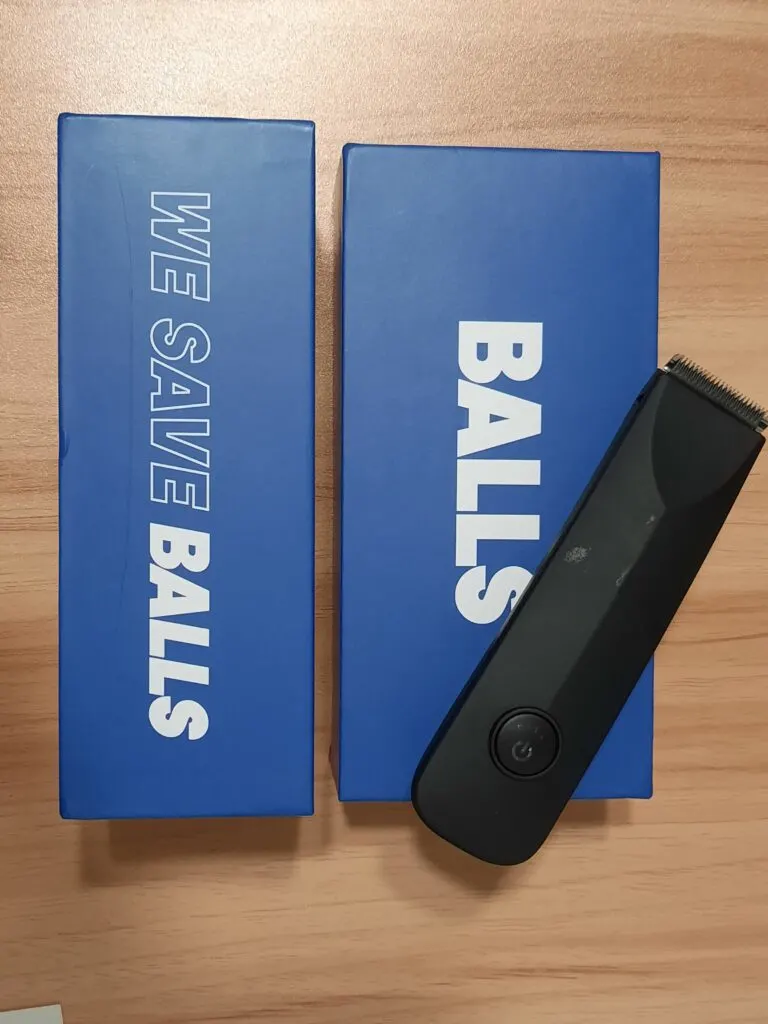 Inside the box I received a welcome note from the co-founder, Tyler Balls!
I also received a Balls Playbook which was on the back of the welcome note.
The Balls Playbook is a great initiative where Balls gives you tips on how to use the trimmer before, during and after the trimming procedure.
I would say it is a very useful guide for all users!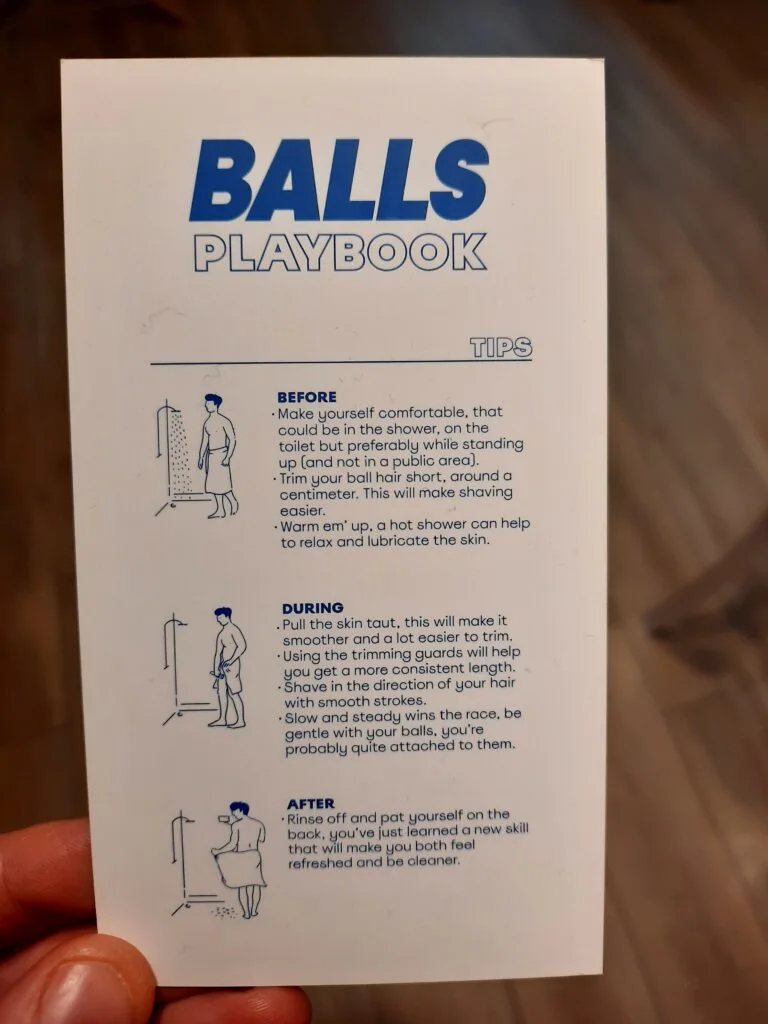 Balls also plants one tree for every Trimmer sold.
They are doing their part for the planet by planting trees, which I really think is a great contribution from their side.
It seems like such a simple gesture that I believe more brands should be doing.
Initial Reaction & Thoughts
This is the first time I am doing a review of such nature, so I have nothing to compare it against.
We at The Bald Brothers usually try and stay in our lane and focus only on head shaving products to do our reviews onm but after multiple requests from our users on manscaping, we decided to try and test some other products which our audience might find useful.
So lets get to the main part of the review – The Trimmer!
The Balls Trimmer – what sets it apart?
The Balls Trimmer is designed to prevent cuts and snags.
After reading various reviews (Balls has over 700 reviews), the users seemed very satisfied with The Trimmer that Balls has created.
Everything about Balls and their trimmer seems very good so far, and I am starting to think they may be onto something big here.
The simple packaging, The Trimmer, how they aim to save balls and also the fact that they plant trees for every Trimmer sold is great.
But, this is all in vein if I personally have a bad trimming experience.
So let's get to the trimming part and if The Balls Trimmer really does prevent cuts, snags and a mess.
Balls Trimmer Review: Thoughts On The Balls Trimmer Product
Balls claims that their trimmers are tailor made to prevents cuts and snags, which most usual clippers do not.
As mentioned previously, I have no other trimmer to compare it to except the usual head shaving clippers, which I must admit is not the best experience ever.
A product can look and feel amazing, but if it doesn't get the job done, then is doesn't serve a purpose and is null and void.
You are most likely never going to use the Balls Trimmer again if it gives you cuts, burns and snags.
This just causes more damage in the long run and then its definitely not worth using them again!
So I grabbed The Trimmer and headed to the bathroom and started using it.
The reviews that I read about The Balls Trimmer mostly mentioned good things about the trimmer and how it didn't cause any irritation, cuts and snags.
Most users also raved about the blade not cutting the sensitive areas.
Balls prides themselves on The Trimmer not snagging or cutting the prized possessions.
As with all new products, there is a learning curve to using the Balls Trimmer, but after a while you learn how to use it properly.
The trimming operation went really well and I only expect it to get better and better. As with any new product, there is a bit of a learning curve!
After I was done, I cleaned the Trimmer.
My Overall Thoughts On The Balls Trimmer
There were so many positives about The Balls Trimmer and few things I disliked.
What I liked
+ No cuts or snags. Also no need to rush to the hospital.
+ Love how they plant a tree for every Trimmer sold. Being environmentally friendly is something more brands need to do!
+ Simple, yet elegant packaging that gets the point across – 'We Save Balls'.
+ The Balls Playbook is a great initiative. It gives you before, during and after tips which I found very helpful.
+ The Trimmer blades are specifically designed to not cut. The design is incredible and very different to other clippers out there.
+ Their trimmers felt and looked fancy! This isn't a big deal for me as I am all about the performance, but The Balls Trimmer looks the part.
+ Travel compatible and can easily be packed in a suitcase. It's always nice taking grooming accessories when we go on holiday, and the Balls Trimmer can easily do that.
+ The subscription option is a major positive. A SackSafe gets sent every a few months to your doorstep, which saves you money in the long run and gives you the peace of mind to know that will get new blades every few months.
What I Disliked
– Had some plastic in its packaging which could be removed.
– The battery didn't last as long as other hair clippers and needed to be charged frequently.
– Pricing: A trimmer of this nature will put you back over $70 excluding shipping. Naturally, this is a big investment for most ball trimming men.
---
Final Verdict
Based on The Balls Trimmer online reviews and my experience using their trimmer, it comes as no surprised that Balls users are so satisfied.
The Trimmer ticks all the relevant boxes and most importantly, it doesn't do any damage!
If you are looking for a trimmer to get manscaping, then I suggest you should try out The Balls Trimmer.
I only did my review on the Trimmer and didn't get sent the body wash and lotion.
If you use the coupon code, HAIRY at checkout then you will get a 15% discount!
You can visit the Balls website right now and have a look.
The site's really user friendly, and it's easy to find what you are looking for.
Cheers,
Will