Disclaimer: This post may contain affiliate links. See our disclaimer here.
10 Easy and healthy protein smoothies every single one of you needs to try!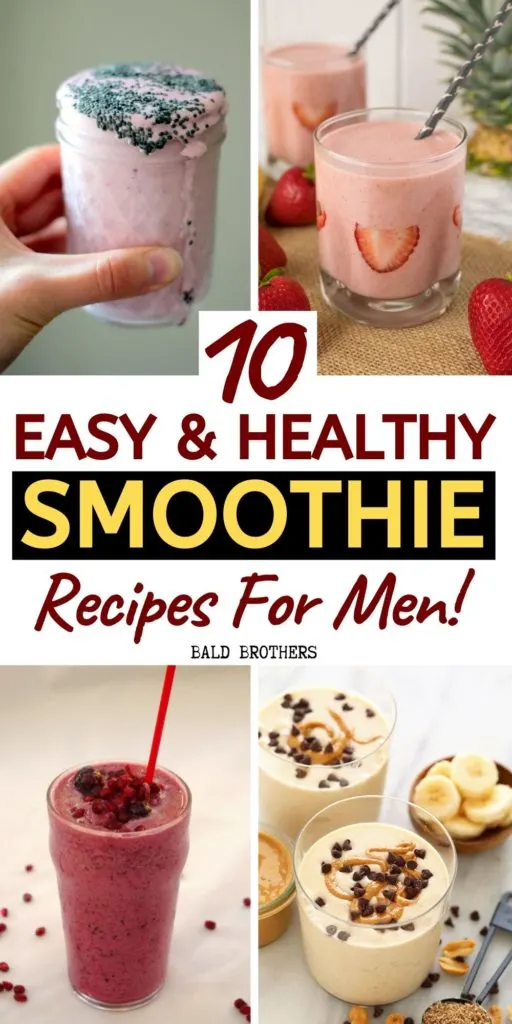 Smoothies are a great way to add health to your daily nutrition.
They are easy to make, contain a lot of goodness, and usually taste really good.
Not only can they help you with losing weight and getting in shape, but they are good for your health in general too.
Depending on the type of smoothie you make, you can really get all sorts of vitamins, energy boosting nutrients and antioxidants into your body.
---
10 Healthy Protein Smoothies
The great thing about smoothies is that there really isn't a time of day where you can't make and enjoy one.
Most people like to have it as a breakfast replacement, which is a healthy and easier alternative to making breakfast.
Whilst others will make smoothies as a post workout drink or even a later afternoon snack.
The choice is yours!
Why Make Your Own Protein Smoothies?
Between the age of 17 and 21, I was obsessed with the generic protein powder you buy at pharmacies.
I used to make myself protein shakes after every workout by just mixing the protein powder with some water or milk, and thought it was the best thing ever.
The problem is, those big, commercial protein powder companies charge so much money for their products, and their health benefits are really slim.
So for the past few years I have been making my own smoothies using only natural ingredients.
Things such as fruits, nuts, seeds, almond milk etc is the best way to go.
Not only are these the healthiest protein smoothies to make, but they taste damn delicious too!
10 Healthy Protein Smoothies All Men Should Make
Below I have put together 10 of the most ultimate protein smoothies that all men should make!
These smoothies are all extremely healthy, and rather easy to make.
1. Blueberry & Hemp Green Smoothie
This is a great smoothie to start your day off with.
Green smoothies are actually really popular these days, as they contain a lot of goodness. And this blueberry and hemp smoothie is no exception.
Ingredients:
Blueberries
Kale
Walnuts
Golden pears
Hemp seeds
Almond milk
Ginger
2. Cocoa Almond Protein Smoothie
If you, like quite a few men, are not a fan of bright fruits, then this smoothie recipe is one you should try.
Chocolate and banana go hand in hand when it comes to smoothies, which makes this recipe is a really great tasting one!
Feel free to use soy or almond milk. And with the flaxseeds, almond butter and Greek yoghurt, you are getting a good amount of protein and energy.
Ingredients:
Soy or almond milk
Almond butter
Unsweetened cocoa powder
Greek yoghurt
Banana
Flaxseeds
3. Healthy Strawberry Chia Seed Protein Shake
If you are one of those guys who enjoys strawberry milkshakes, then you are going to like this one.
It's hard to believe that this smoothie is actually healthy, considering it tastes like a dessert.
Now the recipe has the option of adding a protein powder, but feel free to leave it out and add a banana to the original recipe to give it a bit of extra healthy carbs and potassium.
Ingredients:
Unsweetened almond milk
Frozen strawberries
Chia seeds
Protein powder
Bananas
4. Peanut Butter Chip Smoothie
This is another awesome fruitless smoothie recipe, containing some surprising ingredients that'll kickstart your health.
Don't get a shock when you see that this smoothie contains frozen vegetables. I couldn't believe it either, but you don't really taste them thanks to the peanut butter.
A lot of people try and steer clear of always adding fruits to their smoothies, thanks to their high sugar content.
Try out this smoothie, it's really healthy!
Ingredients:
Unsweetened almond milk
Frozen zucchini
Frozen cauliflower
Flaxseeds
Peanut butter
Spinach
Cacao nibs
5. Roasted Strawberry Smoothie
This strawberry smoothie contains cottage cheese, which is a high protein source.
Together with vanilla, honey and bananas, this is a great breakfast smoothie to have on the go.
Ingredients:
Strawberries
Cottage cheese
Honey
Vanilla
Bananas
Ice
6. Raspberry Almond Chia Smoothie
Containing Greek yoghurt, chia seeds and almonds, you are sure to get a good, natural protein kick out of this smoothie.
Adding seeds or nuts to any smoothie will give it another layer of protein and crunch!
Ingredients:
Greek yoghurt
Almond milk
Raspberries
Almonds
Honey
Chia seeds
7. Honey Banana Smoothie
The classic banana smoothie is probably amongst one of my favorites, especially if I make it after a morning workout.
This recipe gets its protein from the almond milk and Greek yoghurt, and only takes minutes to whip up.
Ingredients:
Greek yoghurt
Banana
Almond / coconut milk
Honey
Nutmeg
Ice
8. Berry, Pomegranate & Acai Smoothie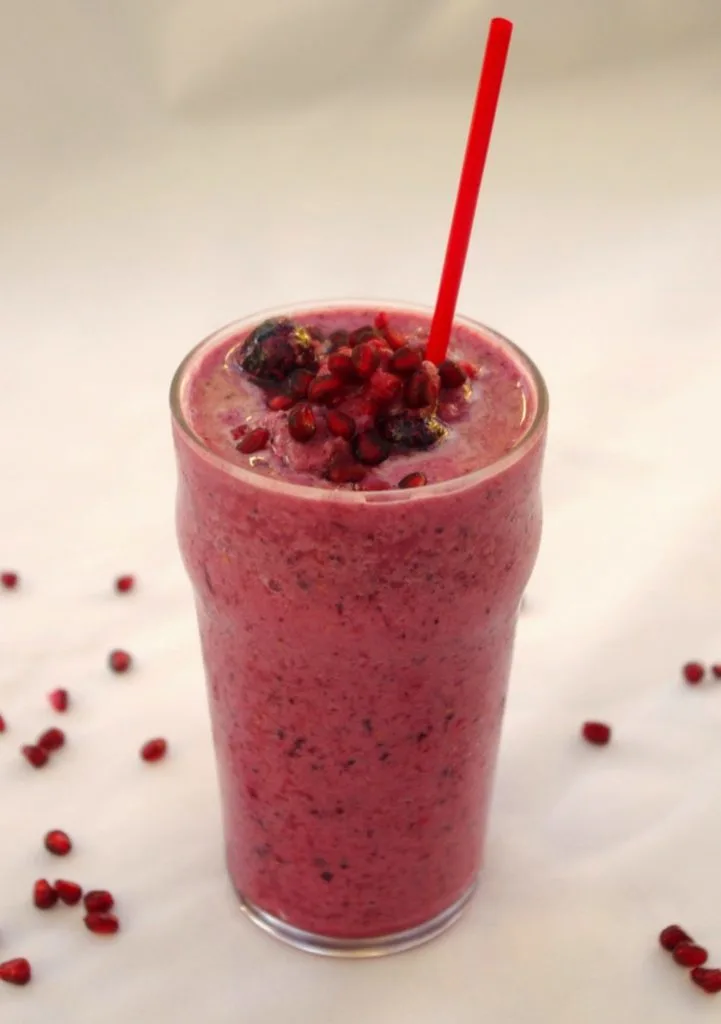 If berry smoothies are something you enjoy, then you need to make this protein smoothie.
The flavors from berries are often not enjoyed by many, but they really do have some awesome health benefits and contain really good antioxidants.
Ingredients:
Apple juice
Pomegranate & acai juice
Blueberries
Raspberries
Greek yoghurt
Ice
9. Strawberry Almond Protein Power Smoothie
A great post workout snack, this protein packed smoothie is another strawberry inspired favorite of mine.
Ingredients:
Banana
Strawberry
Pineapple
Almond butter
Greek yoghurt
Almond milk
10. Peanut Butter Banana Smoothie
And last but certainly not least, my favorite flavor combination: Peanut butter and banana!
Throw in a few more healthy ingredients and you have the ultimate smoothie every single man will love.
When in doubt, reach for the banana and peanut butter!
Ingredients:
Banana
Greek yoghurt
Flax seeds
Almond milk
Vanilla
Peanut Butter
Cheers,
Richard