Disclaimer: The information presented by Bald Brothers is purely for informational purposes only. Any opinions on medical matters are purely the authors' opinions, and do not represent that of any medical professional. It is your responsibility to evaluate your own medical or physical condition before using any of the information presented. By voluntarily undertaking any of the exercises displayed on this post, the user assumes the risk of any resulting injury.

Pull ups are one of the most difficult but rewarding and beneficial upper body workouts all men can do. See why and try out this 30 day pull up challenge!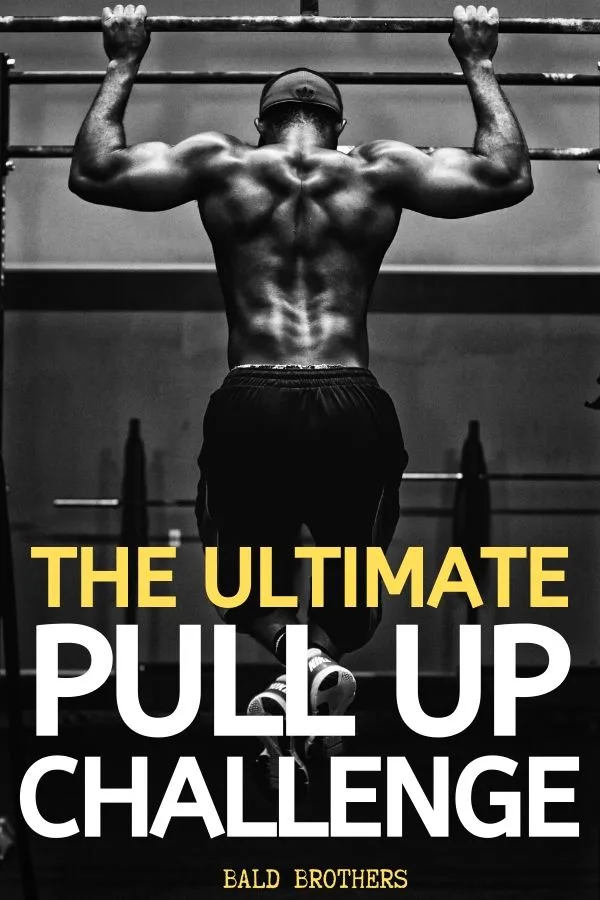 If you have been thinking of starting a few bodyweight exercises that can really get you strong, in shape and don't require much equipment, then you need to start doing pull ups.
They really help with gaining muscle, losing fat and strengthening a range of upper body muscles. All using your own bodyweight.
All you need is a well secured bar or some free space.
In A Hurry?
If you are in a hurry and looking for a pull up bar that you can either indoors, outdoors or both, then check out our top picks below:
Budget Choice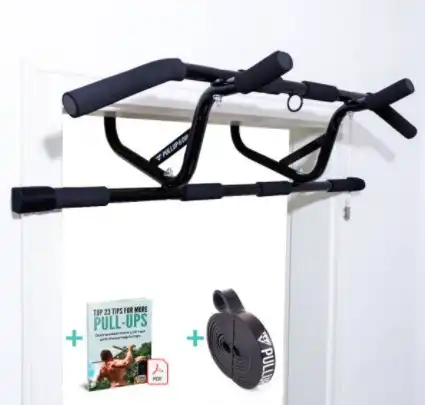 Our Pick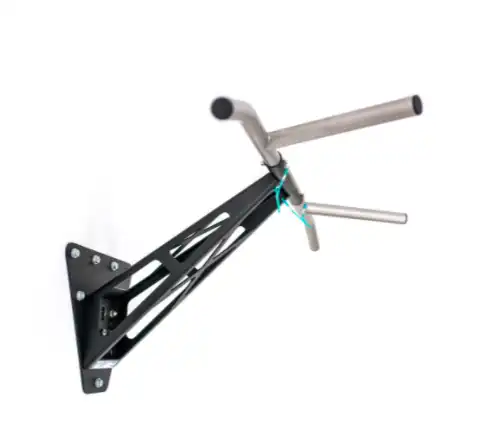 PULLUP & DIP: Indoor And Outdoor Wall
Can be mounted on indoor and outdoor wall
100% flexibility: train indoors or outdoors on an outside wall
Over 15 different exercises can be done
Code BB10 for a 10% discount
Ships worldwide!
Buy Now
The 30 Day Pull up Challenge
In this day and age, most worldwide cities have outdoor gym facilities with access to a bar where you can do chin ups or pull ups, so there's really no excuses.
They don't take long to do, and you should have access to a bar!
5 Benefits of doing pull ups:
Grip strength
Weight loss
Increase your core and back strength
Works lats, shoulders, arms, forearms and core at once
Makes you feel and look good!
If you aren't to sure on how to do a proper pull up, check out the video below!
Try Out This Awesome 30 Day Pull up Challenge
I have a challenge for you today.
A 30 day pull up or chin up challenge.
Are you up for it?
30 Day fitness challenges are extremely popular these days, so why not do a pull up challenge and see how much progress you make over a month!
If you follow this pull up challenge, you'll end up doing 1000 pull ups in one month! If the challenge seems a bit tough, then feel free to halve the numbers!
Do you think you're up for it?
Remember To Warm Up Beforehand
If you have done pull ups before and know how to warm up properly, then go ahead with your normal warm up routine and get cracking with the challenge.
If you are new to pull ups and would you like a quick 135 second warm up video before doing pull ups, then follow Coach Edwards' video below.
He will make sure you good to go before you do your daily pull ups.
The 30 Day Pull Up Challenge:
I have broken down the pull challenge into 6 different block periods.
5 days per block period with the level of repetitions increasing for every new block period.
The first 11 days is for you to get your body used to doing pull ups and from days 13-30 it increase in volume and quantity!
Days 1-5: 20 per day (100 pull ups)
Day 6: Rest
Days 7-11: 30 per day (150 pull ups)
Day 12: Rest
Days 13-17: 40 per day (200 pull ups)
Day 18: Rest
Days 19-24: 50 per day (250 pull ups)
Day 25: Rest
Days 26-30: 60 per day (300 pull ups)
TOTAL: 1000 pull ups
Save the image below if you feel like it, and get started with your pull ups!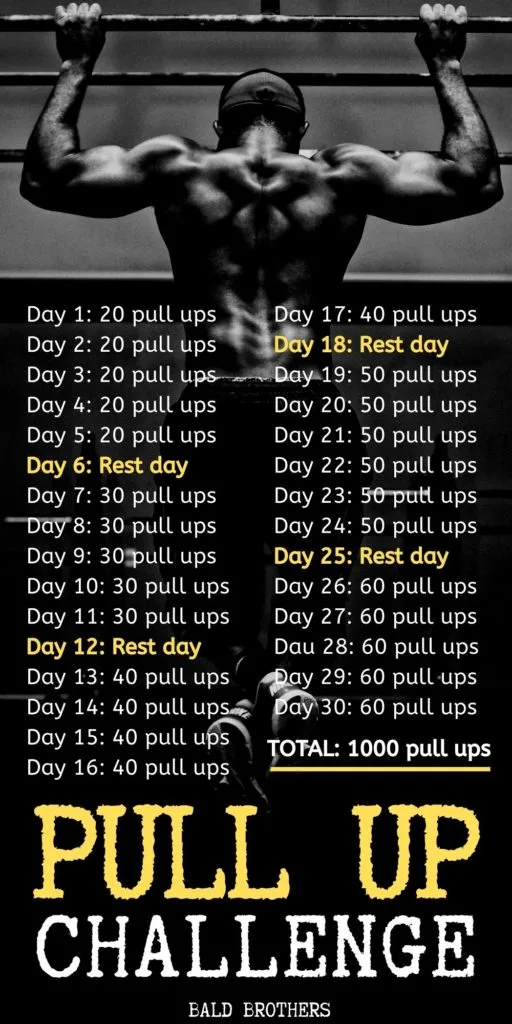 The challenge starts off easy and gradually builds up.
The goal is as much a mental challenge as it is a physical challenge.
Sticking to a daily goal over a period of time has proven to be the hardest part.
Try and stick to the program and not only will you see a physical shift, but also a mental shift where you will firstly achieve a set out goal, and secondly prove to yourself that you can do it!
Good luck and dominate the challenge!
Cheers,
Will