Disclaimer: The information presented by Bald Brothers is purely for informational purposes only. Any opinions on medical matters are purely the authors' opinions, and do not represent that of any medical professional. It is your responsibility to evaluate your own medical or physical condition before using any of the information presented. By voluntarily undertaking any of the exercises displayed on this post, the user assumes the risk of any resulting injury. This post may contain affiliate links.
The Triple 10 mind and body workout is a combination of 3 routines which takes no longer than 10 minutes each. It's a great way to get in a workout, whilst also working on flexibility and mindset!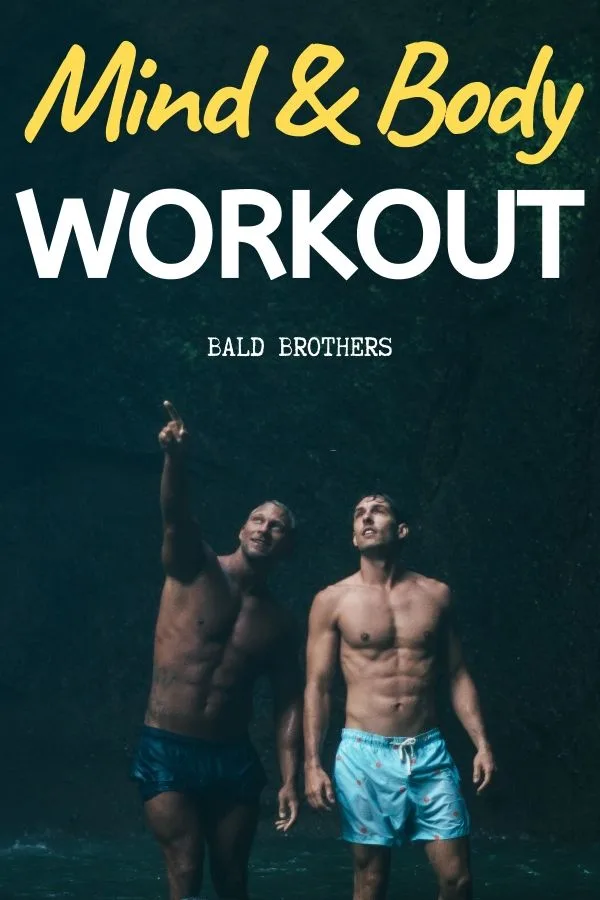 We will be doing the following three things today:
10 Minute Minute Wim Hof breathing exercises
10 Minute bodyweight workout
10 Minute yoga poses and routines
This workout is beneficial for people who want to combine stretching, muscle building and meditation all in one session.
The workout combination will take you no longer than 30 minutes to complete.
It's something a little different which I am sure you will enjoy!
The Triple 10 Mind and Body Workout Routine
See Also:
The Triple 10 workout is basically a combination of 3 different routines each taking you 10 minutes.
Mind and Body Workout
Alright, lets get started!
There are 3 different routines we will be doing, taking roughly 10 minutes each.
Routine 1: Relaxing breathing exercises
Routine 2: Bodyweight workouts consisting of the following 3 exercises: push ups, lunges and flutter kicks
Routine 3: Yoga poses
The entire workout should take no longer than 30 minutes.
It's a test of both mental and physical strength, and can be done from anywhere.
What you'll need: you will simply need your bodyweight, an exercise or yoga mat and enough floor space to fit the length of your body into.
What you'll do: you will do 3 different routines taking 10 minutes each. Routine 1 will be a relaxing, breathing routine. Routine 2 will be a bodyweight exercise routine and routine 3 will comprise of yoga poses! Start each routine when you are ready and take no more than 60 seconds rest between routines.
---
Routine 1: Guided Wim Hof Method Breathing Routine
I have been using Wim Hof's guided 10 minute breathing method for the last 2 months and I can't recommend it highly enough!
If you are new to his breathing methods and routine, the I suggest you first watch his safety video by clicking here.
The Wim Hof breathing technique is a great way to start off your workout routine, and also a great way to start your day.
---
Routine 2: Bodyweight Workout
The exercises you will be doing will be push ups, lunges and flutter kicks.
Below I have put quick instructional videos to make sure your form is correct:
Push Ups:
Lunges:
Flutter kicks:
You will do 3 sets of 3 exercises with 60 seconds of rest in between each set.
See the bodyweight workout routine below:
Set 1: 50 push ups, 10 lunges on each leg and 60 seconds of flutter kicks
Rest: 60 seconds
Set 2: 40 push ups, 10 lunges on each leg and 50 seconds of flutter kicks
Rest: 60 seconds
Set 3: 30 push ups, 10 lunges on each leg and 40 seconds of flutter kicks
---
Routine 3: Yoga Poses
The video below is a great way to not only warm up and activate your muscles, but also build strength and improve your breathing.
A sun salutation routine to start you off!
---
All in all, you would have done a 10 minute breathing & meditation session, 120 push ups, 60 lunges, 150 seconds of flutter kicks and a good mini yoga session.
Conclusion
This is an awesome workout combination of bodyweight exercises, stretching and meditation/breathing exercises that can all be done from the comfort of your home!
If you feel like you are getting stronger, then you can increase your repetitions in the bodyweight exercises.
You could more push ups than I have given in the workout above, or you can make your rest less.
Play around with the exercise, it's just a guideline.
Stay strong,
Willie