Disclaimer: The information presented by Bald Brothers is purely for informational purposes only. Any opinions on medical matters are purely the authors' opinions, and do not represent that of any medical professional. It is your responsibility to evaluate your own medical or physical condition before using any of the information presented. By voluntarily undertaking any of the exercises displayed on this post, the user assumes the risk of any resulting injury. This post may contain affiliate links.
Morning workout routines are a good way to start your day and get your energy levels up. It is also a good way to get 'that' workout done for the day and get fitter. Try out this effective 12 minute morning blast bodyweight workout!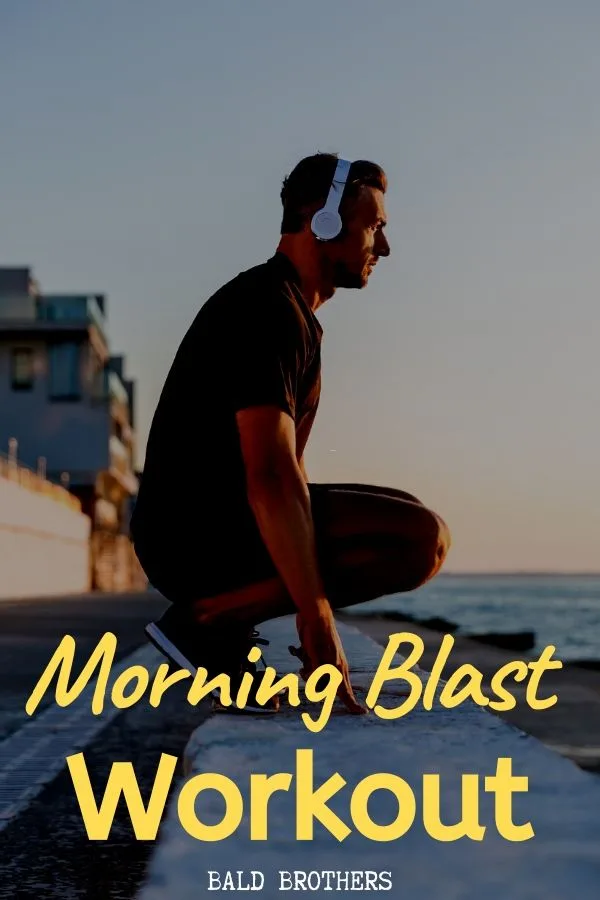 This morning blast bodyweight workout consists of the following 4 exercises:
Push ups
Jump squats
Burpees
Knees to abs
This workout is especially beneficial for people who have minimal time and want to do the workout from home or during their lunch break at work!
The workout should take you no longer than 12 minutes to complete.
12 Minute Morning Blast Bodyweight Workout
See Also:
The morning blast workout is basically a combination of 4 different exercises that you will complete in the space of 3 sets.
Simple, right?!
The Morning Blast Bodyweight Workout
Right, let's do this!
There are 4 different exercises we will be using.
Exercises: burpees, jump squats, push ups and knees to chest abs.
Below I have put together quick instructional videos to make sure your form is correct.
Burpees:
Push ups:
Jump squats:
Knee to chest abs:
The entire workout should take you no more than 12 minutes.
Its a lung buster, but a fast and effective way to workout from anywhere and get results.
What you'll need: simply your bodyweight, enough floor space to fit the length of your body. If you have an exercise mat then you can use one, but it isn't necessary.
What you'll do: start off the 1st set with 50 push ups, 10 burpees, 20 ab to knees and 20 jump squats. In the 2nd set you will do 40 push ups, 10 burpees, 20 ab to knees and 15 jump Squats. In the 3rd set you will 30 push ups, 10 burpees, 20 ab to knees and 10 jump squats.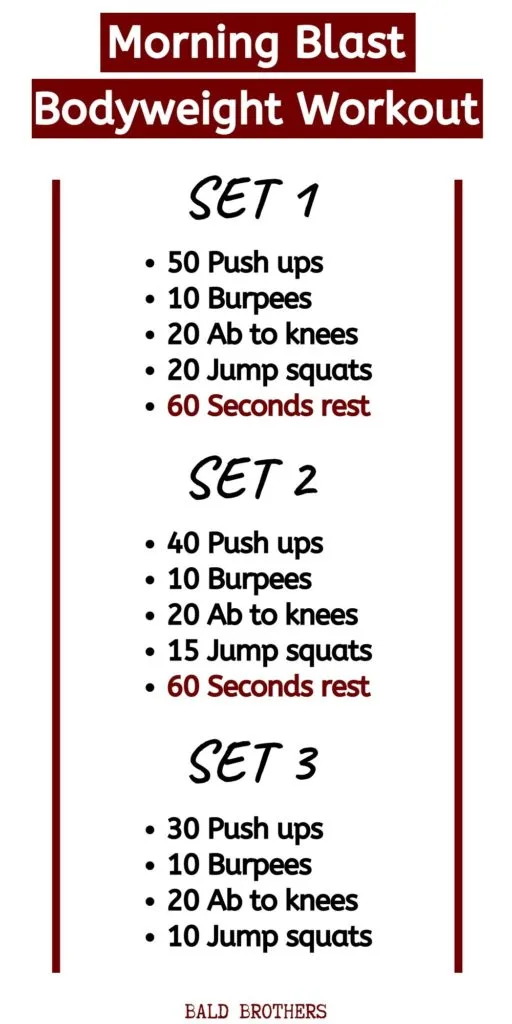 All in all you will end up doing 120 push ups, 40 burpees, 60 abs to knees and 45 jump squats.. you will be tired!
Take a 30 – 60 second rest in between sets, depending on your fitness level.
Conclusion
This is a great workout variation to use in the morning.
The burpee exercise is well known to be a killer and works the entire body.
If you feel like you are getting stronger, feel free to increase your repetitions on every exercise.
For example, you could do 50 push ups and 20 jump squats in every set while also increasing your burpee count.
The workout isnt set in stone so feel free to alter it to your needs, this is just a guideline.
Stay healthy,
Will