Below you will find my honest MANTL review, what I liked and disliked, and how they performed as being an exclusive grooming product for bald men!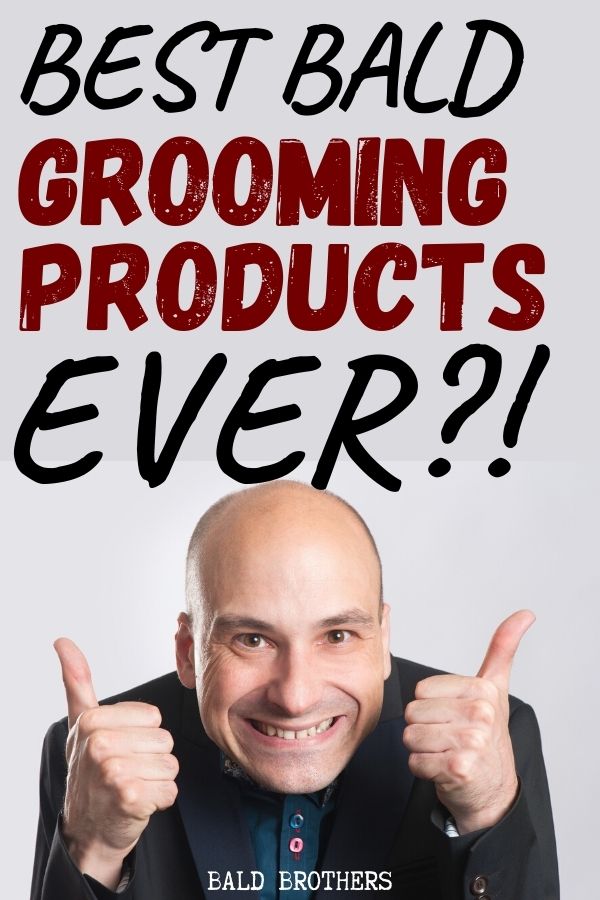 I always complain that there just aren't any decent companies out there that produce products exclusively for us bald men.
I mean, there are a few million of us around, yet we always have to use ordinary moisturizers and various other products that we need to share with all the fair haired guys.
A bald scalp is definitely a bit different to the surface of your face skin, so even though normal skincare products can work on your head, they were never designed to actually only look after a bald head.
So ever since I took the plunge and decided to start razoring my head every second day, I just assumed I will have to make do with other men's grooming products.
That was until quite recently, when I got an email from a company called Mantl, where I felt like a few of my bald prayers had been answered!
I immediately checked out the Mantl website and saw that they are a company founded by a bald man, that make products for bald men only!
Yes, this is what I have been looking for!
So I asked them to send me over a box of their products, as I wanted to seriously try them out.
The products seemed to be high quality from the outside and I loved what the brand stood for, so this was a no brainer that I had to try out.
Who is MANTL?
Mantl is a very new company which only came onto the scene in 2020.
You may already know one of its founders, Karamo Brown, as the TV host of the show Queer Eye.
The vision and manifesto of Mantl is something which alines directly with our vision.
Mantl encourages all balding men to embrace their baldness, something we have been preaching about since the very first day of our existence.
On top of that, I was pretty impressed the moment I landed on their homepage.
Everything seems slick, modern and easy to navigate.
Their message is immediately clear, which is something I really enjoy.
So let's get to unboxing these Mantl products, and I will give my honest review at the end!
Are We Being Paid to Write This Review?
In simple terms:
No.
We were contacted by Mantl and they asked us to write up an honest review in exchange for a few goods.
All opinions will be 100% my own, of course.
---
Mantl Review & Unboxing the Products
Mantl offers four different product types on their website, all available for a quick and easy online purchase.
And if you want, you can buy all four products together in the form of The Complete Routine set.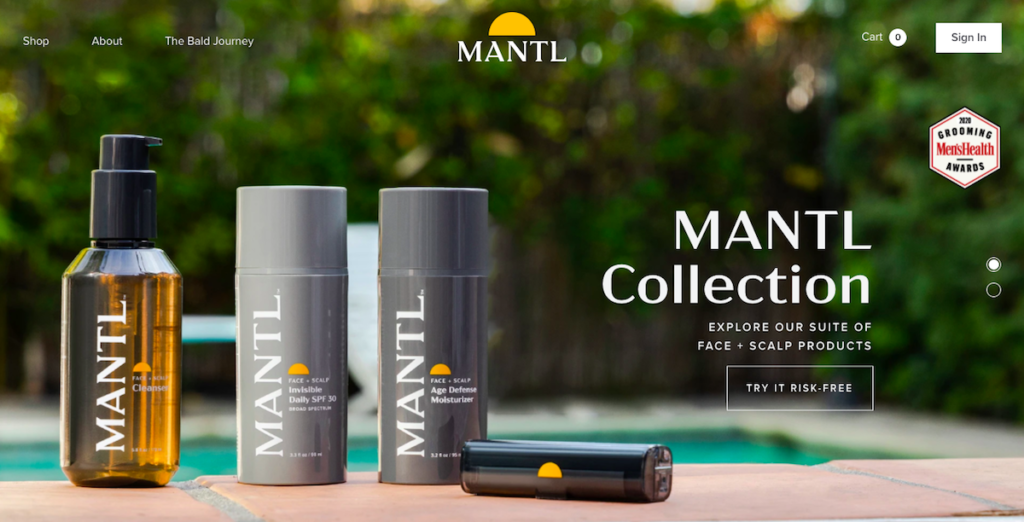 I was sent The Complete Routine set, and in this review I will take you along the full experience of unboxing the products, my first impressions, the look and feel of each of them and how each individual one performs.
Mantl offers you the choice of making one time purchases, or you can shop based on the subscription model whereby you get re-stocked every 12 weeks.
What's Inside The Box?
Once my box arrived, I started to unpack it!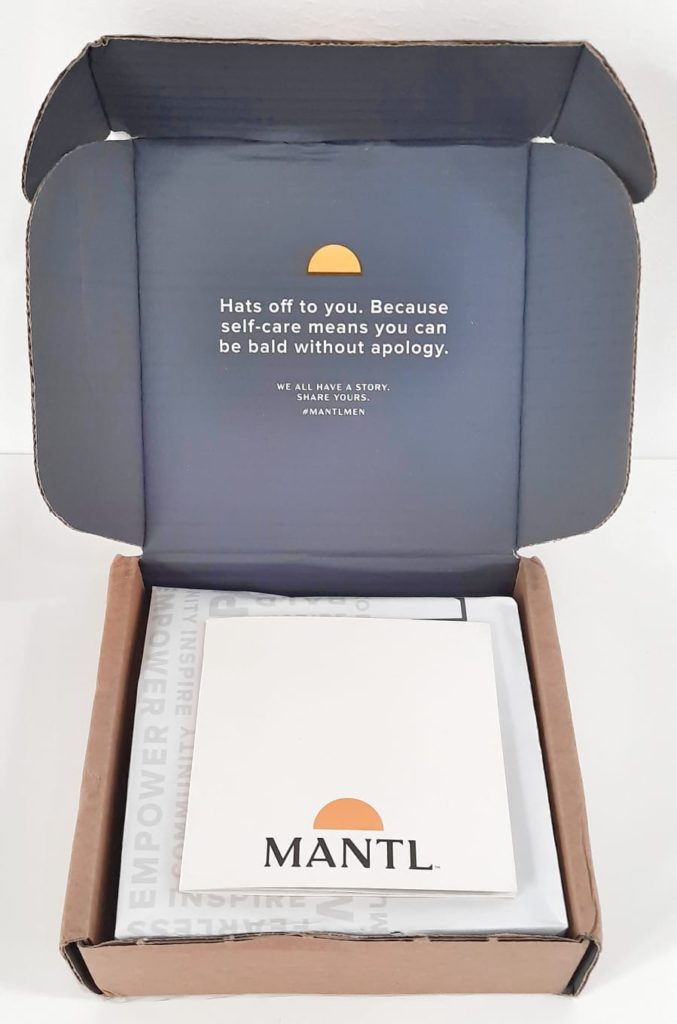 I was immediately impressed with the packaging.
The products come in a cardboard box, with a cool quick message for all of us bald men!
You are greeted with a booklet which explains what each product is, what the ingredients are made of, and how to use the products efficiently.
Inside the booklet is also a message from the Mantl founders, which is a nice personal touch.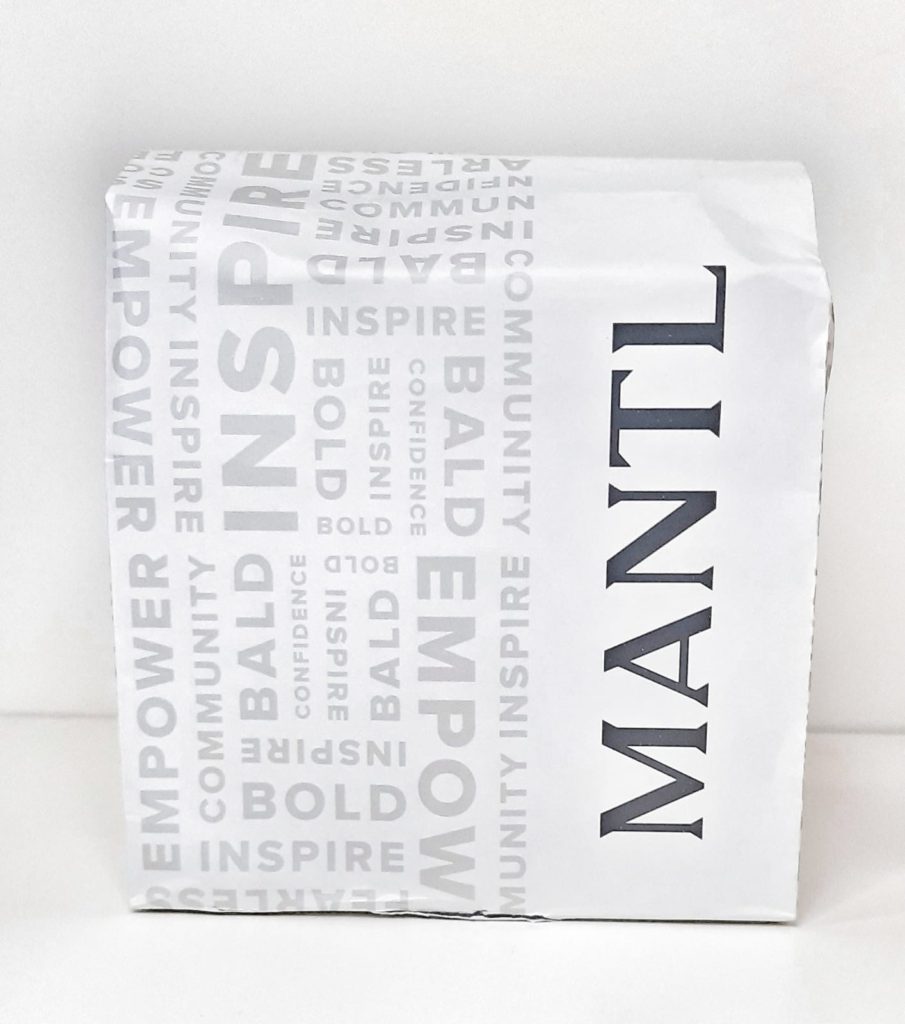 All the products are packaged in a paper bag, which is simple and filled with some motivating text.
I took out all the goods, and stacked them up so you can see what you get inside The Complete Routine package.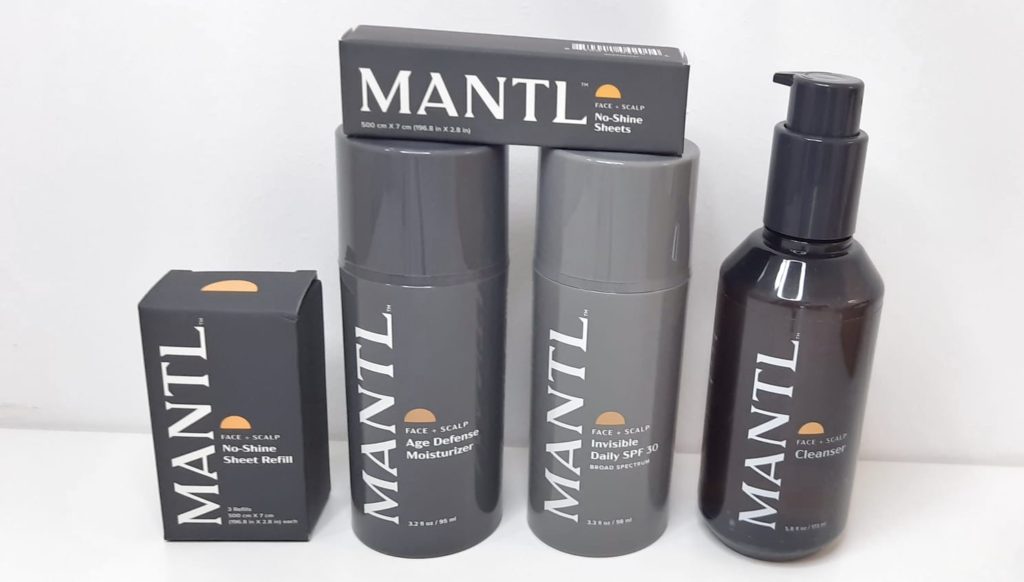 I thought the products would actually be a bit smaller, so I was pretty pleased to find you get your money's worth in terms of volume!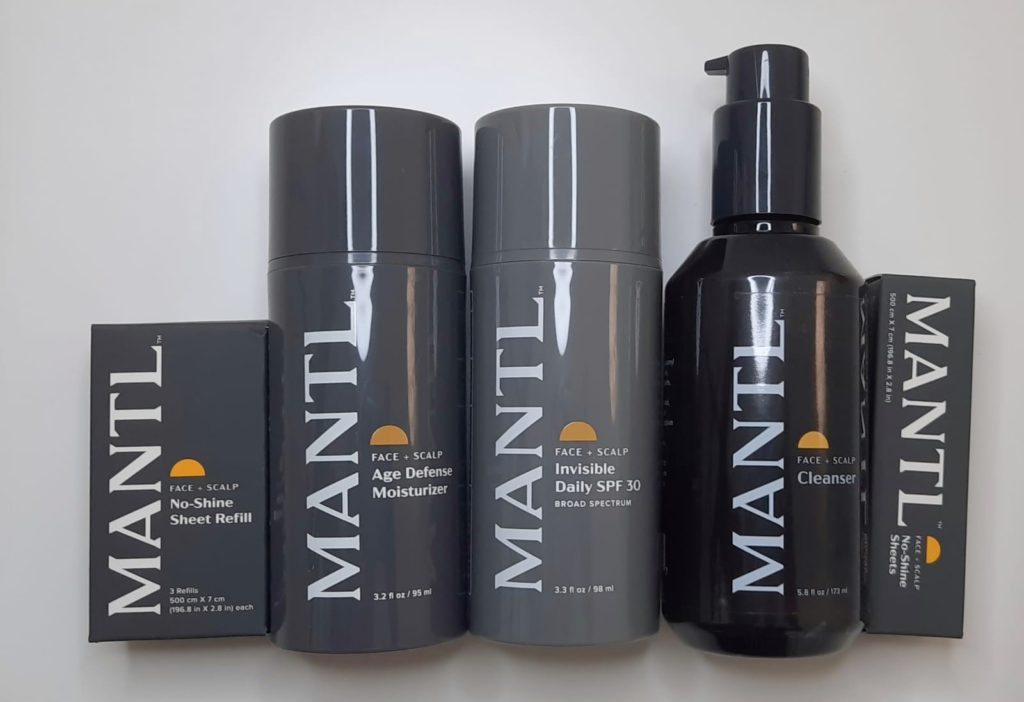 The look and feel of these products is definitely leaning toward the upper quality spectrum.
Every item feels really sturdy, heavy and like it means business!
Another thing that pleasantly surprised me were the no-shine sheets.
I haven't used any sort of product remotely close to this, so I am looking forward to trying them out and seeing how they affect my bald head!
Over the past week I have used every single one of the products on a daily basis found in The Complete Routine package.
Below I have listed my overall views of each individual product, and how I felt they performed!
---
Mantl Review: Thoughts On Mantl Products
Up until recently, I only used a sunscreen or a moisturizer that contains SPF on a daily basis.
I have never come across any products such as cleansers, moisturizers or suncreens that have been designed specifically for bald heads.
So I was excited to try out the range of Mantl goods.
Cleanser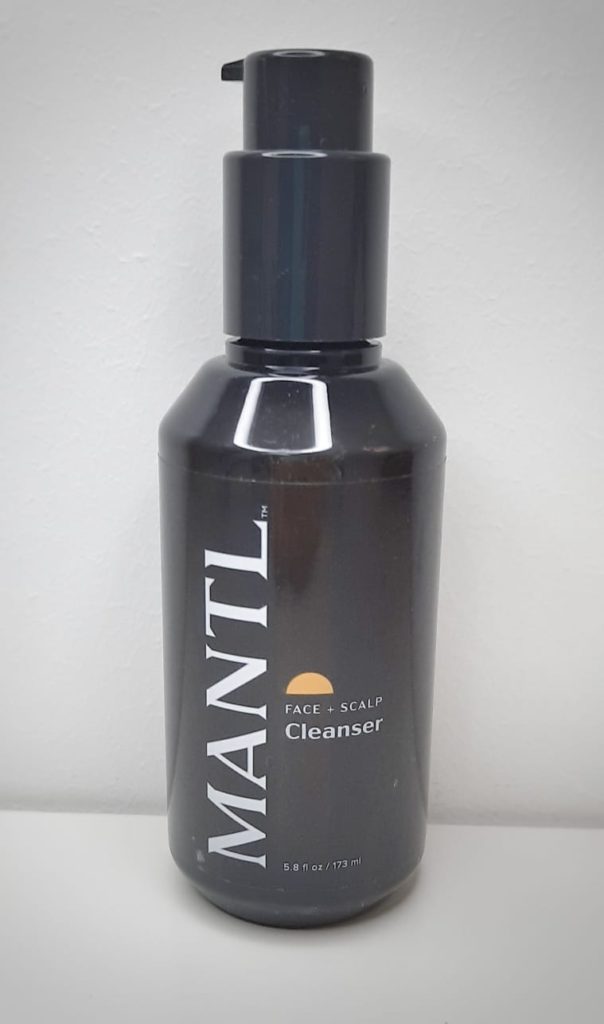 One thing we often forget as bald men is that we still need to actually clean our scalp!
Just because we don't have hair anymore doesn't mean dirt doesn't make its way up there.
I have been cleaning my scalp and face using this cleanser now for about a week or so.
And so far, I have enjoyed it.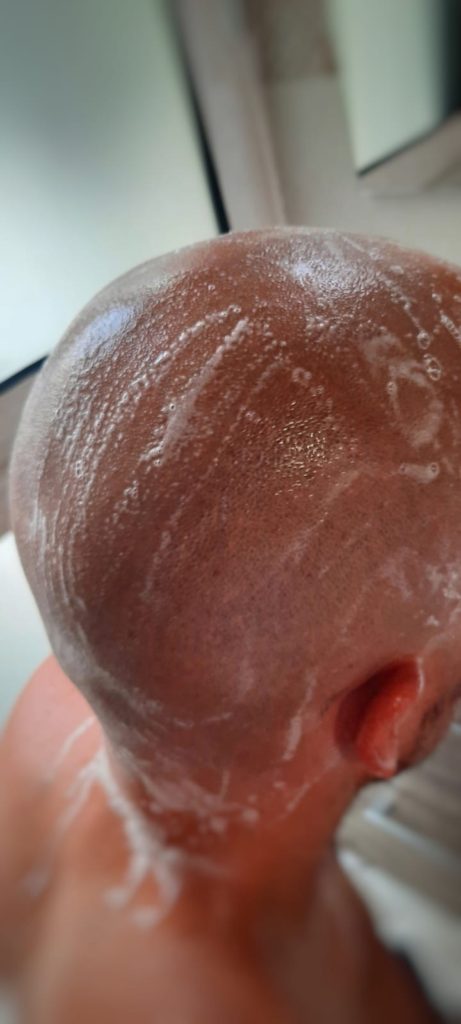 It doesn't foam up too much, it has a really nice, natural scent, and my head actually feels cleaner after using it.
The key ingredients found in this cleanser are aloe, allantoin and willow herb extract.
The cleanser is also free of harmful chemicals such as sulfate, paraben, silicone and synthetic dyes.
Age Defense Moisturizer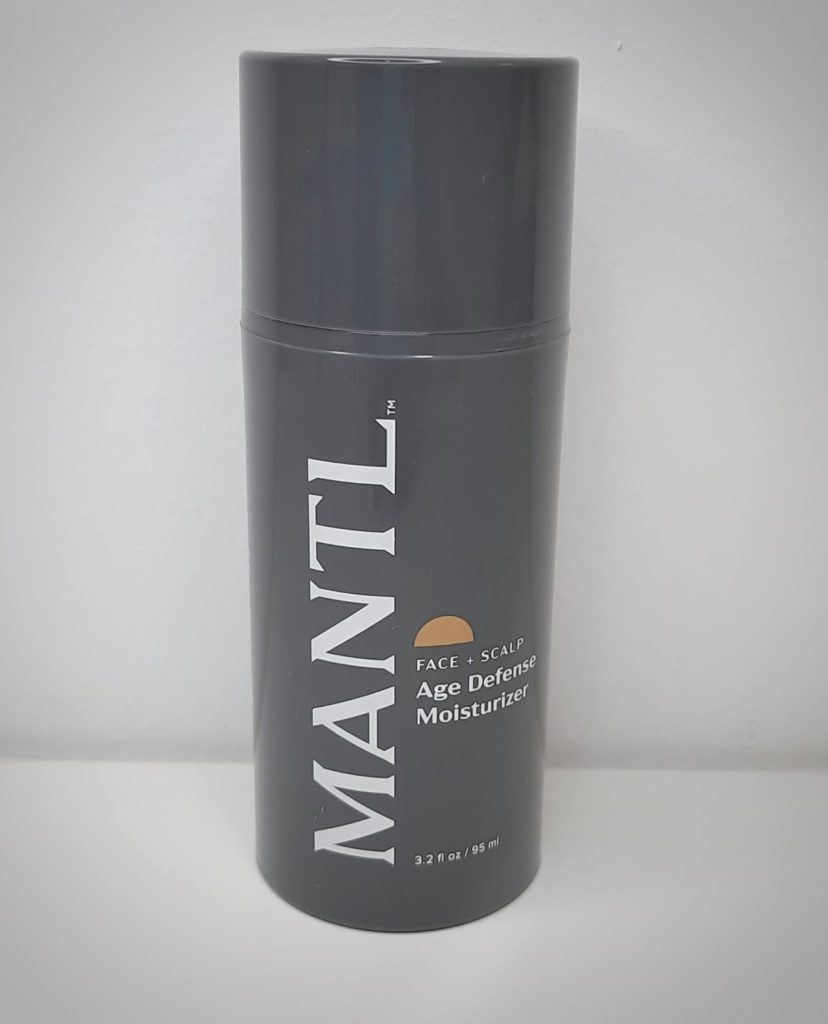 Personally, I usually start the day off by applying a SPF to my scalp after showering. And I leave the moisturizers for the evenings before sleeping!
The Age Defense Moisturizer is quite a thick, creamy moisturizer which absorbs into your skin very quickly.
It has this light, citrus scent which is quite refreshing!
Another thing I enjoy about this product is that after applying the moisturizer, your head doesn't feel moist at all.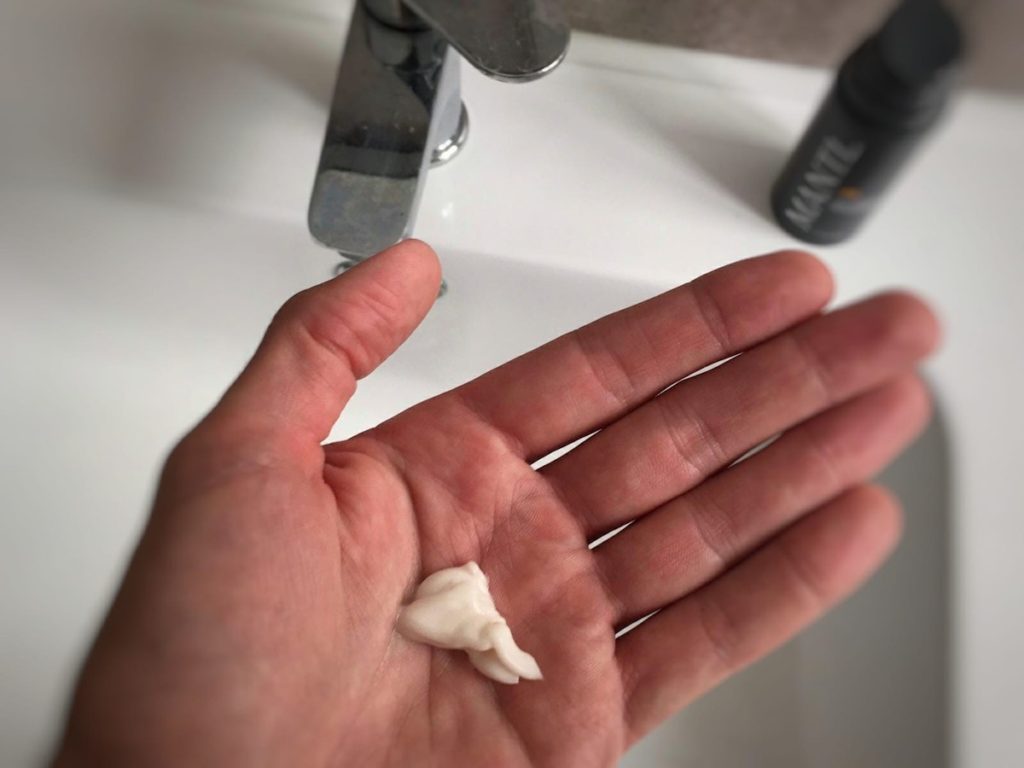 You know how quite often with so many moisturizer products, you apply them to your skin and it feels as if you have been dipped in a pool of cream?
I often find that, especially with body lotions!
But this one absorbs quickly, which is a big plus for me.
Invisible Daily SPF 30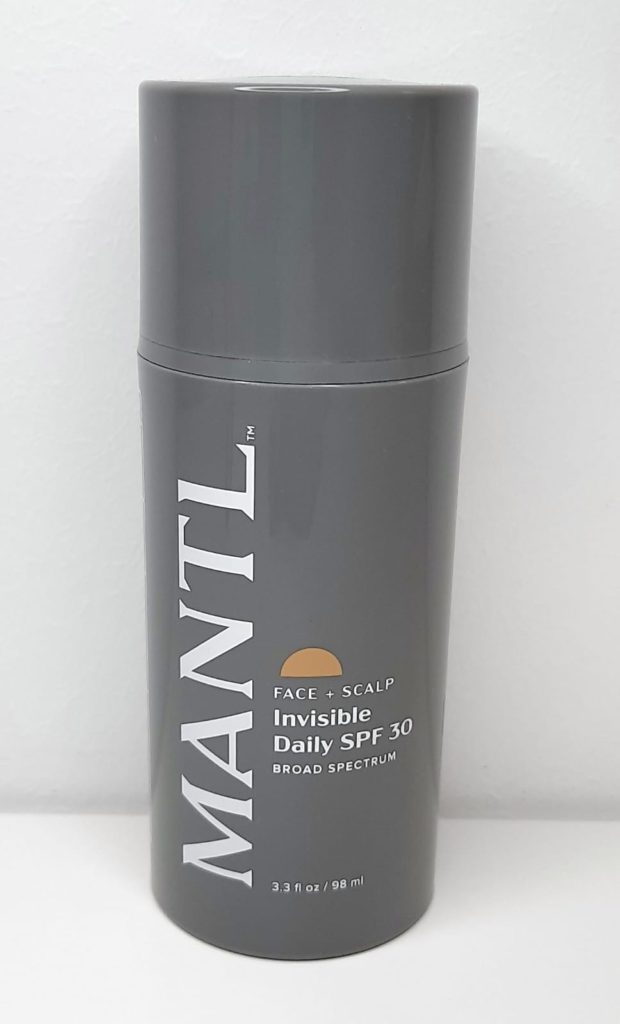 The Invisible Daily SPF 30 doubles up as a moisturizer, too. So you are getting sun protection and skin hydration at the same time.
I never actually thought about ever applying SPF to my head, especially in my early days of shaving my head.
But I learn't the hard way just how brutal the sun can be on your scalp. So it has become a daily ritual for me to apply a SPF to my scalp after every morning shower.
What I found really different using this product was that it's a clear sunscreen, and not white in color like pretty much every other SPF product around.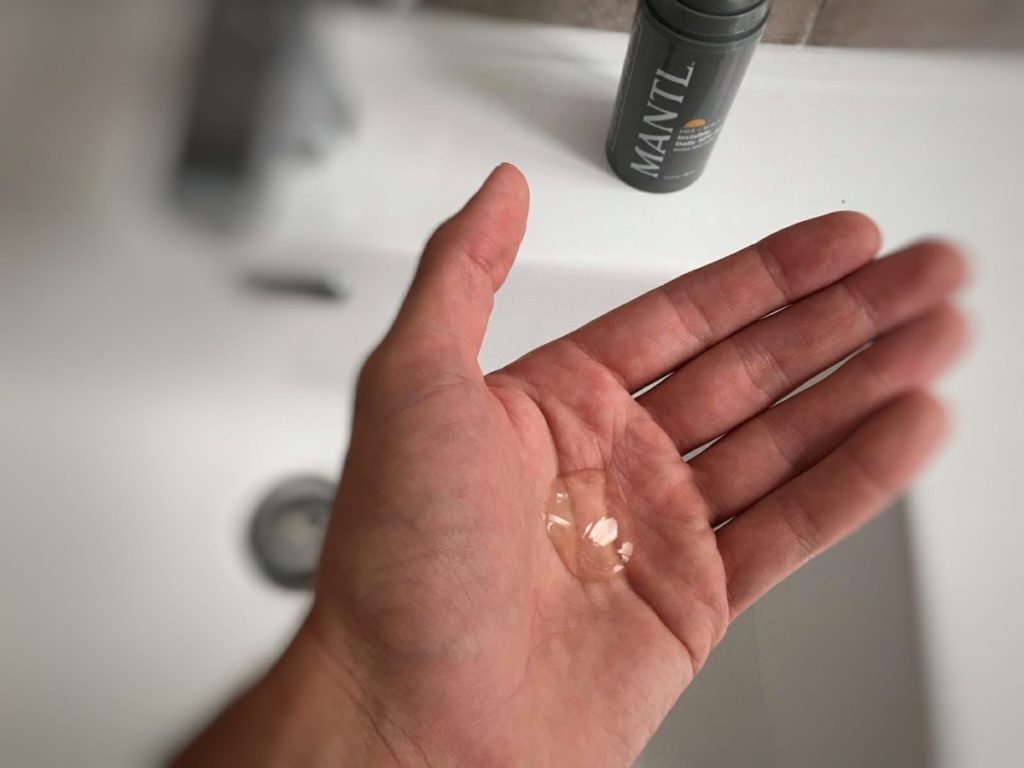 This results in not having a bunch of a white cream that cannot be absorbed into your skin.
You know how one often applies sunscreen to your body, and it seems to take countless rubs to get the damn stuff to disappear?
Well this problem doesn't exist with this Invisible Daily SPF 30 product!
My biggest worry when applying anything to my head in the morning is that it's going to make my head look like a polished bowling ball.
Mantl claim that this SPF is a no-shine cream, and I am quite pleased to say it turns out that this is true.
Out of all the products offered in this package, I have to say this is the best one!
I love the feel you get right after applying the sunscreen. Your head instantly feels taken care of, which sounds kind of weird.
Whilst writing this, I am currently in Southern Italy where the temperatures are soaring over 100 degrees Fahrenheit everyday!
And my head's been well protected, so this SPF clearly works!
The SPF is made up of willow herb extract, ginger root and vitamin F.
You'll enjoy the scent it gives off, too.
No-Shine Sheets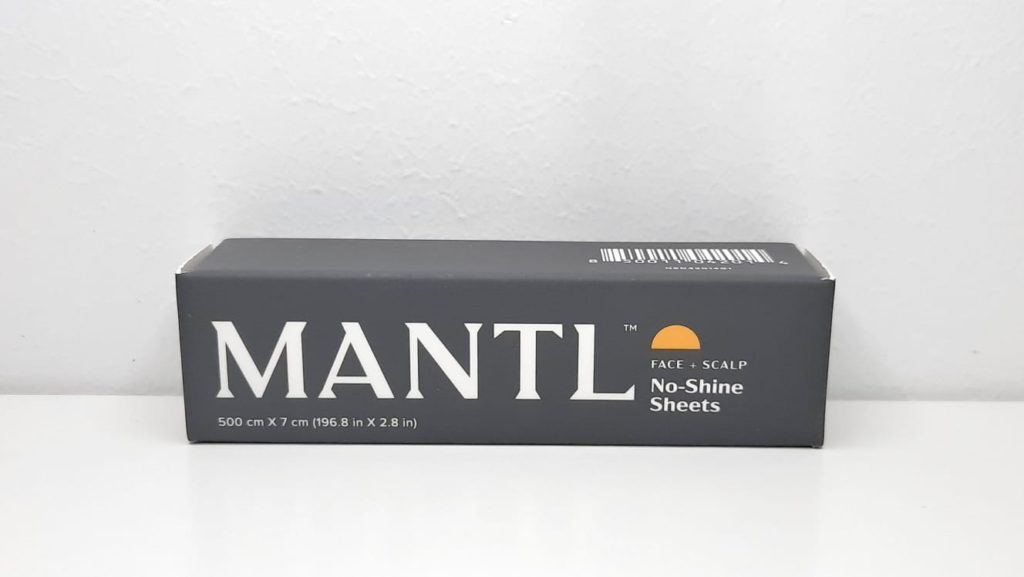 This is a first! (Well, at least for me)
Never have I have seen a grooming for us bald men like this.
These sheets are made from bamboo charcoal, and are there for you to get rid of any unwanted shine on your scalp.
Basically how these sheets work is you pull enough paper through the dispenser, and you press the bamboo sheets onto any shiny areas on your scalp.
It immediately absorbs the shine and any excess oil which might be on your head.
The packaging of these sheets is really smart, and they come in a compact dispenser.
Do they actually work, though?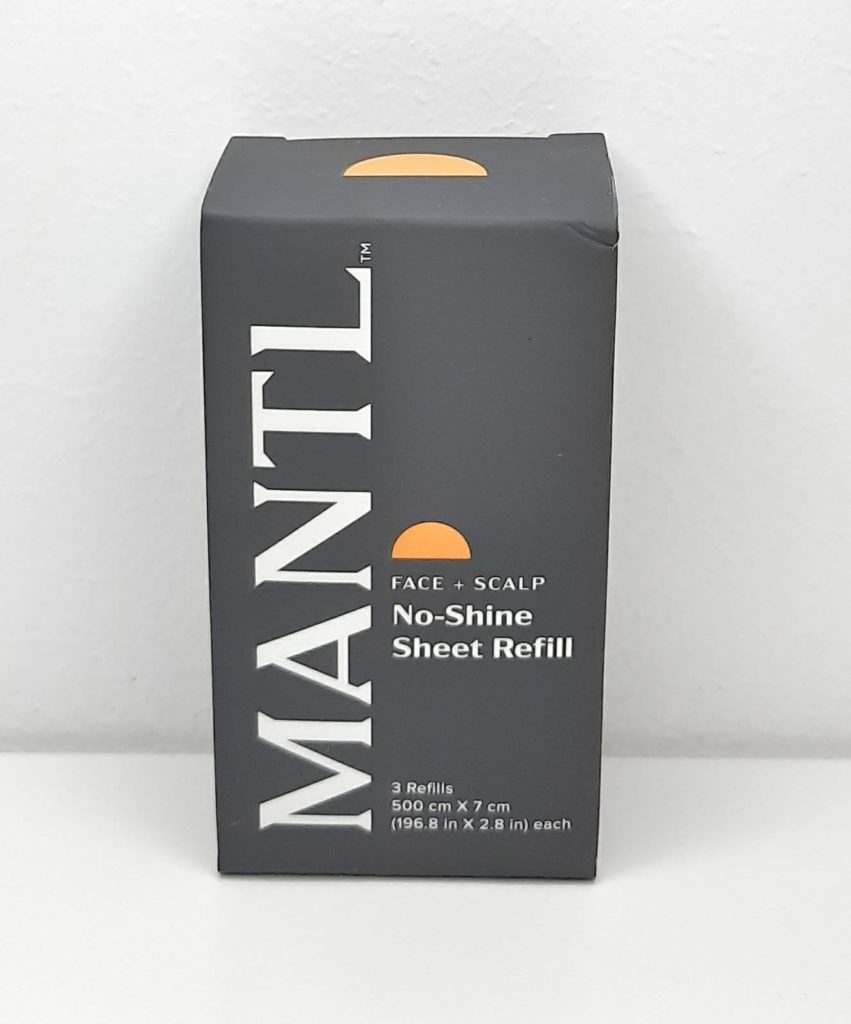 We don't really realize it, but our scalps do hold onto a lot of unwanted moisture and excess oils, so these sheets would help to get rid of this.
On top of that, I don't like having a shiny head!
So I have given these sheets a try, and I really like what I see.
I never expected my scalp to actually have so much moisture on it. Even my girlfriend was shocked when I showed her just how much moisture came after just a few dabs!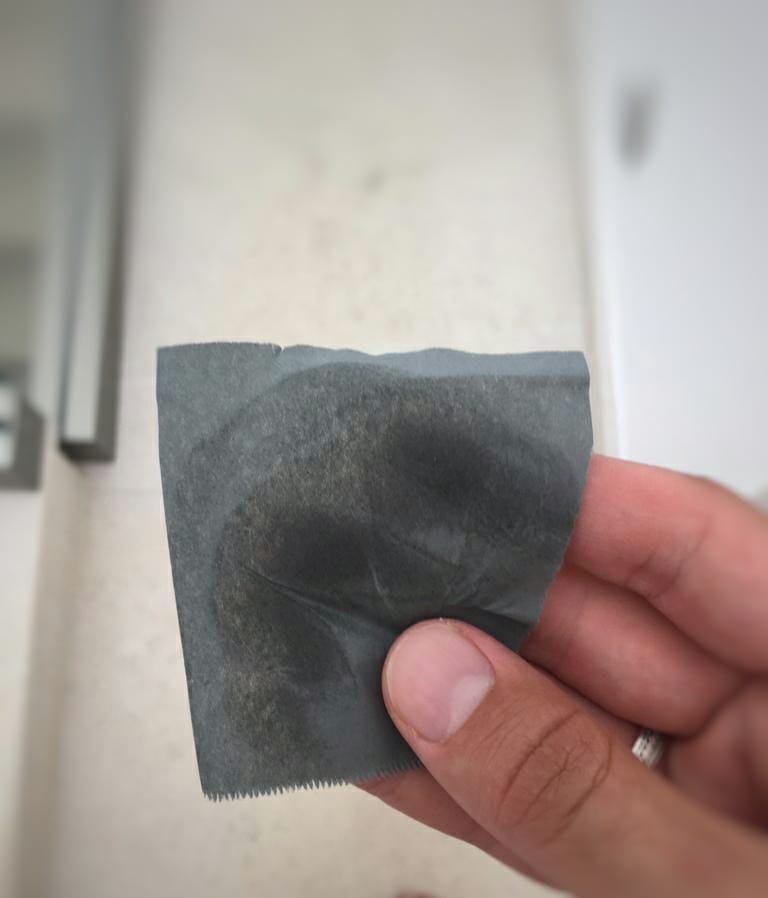 ---
My Overall Thoughts On This Mantl Review
Overall I really do feel like these Mantl products will answer a lot of the questions and issues that us bald men face when it comes to grooming.
At the end of the day, the products need to do their job. And I do believe that these Mantl products do just that!
Once my products run out, will I order another bunch?
I actually think so, yes!
What I Liked
+ Mantl's products are designed for bald men. It's refreshing being able to buy from a brand that's made just for our naked heads!
+ The ingredients used in all of Mantl's products are natural and of high quality standards.
+ My skin easily absorbed all three of the lotions, and the no-shine sheets actually did their job.
+ The manifesto of Mantl is exactly the same as ours – we need to be embracing our baldness 100%!
+ Packaging, shipping and the overall feel of the product were all efficient, top quality and enjoyable.
What I Didn't Like
– Would be great if they could offer travel size options for the entire rage of products. **EDIT: They now offer all products in smaller sizes which is great!
– Some might say the prices are leaning toward the expensive part, but as usual, you pay for what you get. And in this case, you get quality products designed to do a specific job.
---
Final Verdict
My overall experience of using Mantl products, interacting with their staff, and using their website has been a real positive one.
I cannot express how often I have asked myself why there aren't more companies out there designed to service only bald heads.
I hope this honest Mantl review will give you a bit more clarity on how I feel about these products, and that it serves as a good guide for you to maybe try them out!
Visit their website and have a look around, we here at The Bald Brothers definitely recommend you to!
Cheers,
Richard
P.S.
If you would like a 10% discount on any purchase of the MANTL products, then simply use the coupon code BALDBROS10 at checkout!