Today I'll be sharing a quick and thorough review of my experience using a new bald men's skincare brand, Gen2Care.
Gen2Care are a new player in the men's grooming game, and are looking at making a splash in the Canadian & American market.
As bald men, we are always looking for brands and products which are made with us in mind.
So often we have to settle for purchasing products designed and aimed at serving the average man, so it always makes us happy when we find a brand who are targeting us bald men!
Who is Gen2Care?
Gen2Care is a men's grooming brand who are aimed at serving bald men.
Although their products will work perfectly fine on any guy's face, Gen2Care was founded by a bald man, so he definitely had us baldies in his mind when creating his brand!
They are a new player to the game, so you might not have heard of them yet.
I reached out and asked them to send me a few of their goods to try out, and below I will let you know what I thought of each item.
Are We Being Paid to Write This Review?
In simple terms:
No.
We were contacted by Gen2 and they asked us to write up an honest review in exchange for a few goods.
All opinions will be 100% my own, of course.
---
Gen2 sent me their full wet shaving kit, which consists of 6 different grooming products.
On their website, you have the option of either purchasing their products in the form of a kit, or you can purchase them individually.
You do, however, save some money when getting a kit!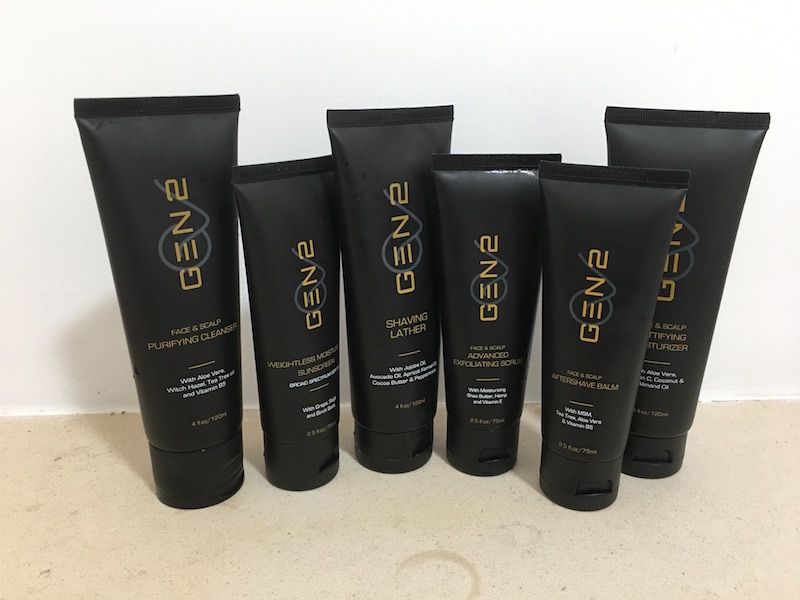 In the wet shaver kit I received the following six products:
Advanced Exfoliating Scrub
Purifying Cleanser
Premium Shaving Lather
After Shave Balm
Weightless Moisturizer SPF25
Mattifying Moisturizer
Let's get to a quick review of each product.
Advanced Exfoliating Scrub
Key ingredients:
Shea Butter
Avocado Oil
Grape seed Oil
Jojoba Oil
Hemp seed Oil
Vitamin E
Having an exfoliator for your face and scalp is a good idea.
It gets rid of dead skin cells and leaves the skin feeling clean and smooth.
I tried out this exfoliating scrub a few times in the shower. There were a few things I liked, and a few that didn't work out as well.
It's a real subtle exfoliate, so there's no risk of it doing too much of a job and hurting your scalp. This is a big plus!
I do wish it gave just a little bit more lather, though.
Purifying Cleanser
Key ingredients:
Aloe Vera
Witch Hazel
Tea Tree oil
Vitamin B5
I used the cleanser as a face and scalp wash every second day or so.
It performed really well, and I liked the consistency and the amount of lather which it created.
We bald men often forget that we have to clean our scalps on a regular basis, so it's a good idea to have a scalp and face cleanser nearby!
Premium Shaving Lather
Key ingredients:
Jojoba Oil
Avocado Oil
Apricot Kernel Oil
Pepper Mint Oil
Cocoa Seed Butter
Shea Butter
The shaving lather, for me, is actually the best product of the six products that come in the wet shaving kit.
It's quite thick, allows for a smooth shave, and it keeps your scalp moisturized even once rinsed.
Aftershave Balm
Key ingredients:
MSM
Vitamin E
Green Tea
Chamomile
Wildcrafted Reishi Extract
Aloe Vera
It's difficult to use all six products on a daily basis, as there just are so many!
But I only shave every few days, so I always had time to try out this aftershave balm.
Its smell is consistent with the other products, and it goes well on your scalp after using the shaving lather.
I liked it.
Mattifying Moisturizer
Key ingredients:
Aloe Vera
Vitamin C
Coconut oil
Almond oil
I have started getting into the habit of making sure I ALWAYS put a coating of moisturizer on my scalp every single day, no matter what.
And it has made a big difference to the health of my head.
I tried out this moisturizer a few times, and overall it does what it's supposed to.
Am I satisfied? Yes, I am!
Weightless Moisturizing Sunscreen
Key ingredients:
Grape extract
Sage
Birch Back
I personally don't think you need the mattifying moisturizer AND this weightless moisturizing sunscreen.
The sunscreen already keeps your face and scalp soft and hydrated, whislt also protecting you from UV rays.
It's a good little all-in-one product, so it should be the one that you always have at your disposal!
Final Thoughts
Head over to Gen2Care's website and check out their products.
If you feel like you want to try something new, then make a purchase!
Whilst there are so many products to choose from, my advice would be to start off with one or two then take it from there.
My top pick? The shaving lather and the SPF!